Keto Roasted Radishes with Garlic Browned Butter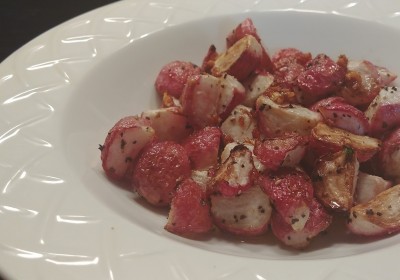 This recipe is one of those "let's just try something new" things that ended up turning out surprisingly well! Pre-keto, I was actually never a big fan of roasted potatoes, and even post-keto I never ate radishes much outside of salads and slaws. But this week I noticed radishes on sale at my local grocery store, and I was eager to try a veggie side dish other than my usual broccoli, cauliflower, and spinach options.
Radishes usually have a somewhat spicy kick to them, but the flavor is much milder when they're roasted instead of raw. This makes them the perfect vehicle for the garlic browned butter drizzle that packs a punch of flavor without weighing the dish down too much. I'm sure other flavor combinations will work as well (roasted radishes are surprisingly versatile!), but this lemon and garlic browned butter is especially tasty while also being an easy way to sneak some extra fat to accompany a lean protein at dinner.