Keto Sesame Ginger Salmon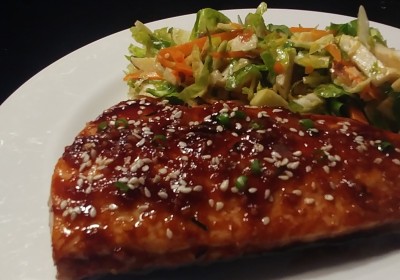 A lot of people assume that keto is all red meat all the time, but seafood can fit into a keto lifestyle just as well as the more stereotypical steak or bacon. Salmon is an especially good choice, since it's a great source of protein as well as omega-3's and other healthy fats. Another bonus? The compounds that give salmon its color may also have antioxidant and anti-inflammatory effects.
This keto salmon recipe ups the ante with a super flavorful sweet and spicy sesame ginger sauce. It's relatively easy to whip up, and is great paired with stir fried veggies or cauliflower rice. I also suspect it be nice if made on the grill instead of the stove/oven, but I haven't gotten around to trying it yet.
Notes:
Short on time? You can skip the marinade if needed. You'll need to add some extra oil to your pan to sear the salmon, and you'll miss out on the added flavor boost, but the results should still be tasty!
Make sure your pan is hot before adding the salmon! And don't be tempted to move it around before the three minutes are up; it's key to getting a nice sear on the salmon without it sticking.
The xanthan gum is used to thicken the sesame ginger sauce. If you don't have any, you can try simmering the sauce a little longer or maybe adding a pinch of coconut flour.