Keto Garlic Parmesan Baked Shrimp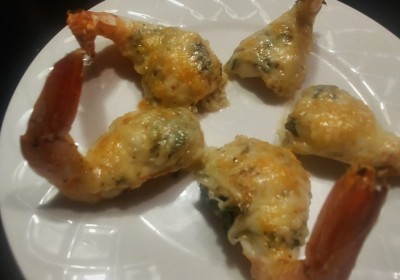 I don't know if it's because it's summertime or what, but I've been on a little bit of a seafood kick lately. It tends to be high in clean protein and a good source of healthy fats, but not so rich that you can't soup it up with some yummy extras to take it to the next level. Take this keto parmesan shrimp recipe for example.
Shrimp on its own? Good. Shrimp marinated in garlic and herbs? Better! Shrimp marinated in garlic and herbs, then topped with melty, cheesy goodness? Yes, please! I like this keto garlic parmesan shrimp as a side or appetizer, but you can also make them the centerpiece of a light summer meal served with zucchini noodles or other veggies.

Notes:
If using frozen shrimp, I would recommend thawing first before marinating for this keto shrimp recipe.
I like to use tail-on jumbo shrimp for this recipe because it makes them easier to serve, but you can use smaller shrimp instead if you adjust the cooking time accordingly.
Don't have a broiler? You can also just bake these keto garlic parmesan shrimp for 7-10 minutes at 400F instead.