The Keto Box August 2018 Review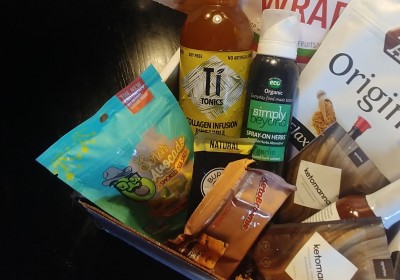 The Keto Box has been on a pretty good run lately, so I was looking forward to this August edition. This keto subscription sometimes includes a couple of surprises, but you can generally expect a mix of sweet and salty keto snacks alongside some pantry items or other unique low carb products. I was curious to see what this month would offer!
Before we get to what was inside, a quick refresher: The Keto Box is a monthly subscription that describes itself as a "low carb care package for your body." For $39.99/month, subscribers receive a box full of 5-8 keto snacks and other products delivered to their doorstep.
You can view my reviews of previous months of The Keto Box here.
Now on to the August 2018 The Keto Box: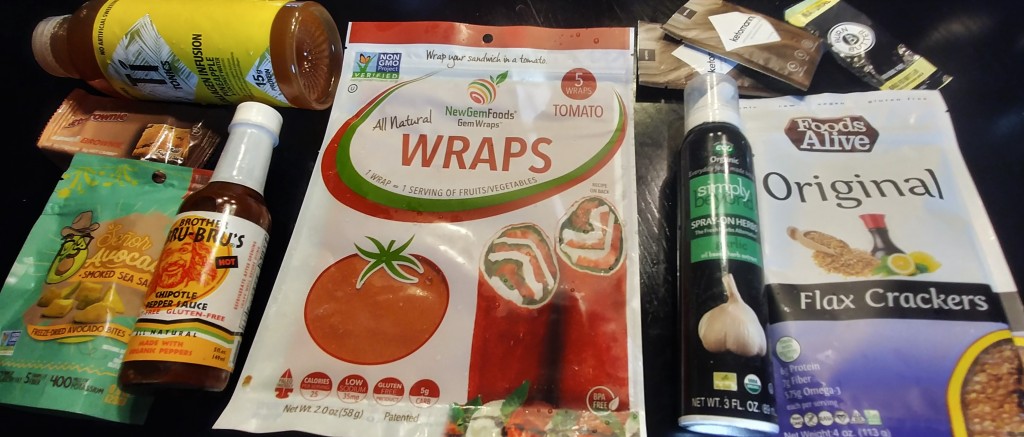 First up, I was curious about this avocado snack:

1x package Senor Avocado, Smoked Sea Salt (value: about $4.00)
I'm no stranger to avocado as a quick high fat snack, but this freeze-dried version was totally new to me. The freeze-drying keeps the keto-friendly macros while adding a nice amount of crispiness. There are just two ingredients: avocado and smoked sea salt.
I enjoyed the crisp factor of these, and even the combination of avocado and smokey flavor, but there was a slightly bitter aftertaste that kept them from being totally satisfying. I'm not sure if that's from the freeze-drying process or the smoked salt, but I would be interested to see if another flavor (perhaps something with lime) could fix that.

1x 5oz bottle Brother Bru Bru's Chipotle Pepper Sauce, Hot (value: $5.95)
This spicy hot sauce is apple cider vinegar-based with no sugar or other junk. It's made with an organic blend of chipotle peppers, garlic, and spices. The spice level overall was definitely closer to "hot" than "mild", but the blend of flavors means that it actually adds to foods instead of just overpowering them.

1x Ti Tonics Collagen Infusion, Pineapple (value: about $3.75)
Yum! This pineapple coconut drink was really tasty, all while packing a nice 15g of grassfed collagen. It didn't have any weird aftertaste or mouthfeel like some other ready-to-drink collagen products, which was nice, although there is a small amount (2g) of natural sugar from the organic pineapple juice. The remainder of the sweetness is from erythritol and stevia.
I thought this was a really refreshing drink overall, and can't wait to see if it shows up in stores. It seems to be made by our friends over at Ketologie, although I can't find the bottled version for sale online yet.

1x 3oz bottle Simply Beyond Spray-On Herbs, Garlic (value: $9.99)
When I pulled this out of the box, my first thought was, "Why?!" I love garlic, and cook with it all the time, which means I generally have the fresh stuff stocked in my kitchen. Why would I want a spray version instead? However, after giving this garlic infused oil spray a try, I kind of get it.
There are some situations where fresh minced garlic would burn too quickly or just not work with the texture, etc. of a particular recipe. For some of those scenarios, you might use garlic powder instead…but that comes with a less robust flavor and generally a pinch of added carbs. I find this to be much closer to fresh garlic in taste, so I've found myself reaching for it instead of garlic powder on quite a few occasions.

1x 2.2oz pack New Gem Foods Wraps, Tomato (value: $8.19)
What an interesting concept! I know people have somewhat mixed feelings about low carb tortillas and other wraps out there, depending on the ingredients used, so a veggie based wrap would definitely be an appealing option. This particular variety is made with tomato as the main veggie, but there are other flavors too.
I didn't find the tomato flavor to be too strong, largely because of the thinness of the wraps. Whatever food magic makes them into rectangular wraps doesn't make them "bread-like" in thickness or texture…it's honestly closer to something like a thin fruit leather. However, they are a nice, light option for a basic sandwich or breakfast wrap.

1x Keto Brownie, Blondie (value: $3.00)
KetoBrownie recently added this blondie variety to their offerings, and I think I might be an even bigger fan of this than the original! They are perfectly soft and moist, and after a moment in the microwave, they could definitely pass for freshly baked. Made with keto-friendly ingredients like almond flour, almond butter, and coconut oil, they are also a good source of filling healthy fats.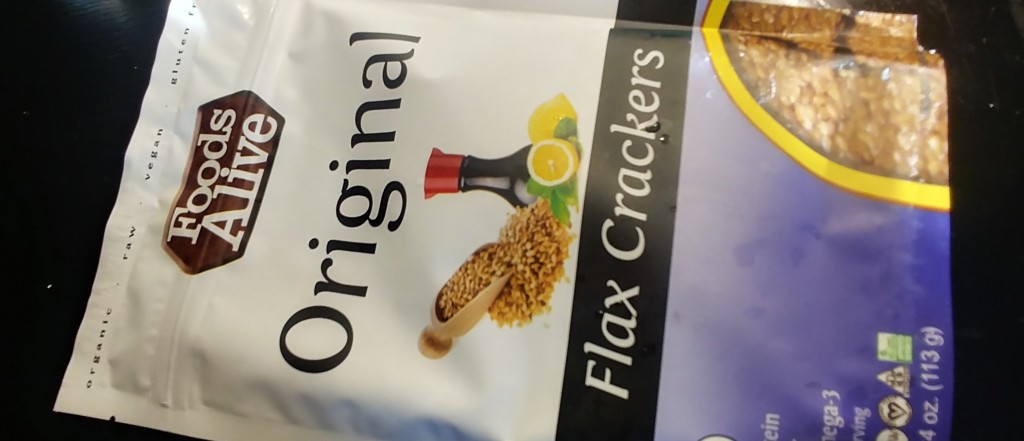 1x 4oz bag Foods Alive Flax Crackers (value: $6.99) 
Flax crackers can be a great low carb pairing for a yummy spinach dip or avocado salsa, but not all of them are created equal. Foods Alive is one of the better brands I've tried as far as texture (crispy but not too hard) and taste (no overpowering "burnt flax" aftertaste). With that said, the original variety is somewhat plain compared to some of their other flavors.

1x pouch Synchro KetoManna (value: about $5.00)
Here are some notes on this fat-fueled treat from a past review:
This is a fat bomb style product made with coconut and MCT oil as the main fats and flavored with vanilla and cocoa. The flavor ends up somewhere between a dark chocolate fudge and brownie batter, so I was definitely a fan. You could probably whip up something similar on your own, but the convenience of these grab and go packs is always nice. I'm guessing it would be good blended with coffee as well.
1x pouch Burn Butter, Natural (value: about $2.50)
This is a blend of ghee, MCT oil, and avocado oil that you can use to add healthy fats to coffee or even just have by itself. Like you might expect, it's thicker at room temperature than when warmed by kneading a little in your hand, so adjust accordingly. I didn't find it to have a particularly strong flavor, although they do also offer a hazlenut and mocha flavored options.
In addition to the items in the August The Keto Box, subscribers also received the following discounts:
15% off Keto Brownie
10% off New Gem Foods
10% off + free shipping @ Simply Beyond
15% off Senor Avocado
10% off KetoManna
15% off Ti Tonics
30% off Burn Butter
15% off Foods Alive
Overall Thoughts
This was a fun box to round out the summer! I thought the uniqueness of these items really stood out. Sure, flax crackers and fat bombs are kind of common, but things like the freeze dried avocado, veggie wraps, and garlic mist were totally new to me and very cool to try out.
I also really enjoyed that collagen drink, so I appreciate getting a "sneak preview" of a new/upcoming product too. This was also a pretty high value box, with the retail prices of the products adding up to around $50 before even factoring in the discounts and free shipping!
Want to check out next month's box? Save 10% on your first month's box with the code SEPT2!