Keto Chili Lime Sauce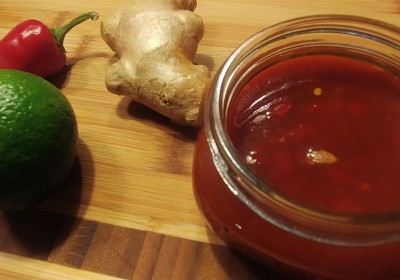 You never quite realize just how many hidden carbs and sugars are in dips, dressings, and sauces until keto makes you take a closer look at those nutrition labels. For me, one of the biggest shocks was the whopping 5 grams of carbs (mostly sugar) found in a single tablespoon of most ketchup brands…which is why I was thrilled to discover lower carb options like Alterna Sweets stevia sweetened ketchup.
Another big offender for hidden carbs were the Asian-inspired sweet and spicy sauces that I liked with chicken, veggies, seafood, and so on. In addition to the sugars, there is often added starches or fillers to give them that thick, "sticky" texture. Since (as far as I know) no one is selling keto-friendly versions of those sauces in stores yet, I set out to make my own with this keto chili lime sauce.
In addition to chili and lime (of course), the sauce also features the flavors of ginger and garlic, and is rounded out with a little bit of the aforementioned Alterna Sweets ketchup. I used the spicy variety for a bit of extra kick, but the original will work fine too.
Notes:
Want a bit more spice? Leave some or all of the chili seeds in. You can also adjust the sweetness by varying the amount of sweetener as needed.
If you don't have fresh ginger on hand, about 1/4 teaspoon of ground ginger should work as a substitute. I really recommend using fresh, though.
The xanthan gum is used to give this keto chili lime sauce a more "glaze" like consistency. You can leave it out if you don't mind a thinner sauce.
If your sauce thickens too much in the fridge, you can thin with a splash of water and reheat.