Keto Vanilla Chai Roasted Almonds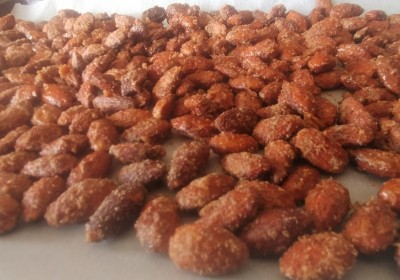 Like many varieties of nuts, almonds are low in effective carbs but high in protein and healthy fats, making them a great keto snack. Despite this, plain almonds aren't necessarily the most exciting thing to eat…and while roasted almonds with savory flavors are relatively easy to find, finding options for sugar free or keto candied almonds or other sweeter varieties in stores isn't nearly as easy.
Luckily, low carb roasted almonds are pretty easy to make yourself! For this recipe, I decided to use my keto chai spice blend along with a bit of vanilla and sweetener to make these keto vanilla chai candied almonds. They will last for a while if stored in a sealed container, but you can always scale the recipe up or down depending on how big of a batch you want to make.
Notes:
Using a slotted spoon to transfer the almonds to the baking sheet ensures that you aren't left with too much excess liquid (which prevents the almonds from crisping).
I used Lakanto Golden sweetener for this. The measurement is based on a sugar-equivalent sweetener. If using something like plain erythritol, you may want to increase the amount slightly.
Be sure to use raw almonds for this keto candied almond recipe; almonds that are already roasted will burn in the oven.