Easy Keto Fried Halloumi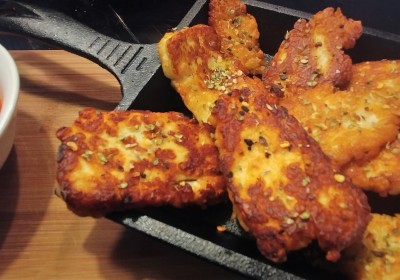 I like to keep a few batches of my keto cheese sticks ready to go in the freezer for whenever I have a craving for cheesy, salty, fried goodness, but sometimes I run out and am not in the mood to prep more from scratch. If I have halloumi on hand, though, it barely counts as an inconvenience. Halloumi fries up into a similar crisp on the outside, cheesy on the inside dish without the need to bother with egg washes or low carb breadings.
It doesn't have the same melty, stringiness of a traditional mozzarella stick, but the distinct texture of halloumi has its own special appeal. Plus you can make these in literally five minutes; even quicker than popping those low carb cheese sticks out of the freezer and into the frying pan! I like to up the flavor profile even more by sprinkling these keto fried halloumi sticks with oregano and red pepper before serving.
Notes:
These are best served fresh, immediately after cooking. They are still tasty when reheated, but the texture is a bit tougher.
A squeeze of fresh lemon juice and/or a dash of fresh ground black pepper are also great flavor additions.
If you can't find halloumi (a common problem at my local stores), some types of queso blanco (specifically queso de freier, if you can find it) will work as a replacement.