Keto Krate August 2018 Review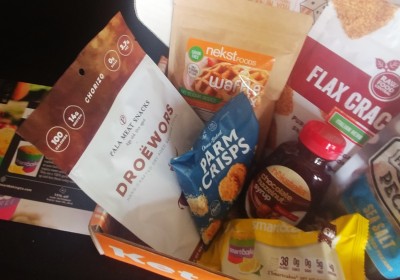 Time to finish out this summer's Keto Krates! This keto subscription has been pretty consistent with its product mix so far, so I have a good idea of what to expect at this point: about two jerky/meat snacks, a couple other savory/salty snack options, some keto-friendly sweet treats, and then maybe a unique ingredient or pantry item.
As a reminder, Keto Krate costs $34.95 per month plus a $4.95 shipping fee ($39.90 total), and promises 6-8 keto-friendly snacks per month plus $20+ in coupons and discounts that subscribers can use to purchase more of the featured products. All products included are gluten free, aspartame/maltitol free, and 5g net carbs or less per serving. You can view reviews of past Keto Krates here.
If you're a new subscriber, you can take advantage of the $5 discount offer when you sign up here using the Keto Krate promo code FIVE2018.
Here's what was in the August Keto Krate:
First up, I tried out this new SmartCake flavor:

1x pack SmartCakes, Lemon (value: about $3.25) [<1g net carb per serving]Save 10% w/ code tryketowithme
Yum! I'm a pretty big fan of SmartCakes, so I was super exicted to check out their new flavor. These lemon cakes did not disappoint. Like all of the other SmartCakes, they are soft and fluffy, and satisfy a sweet tooth without being overly sweet. They are sweetened with monk fruit and erythritol.
The lemon flavor is spot on, without being overpowering or tasting artificial. It's balanced out with a bit of vanilla. I have found that these are far more filling than you might expect given the low calorie count (38 calories each), thanks to the fiber, protein, and healthy fats.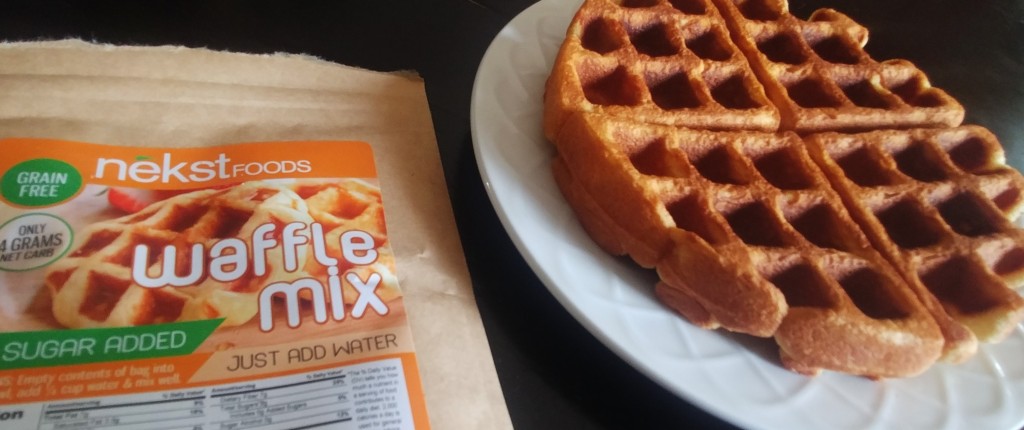 1x 4.23oz package Nekstella Waffle Mix (value: about $5.00) [4g net carbs per serving]
I've got my own keto waffle recipe committed to memory by now, but I'm always open to trying a more convenient option for those lazy weekend mornings! This mix only requires you to add water, and an optional teaspoon of coconut oil for extra crispiness.
They were super quick to make and pretty tasty, but I'm not sure I could make them a regular staple. According to the nutrition details, the size of a single waffle from my waffle iron would actually be multiple servings, and at 4g of net carbs each, it would be hard to fit in to my macros.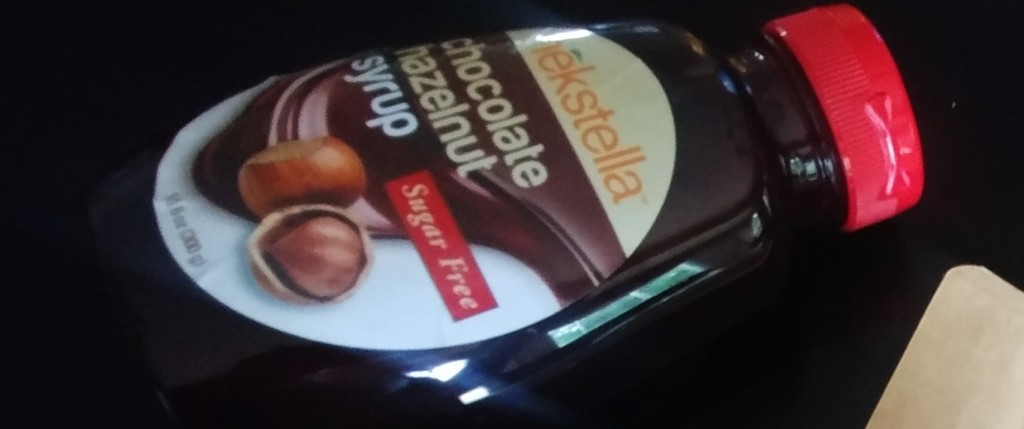 1x 10oz bottle Nekstella Chocolate Hazlenut Syrup (value: $7.98) [4g net carbs per serving]
This was the second Nekstella product meant to be in this month's Krate. Here are some thoughts from a previous review:
I was never a huge fan of standard Nutella pre-keto, but Nekstella's version is so creamy and delicious that I often just eat it by itself. This is the syrup version of it, which is perfect for drizzling on top of your favorite keto desserts, or even adding to a drink. It's not as buttery as the original, but it still packs a similar amount of sugar free chocolate hazlenut flavor.
NOTE: Apparently, a shipping mishap meant that this product was missing from some boxes. I'm not sure how/when Keto Krate plans to compensate affected customers, but I will keep an eye out for updates.
1x 2.2oz package Pala Meat Snacks Droewors, Chorizo (value: $6.99) [0g net carbs per serving]
We only got one meat snack in this month's Krate, but it was a good one! I really like that Keto Krate likes to mix up their jerky options, and this pack of droewors from Pala Meat Snacks was a good choice. Droewors are a South African meat stick that are naturally air dried. I wish the chorizo flavor was a little more pronounced, but I really liked the flavor and texture overall.

1x bag ParmCrisps Minis, Original (value: about $1.50) [0g net carbs per serving]
I'm a fan of parmesan crisps, and this is definitely one of the better brands available. This mini bag is perfect for a single serving snack, or for adding to a big bowl of salad as a crouton replacement. I love the black sesame ParmCrisps too, so hopefully we'll see a mini version of those at some point too!

1x 4oz bag Front Porch Pecans, Sea Salt (value: $5.99) [1g net carbs per serving]
I could eat these all day! This is one of those products that I was introduced to via keto subscription boxes and have absolutely fallen in love with since. I went from being pretty neutral on pecans (I didn't dislike them, but also didn't go out of my way to buy them) to being a pretty big fan!
These nuts are perfectly roasted with just the right amount of salt and a delightfully buttery texture. Pair that with the high quality healthy fats, and you have a perfect keto snack.

1x Raw Food Central Flax Crackers, Italian Herb (value:$6.99) [6g net carbs per serving*]
I'm not the biggest fan of flax crackers necessarily, but they certainly have their place in satisfying those crunchy cravings while keeping it keto. If you're somewhat sensitive to the taste of baked flax seeds like I am, you may enjoy this "raw" brand more than other options.
However, it looks like the flavor variety I got (Italian Herb) was different from the "Curt's Classic" variety listed in the box insert. That's disappointing, since I know from past experience that the classic variety is much lower in carbs. The 6g net carbs in the Italian Herb actually puts it outside of Keto Krate's 5g limit. Looking on social media, it appears most people received the correct variety.
In addition to the items in the August Keto Krate, subscribers also received the following discounts:
15% off Smart Baking Company
15% off Front Porch Pecans
15% off ParmCrisps @ Boxed.com
15% off Pala Meat Snacks
10% off Nekstella
The box also included an illustrated recipe for pecan crusted chicken tenders featuring the Front Porch Pecans from the box!
Overall Thoughts
This box only had 7 items, in contrast to July's packed 11 item box, but the items included here were all higher value so it balanced out overall. It was especially cool to get to try the new SmartCake flavor, and I will of course never complain about getting more Front Porch Pecans.
The Nekstella items were tasty and fun to try as well (although I imagine it would be quite disappointing to have to wait for a replacement if your box was missing the syrup). Overall though, the value was there this month, and I used everything in my box. Shipping mishaps like this month have been rare in my 15+ months with Keto Krate, so I'm confident that they will patch things up.
Keto Krate has hinted that September will have a "back-to-school" theme, so I'm looking forward to seeing what kind of on-the-go snacks and convenient energy boosts might be in store!
You can view past reviews here, and head here to sign up for your own Keto Krate. If you're a new subscriber, you can use the code FIVE2018 to save $5!