Keto Krate July 2018 Review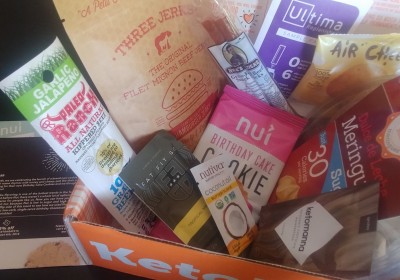 I've been pretty happy with my Keto Krates for the first half of 2018, so I was excited to see if the quality would hold up as we finish out the summer. This keto subscription has been pretty consistent with its product mix so far, so I have a good idea of what to expect at this point: about two jerky/meat snacks, a couple other savory/salty snack options, some keto-friendly sweet treats, and then maybe a unique ingredient or pantry item.
As a reminder, Keto Krate costs $34.95 per month plus a $4.95 shipping fee ($39.90 total), and promises 6-8 keto-friendly snacks per month plus $20+ in coupons and discounts that subscribers can use to purchase more of the featured products. All products included are gluten free, aspartame/maltitol free, and 5g net carbs or less per serving. You can view reviews of past Keto Krates here.
If you're a new subscriber, you can take advantage of the $5 discount offer when you sign up here using the Keto Krate promo code FIVE2018.
Here's what was in the July Keto Krate: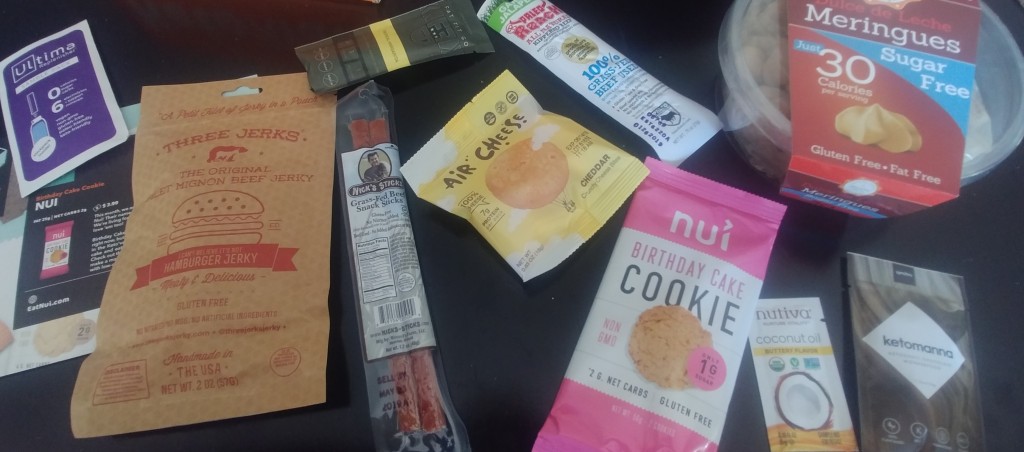 First up, I was feeling a little celebratory:

1x pack Nui Cookies, Birthday Cake (value: about $3.00) [3g net carbs per serving]
Keto Kookie has rebranded under the name Nui, with a new look and what appears to be a new formula as well. In general, I find the new cookies to be a bit "cakier" than the original recipe. Of course, they still have the same low carb count to keep things keto-friendly. This "birthday cake" flavor has the sweet vanilla notes of yellow cake with added "sprinkles" in the form of coconut. The cakier texture natually works well for these. They were also featured in this month's recipe.
1x bar KetoWatt, Peanut Butter (value: $3.00) [4g net carbs per serving]
I've tried KetoWatt bars before, but this was my first experience with their peanut butter flavor. I would describe the taste as similar to a peanut butter cookie although a bit drier and with more "nutty" notes from the other ingredients like cashew butter, almonds, sunflower seeds, etc. It was pretty tasty overall, and very filling considering the size of the bar.

1x 2oz package Crunchy Melts Sugar Free Meringues, Dulce de Leche (value: $7.99) [<1g net carbs per serving]
I was initially very happy to see a multi-serving package of a sweet treat in this month's Keto Krate, although seeing isomalt as the main sweetener made me a little less excited. Although it is a sugar substitute with little to no impact on blood sugar, it does run the risk of an upset stomach if you eat too much (like maltitol). I should note that it is definitely better than maltitol as far as glycemic impact goes, and that Keto Krate actually avoids including maltitol-sweetened products entirely.
With that out of the way, the little meringues themselves are actually quite tasty! They are crisp and sweet with a light caramel flavor. I like that you can just eat a few and be satisfied, but since they have just 3 calories each, you can treat yourself to more without worrying too much about your macros.

1x package Three Jerks Filet Mignon Beef Jerky, Hamburger (value: $11.99) [5g net carbs per serving]
If I'm being honest, the first thing I thought after reading "filet mignon beef jerky" was…isn't that a waste? But even though I'd probably prefer a nice seared steak to strips of jerky, I have to admit that this jerky impressed me! Using the higher quality cut of beef gives it a really nice texture that already puts it a notch above most other jerkies.
On top of that, the flavor is super unique! This is a "hamburger" flavored jerky, and somehow they've managed to get the flavors of burger toppings like ketchup, mustard, and pickles into this jerky without it tasting weird and artificial.

1x pouch Fat Fit Go, Tropical Margarita (value: about $2.50) [1g net carbs per serving]
From a past review:
I've tried a number of these portable fat bomb style snacks, but tropical margarita has got to be one of the more adventurous flavors I've seen. Looking at the other ingredients in this, including nuts, cocoa butter, and chia seeds, I wasn't sure how the combination would work out, but it's actually pretty good! The combination of lime and "nutty" flavors make this more like a key lime pie or cheesecake flavor than a margarita though.
1x pouch Synchro KetoManna (value: about $2.50) [2g net carbs per serving]
This is another fat bomb style product made with coconut and MCT oil as the main fats and flavored with vanilla and cocoa. The flavor ends up somewhere between a dark chocolate fudge and brownie batter, so I was definitely a fan. You could probably whip up something similar on your own, but the convenience of these grab and go packs is always nice. I'm guessing it would be good blended with coffee as well.

1x pack Nick's Sticks, Original (value: about $3.25) [0g net carbs per serving]
When I was trying to think of products to include on my list of top keto jerky brands, I noticed that many of you suggested Nick's Sticks. I didn't put them on the list since I hadn't tried them for myself at the time, but after getting them this month I can see why they are so popular!
These are made from grass fed beef and seasoned simply with salt and a blend of spices. The flavors in the spice blend aren't overpowering, but I thought they really complemented the beef well. I like that they are simple without being bland.

1x sample Nutiva Coconut Oil, Buttery Flavor [0g net carbs per serving]
This was a bonus freebie included to sample this month. It's a little packet of coconut oil with a buttery flavor. I had it drizzled over a pair of cinnamon SmartCakes, and it was a nice addition of flavor and healthy fats. I could also see it being a good addition to coffee that would blend easier than dairy butter while having a similar taste.
2x servings Ultima Replenisher (value: about $1.50) [0g net carbs per serving]
I'm a big believer in the importance of electrolytes for a keto lifestyle, so I'm always happy to have an easy way to get some in. These drink mixes are sugar free while adding a decent amount of electrolytes for hydration and mineral balance. I was happy to get more, especially with the summer heat!

1x pack Paleo Ranch Kippered Beef, Garlic Jalapeno (value: about $2.50) [1g net carbs per serving]
I feel like I'm constantly learning about new types of jerky and other meat snacks with this subscription! This "kippered beef" strip is similar to other jerky products, but has a more tender texture. I really liked the smokey, savory flavor of this, but I wouldn't have minded if it was a bit spicier.
1x bag I Love Snacking Air Cheese (value: about $2.00) [1g net carbs per serving]
I'm a fan of most cheese-based snacks, so I'm always happy to try a new brand. This air cheese is "puffed" 100% cheese, similar to other options like Moon Cheese. I liked the crunch of these, but I did wish they had a stronger cheddar flavor.
In addition to the products included in the July Keto Krate, subscribers also received the following discounts:
15% off Nui
15% off KetoWatt
$5 off Nutiva
15% off Ultima Replenisher @ Amazon
10% off Synchro
15% off Nick's Sticks
The box also included a recipe for keto birthday cake cheesecake bites using the Nui cookies.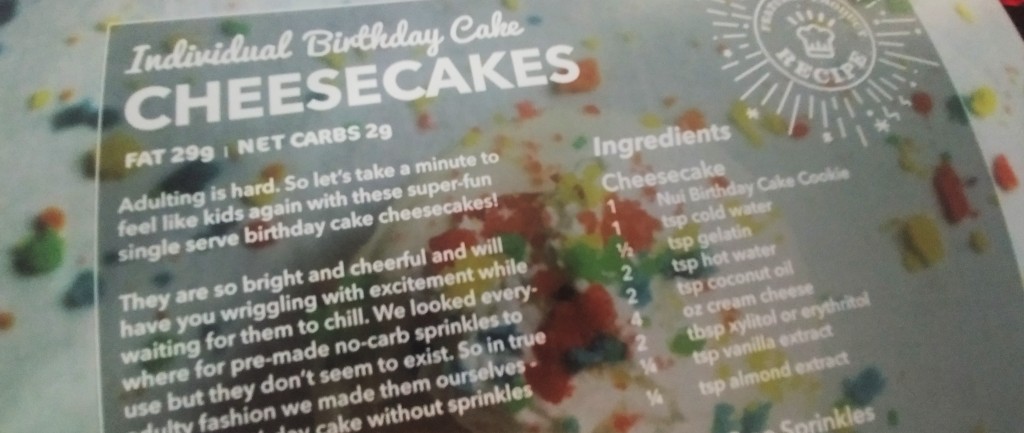 Overall Thoughts
This was another pretty good month for Keto Krate. The product mix was about what I've come to expect, including two jerky snacks, several sweets, and other snack items to take on the go or enjoy at home. It was maybe a little light on discounts this month, but I feel like the overall value of the Krate balances out.
It was definitely the most "snack focused" box I've had from them in a while, which I don't mind too much, though I do like it when we get more drinks and pantry items as well. The box did seem to have a sort of "on the go" theme, so the snack focus makes sense.
You can view past reviews here, and head here to sign up for your own Keto Krate. If you're a new subscriber, you can use the code FIVE2018 to save $5!