Keto Air Fryer Radishes ("Fauxtato" Wedges)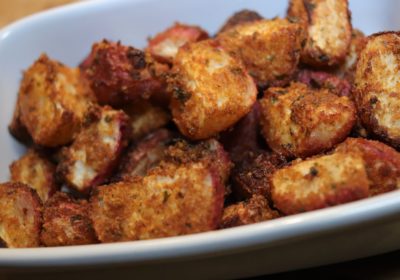 Many people only think of radishes in the context of salads where they are perfect for adding a bit of crunch and spice. Similar to cauliflower though, radishes are a surprisingly versatile low carb veggie option. The texture totally changes when they are cooked, and the heat/bitterness totally melts away. These keto air fryer radishes take advantage of that to make a low carb side similar to potato wedges.
Roasting radishes in the oven can achieve similar results, but it takes a bit longer and might not cook as evenly. In contrast, these keto air fryer radishes can be ready in under 20 minutes with pretty consistent results every time. The key to the "fauxtato wedge" effect is opting for larger radishes if possible. This way you can cut them into quarters that will end up crisp on the outside and tender on the inside. Smaller radishes can work, but you may want to halve them instead.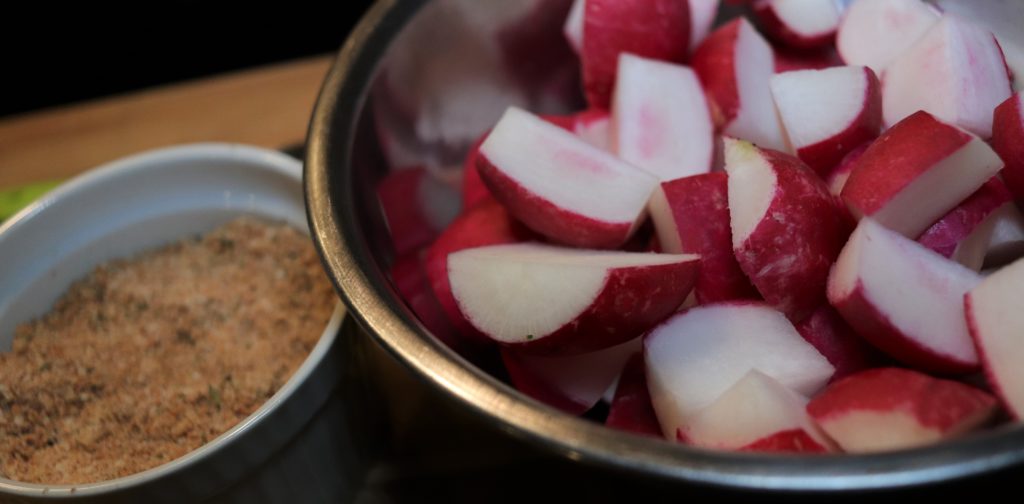 The other secret to these keto air fryer radishes is the slight "breading" on the outside. Toss your radishes in oil followed by a mixture of parmesan, crushed pork rinds, and spices. In addition to adding plenty of flavor, the coating will get the radishes crisp and golden brown. Because the radishes themselves aren't calorie dense at all, the end result remains pretty light.
That makes these keto air fryer radishes a great side to serve as "fauxtato wedges" alongside a good grassfed steak or burger! They make the meal more satisfying without adding a ton of carbs or calories. I personally enjoy them dipped in a bit of low carb ketchup, just like the real thing!
Looking for another keto substitute for a potato-based side? Try these Easy Keto Loaded Zucchini Skins!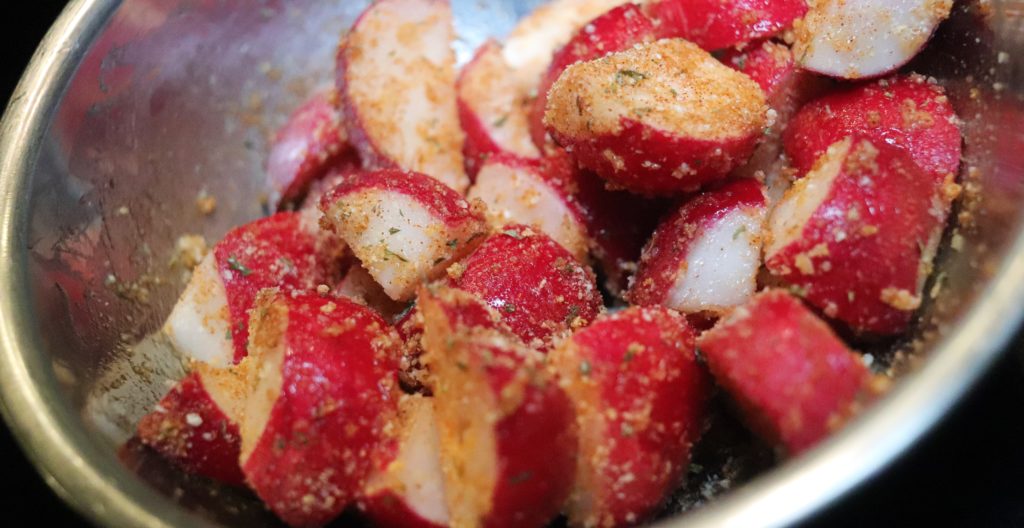 Crispy Keto Air Fryer Radishes
These air fried keto radishes make for the perfect "fauxtato" wedges, a nice savory side to serve with burgers or steak.
Ingredients
1

lb

large radishes

1.5

tbsp

olive oil

or bacon fat

2

tbsp

grated parmesan

about 0.5oz

2

tbsp

crushed pork rinds

about 0.25oz

3/4

tsp

dried parsley

3/4

tsp

sea salt

3/4

tsp

paprika

3/4

tsp

garlic powder

1/2

tsp

onion powder

1/2

tsp

ground cumin

1/4

tsp

black pepper
Instructions
Trim the ends of the radishes and cut into quarters. Rinse with cold water and drain well.

In a small bowl, combine the parmesan, crushed pork rinds, and spices.

Separately, in a larger bowl, drizzle the radishes with oil and toss to coat.

Add parmesan mixture to radishes, and toss/stir until evenly coated.

Air fry radishes for 10 minutes at 400F. Toss well, then return to the air fryer for an additional 5-7 minutes, or until tender inside and crisp outside.

Best enjoyed fresh. Optionally, season with additional salt and pepper before serving.
Notes
Radishes tend to shrink when cooked, so I recommend using larger ones if possible. For smaller radishes, you may want to halve them instead of quartering.
For the best texture, I recommend reheating in the oven, air fryer, or by sauteing quickly in a small amount of oil.
This keto air fryer radish recipe serves 2-4. The nutritional estimates below are based on two servings.
Nutrition
Calories:
150
kcal
|
Carbohydrates:
8
g
|
Protein:
4
g
|
Fat:
12
g
|
Saturated Fat:
2
g
|
Polyunsaturated Fat:
1
g
|
Monounsaturated Fat:
7
g
|
Cholesterol:
3
mg
|
Sodium:
989
mg
|
Potassium:
529
mg
|
Fiber:
4
g
|
Sugar:
4
g
|
Vitamin C:
46.2
mg
|
Calcium:
90
mg
|
Iron:
0.7
mg