Keto Strawberry Swirl Cheesecake Bars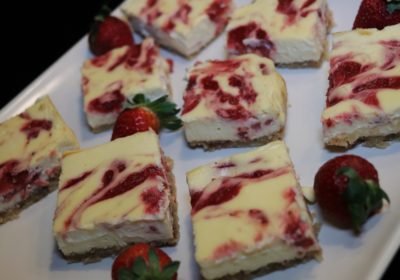 I will make no secret about my love for cheesecake, especially because it's so easy to keep keto! Cream cheese and eggs are low carb as is, so all you really need is a reliable keto sweetener to replace the sugar. Cheesecake crusts are pretty simple to keto-fy too, with nut flour and butter making an easy starting point. Once you've got a reliable crust and batter down, mixing things up with different flavors and add-ons is simple. For example, just add a quick strawberry sauce to make these keto strawberry swirl cheesecake bars!
The strawberry swirl looks fancy, but takes just a few ingredients: strawberries, water, lemon juice, and sweetener. A pinch of xanthan gum makes the swirls hold better, but it's okay to leave it out. Just simmer the sauce a little bit longer to thicken it. I personally like having little bites of strawberry left in these bars, but pureeing the sauce is an option too. Either way, it's definitely the highlight of these keto strawberry swirl cheesecake bars.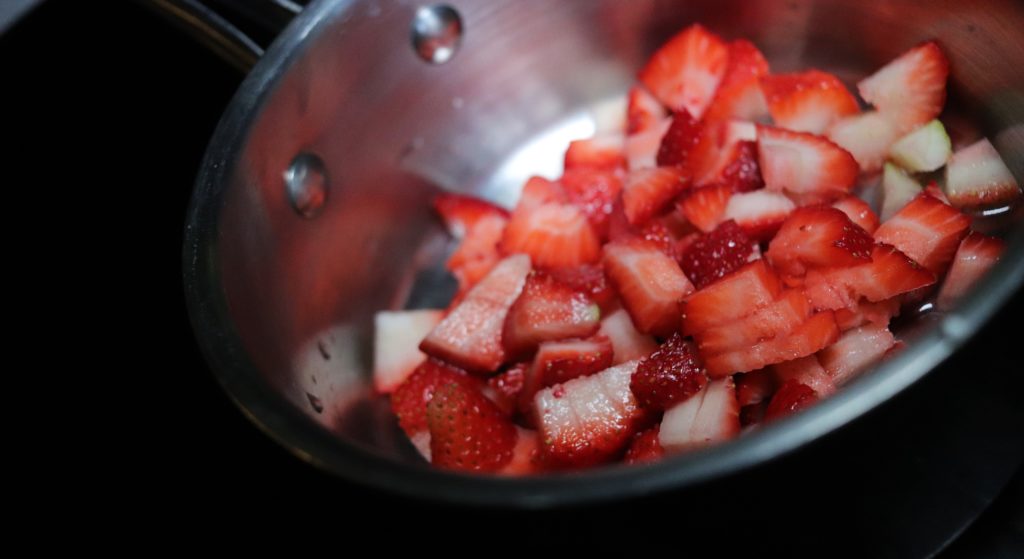 The crust and cheesecake flavors here are designed to compliment the strawberries. The cheesecake filling is smooth and creamy with a light vanilla flavor. The crust mainly uses almond flour, with the addition of ground pecans. I like adding the pecans because they have a little more flavor than plain almond flour, but not enough to be overpowering. You can also use macadamia or walnuts for a similar effect.
The crust is prebaked to make sure it holds together, and then layered with the cheesecake and strawberry swirls. Because these are keto strawberry swirl cheesecake bars rather than a full-sized cheesecake, this recipe only needs about half an hour in the oven. The chill time is shorter too, so you can actually enjoy this keto dessert on the same day you make it!
Looking for other creamy keto dessert recipes? You might like: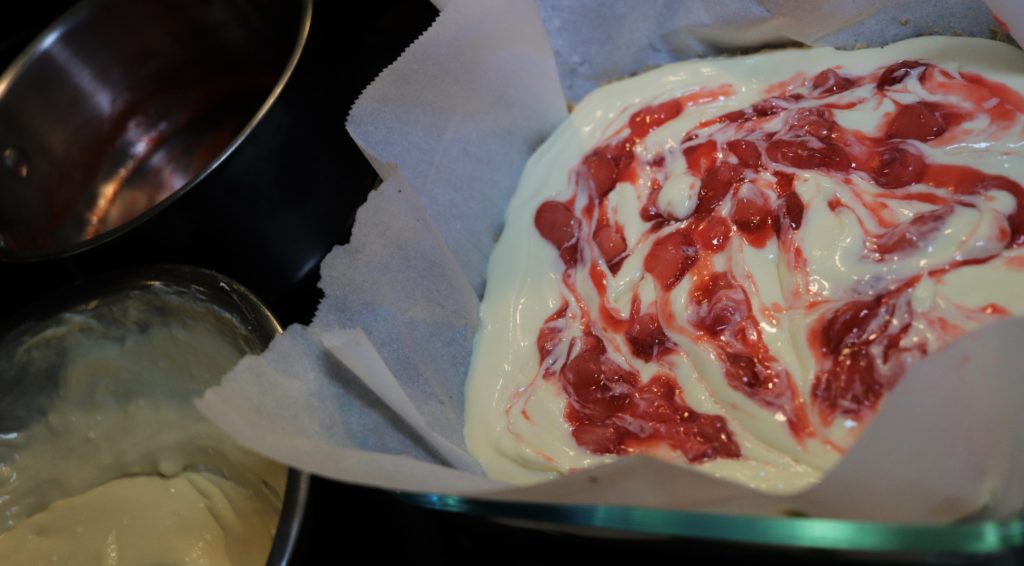 Keto Strawberry Swirl Cheesecake Bars
A nutty crust, creamy vanilla cheesecake, and fresh strawberry sauce combine to make these delicious keto strawberry swirl cheesecake bars.
Ingredients
Vanilla Cheesecake Filling
16

ounces

cream cheese

softened

1/3

cup

granulated Lakanto Classic

or other keto sweetener

1.5

tsp

vanilla extract

1

large

egg

1

egg yolk
Instructions
Preheat oven to 350F. Prepare an 8x8 square baking dish by lining with parchment paper and/or spraying with coconut oil.
Prep the Crust
Add pecans to a food processor, and pulse into a coarse "flour."

Combine with other dry ingredients (almond flour, sweetener, cinnamon, coconut flour, and salt).

Add melted butter and vanilla to dry ingredients, and stir to combine. Press the crust into the bottom of the prepared baking dish to form an even layer.

Bake for 15 minutes in preheated oven, then remove from oven and allow to cool while you make the sauce and filling.
Prep the Strawberry Sauce
Add strawberries, water, and liquid to a small saucepan over medium heat. Separately, combine the sweetener and xanthan gum.

Bring strawberry mixture to a boil, about 2-3 minutes, then stir in the sweetener.

Cook for an additional 5-7 minutes, stirring and breaking up the strawberries as you go, until sauce is thickened. Remove from heat.
Prep the Cheesecake Filling
In a medium mixing bowl, beat the cream cheese until smooth. Add granulated Lakanto (or other sweetener), and vanilla extract. Continue beating until well combined.

Add the egg and egg yolk, and mix until just combined.
Layer and Bake
Pour about half of the cheesecake filling over the prepared crust.

Dollop with spoonfuls of the strawberry sauce (using about half), then carefully swirl with a knife.

Repeat the layers, gently spooning the remaining cheesecake filling on top and then finishing with the rest of the strawberry sauce. Take care to only swirl the top layer this time.

Bake in preheated oven for 25-30 minutes, or until just set in the center.

Cool at room temperature for 30-45 minutes, then refrigerate for at least 2 hours to set.
Slice and Serve
Once chilled and set, slice into individual servings. Top with whipped cream, chocolate drizzle, and/or more fresh berries if desired.
Notes
I personally like the texture of the strawberry sauce with some berry pieces left intact, but if you prefer a totally smooth sauce, you can puree if after cooking. It also stores slightly better with a smooth sauce.
I like to use Lakanto Classic for this recipe (save 20% w/ code TRYKETO), but 1/3 cup of any sugar equivalent granulated sweetener should work. You can also use 1/3 cup granulated erythritol with a few drops of liquid stevia or sucralose to taste.
You can mix things up by adding white chocolate flavoring to the cheesecake filling or even keto white chocolate chips to the batter!
Nutrition
Calories:
325
kcal
|
Carbohydrates:
6
g
|
Protein:
7
g
|
Fat:
32
g
|
Fiber:
2
g