Keto Fridge Review – Keto Meal Delivery Service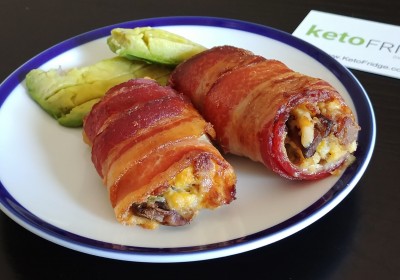 I've always liked cooking, but like many people, making the switch to the keto lifestyle meant doing a lot more of it. Although new low carb convenience foods and products continue to be released as more people catch on to the benefits of keto living, often times the best way to get a quality, keto-friendly meal is to prepare it yourself. Unfortunately, even for those of us who enjoy spending time in the kitchen, it isn't always easy to make space for the time and effort required for daily keto cooking.
I briefly flirted with the idea of one of those ingredient delivery services because the notion of premeasured ingredients for a 30 minutes or less recipe sounded appealing…but it was really hard to find low carb friendly meal options on their menus. And I know a lot of people have success with meal prepping once or twice a week to save time, but I tend to like a bit more variety in my meals than that allows for. So as I continued my search for a way to save on cooking/clean up time and effort while still being able to have a variety of meals, I was happy to discover Keto Fridge.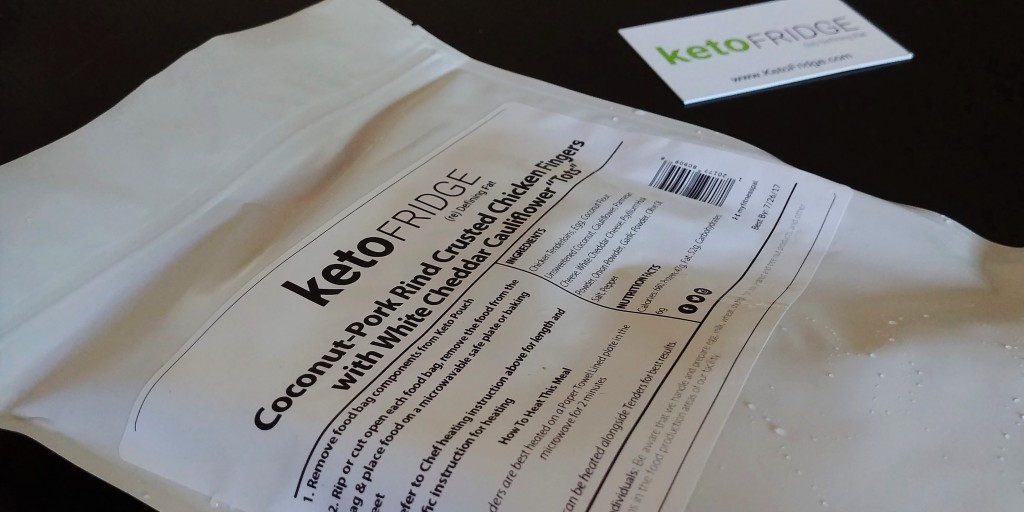 What Is Keto Fridge?
Keto Fridge is a meal delivery service that offers fully prepared, fully keto-friendly meals delivered weekly to your door nationwide. The menu changes every week, so if you're a fan of variety like me, you don't have to worry about getting bored with the options. You can view this week's menu here. If you want to try it out for yourself, use the code TRYKETO at checkout to save 10% off your order!
What Kind of Meals Does Keto Fridge Offer?
Based on my experience over the past couple of weeks, every week's menu includes at least two breakfast meal options. This usually includes a different flavored keto pancake option, plus another keto-friendly breakfast. In addition, there will be several lunch/dinner options. You can order red meat, poultry, or seafood based meals, with at least a couple options available to choose from for each protein.
The flavor palettes feature a good amount of variety, too. Over the course of just a couple weeks, I've had everything from poblano citrus shrimp and Korean BBQ chicken stuffed peppers to a keto sausage and pepper pizza and almond crusted salmon. Sides has included classic keto veggies like spaghetti squash and asparagus, as well as more "fun" options like keto cheese sticks, onion rings, and zucchini fries. Many of the meals are things I would never really think to make for myself, which is definitely an added bonus for me!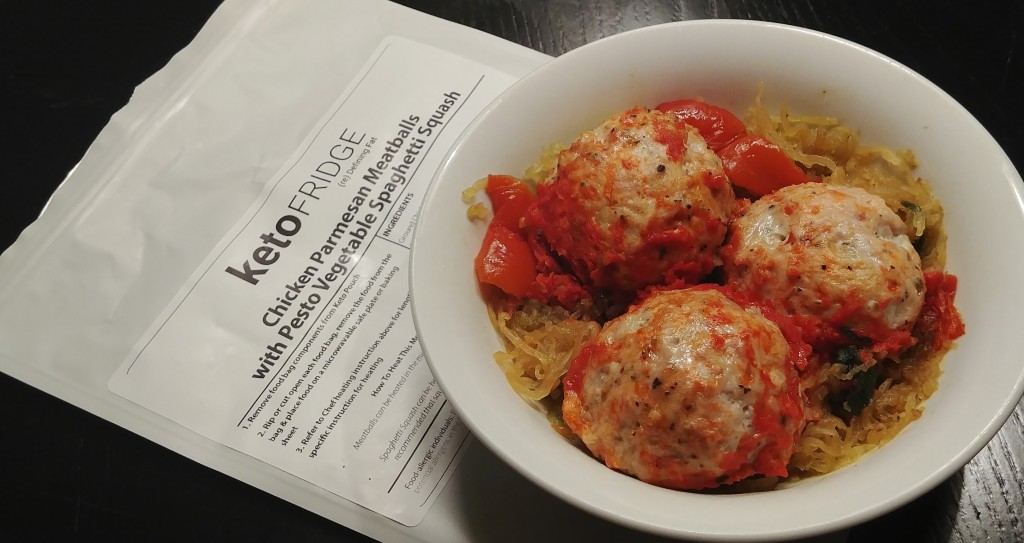 How Do Keto Fridge Meals Arrive?
The meals come in an insulted, refrigerated box that will keep everything fresh and secure even if you aren't home when the meals are delivered. Each meal is individually packaged, with the individual components of the meals separate as well. This makes it super easy to swap proteins/sides if you want, or to save them for later.
How Long Do They Stay Fresh?
The meals are prepared within a day of being shipped to you, and will stay fresh in the fridge for around 5 days after they arrive. If you don't get to enjoying them within that time, you can store them in the freezer for later, too. I try to avoid freezing meals with veggies that I know are sensitive to being frozen and thawed (like avocado or zucchini noodles), but I've had no trouble reheating other meals after storing them in the freezer. I do tend to let them thaw first rather than preparing from frozen, though.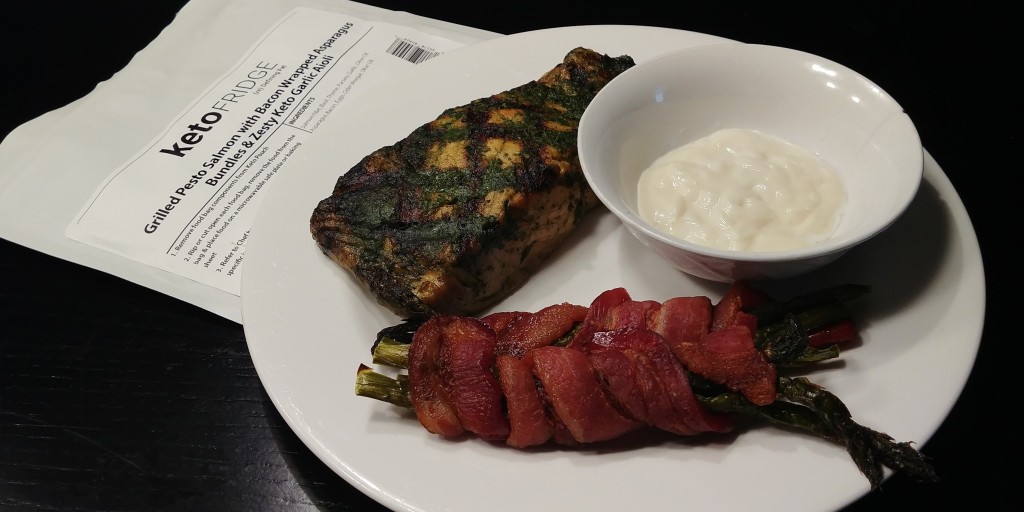 Are Keto Fridge Meals Easy to Prepare?
Each meal comes labeled with its own heating instructions, and most of them can go from fridge to plate in about 5 minutes in my experience (with no extra dishes to wash, which is awesome!) Some meals, like the keto pizzas, are prepared in the oven and take a little longer (around 10-12 minutes). In both cases, it beats making a meal from scratch.
I usually just follow the instructions on the label, but for some meals that I think could use a little extra crispiness, like zucchini fries or bacon-wrapped dishes, I might improvise with the toaster oven or a few minutes in a pan on the stove. They seem to be pretty forgiving—I haven't had anything turn out poorly so far.
What Are Keto Fridge Macros Like?
Keto Fridge meals tend to have between 600 and 700 calories, with roughly 70-75% of those calories coming from quality sources of fat, 20% from protein, and 5% or less from carbs. In my experience so far, most meals have around 5g of carbs and the highest I have seen is around 8g. Macros are listed on the website when you order, as well as on the packaging of each meal. If you like to track your macros in detail, the meals each come labeled with scannable barcodes to easily import the nutrition facts into MyFitnessPal!
The ingredients are listed alongside the nutrition and the vast majority of meals have no added gluten. As I mentioned earlier, proteins and sides are packages separately and some of those are further divided into half portions so that you can prepare a lighter meal if desired and save the rest for later.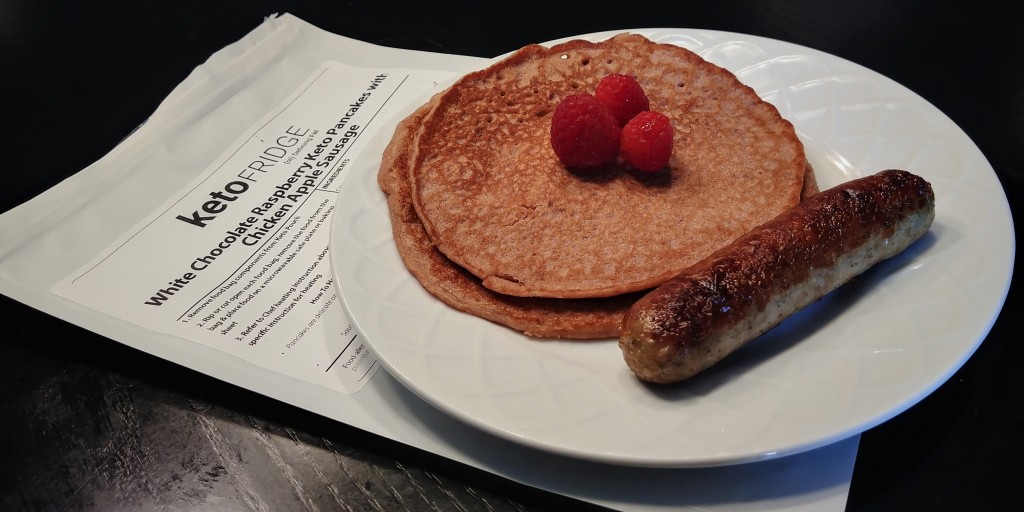 Okay, Great! But Do Keto Fridge Meals Actually Taste Good?
I'll be honest. When I first learned about Keto Fridge, I was worried the food might end up being a bit like glorified freezer meals with bland flavors and/or disappointing texture. Having actually eaten a variety of meals over the past few weeks, I'm happy to say that I was totally wrong about that. The food is good!
You can tell that the veggies are fresh and the meat is high quality. Things like burgers and pulled pork have the right amount of moisture and flavor, and even more delicate proteins like salmon arrive perfectly cooked and flaky. I guess because of how the meals are prepared and sealed, that freshness and flavor does actually last through the week, so there's not any pressure to rush through the meals in the first day or two.
I do find myself adding salt to the veggie sides in most meals, but I actually think that makes sense. It's better for customers to be able to add salt if desired rather than have dishes arrive too salty for some people's preferences. And while I'll sometimes add a topping or extra side dish to a meal if I'm feeling adventurous, but never have I felt like I need to drown it in a sauce or seasoning to make it tasty.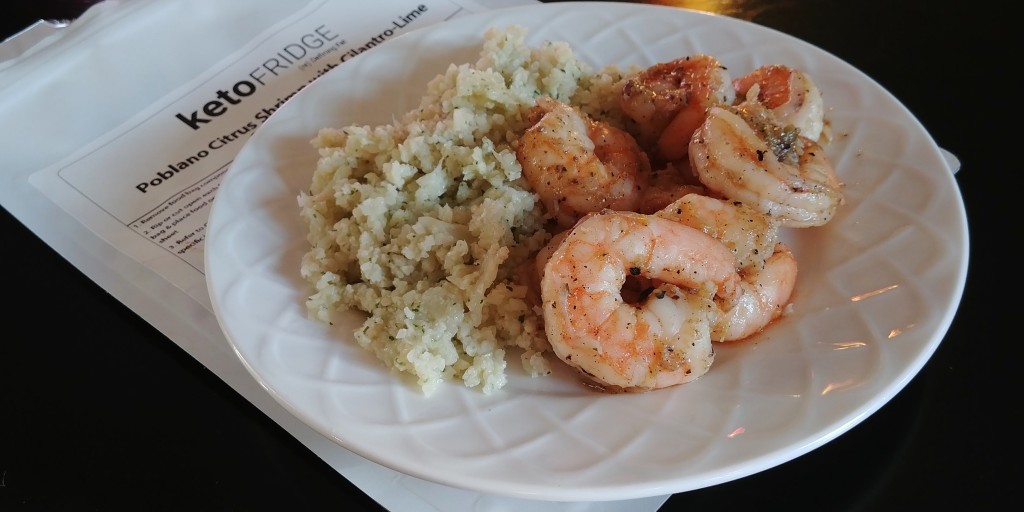 How Do You Sign Up for Keto Fridge?
You can place an order directly on their website! Head to this week's menu to see the offerings, and add the meals and quantities you want to your cart (with a minimum of 5 meals). They will be delivered fresh the following week, with no ongoing meal plans or subscriptions so you can order meals only when you need them.
Overall Thoughts
I have been super impressed with the variety and quality of meals offered by Keto Fridge so far! In addition to tasting good and fitting my macros effortlessly, I do have to confess that I am absolutely loving being able to take a few days off from cooking each week without having to make my way to a restaurant and hope I don't get funny looks for ordering a meal with extra butter or bacon, but no bread or starches.
Want to try out Keto Fridge for yourself? Enter the code TRYKETO at checkout to get 10% off your order!