My Keto Snack Box August 2017 Review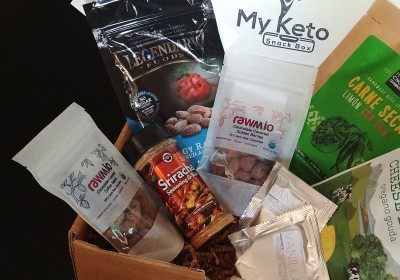 Last month, I added My Keto Snack Box to my rotation of keto subscription boxes, and I appreciated that their curation seemed to feature more products and brands that were relatively new to me.  It is somewhat hard to judge a subscription based only one box though, so I was excited to see how month two would hold up.
As a reminder, My Keto Snack Box is a $38 per month keto subscription that sends subscribers a box of 6-8 "unique" low carb products with free shipping. The products are guaranteed to be keto-friendly, with 5 net carbs or less per serving. It is meant to make it easy and convenient to have keto snacks on hand without having to shop around for them yourself. Ketoers who live abroad will also be happy to hear that My Keto Snack Box ships internationally!
Here were the items in the August 2017 My Keto Snack Box: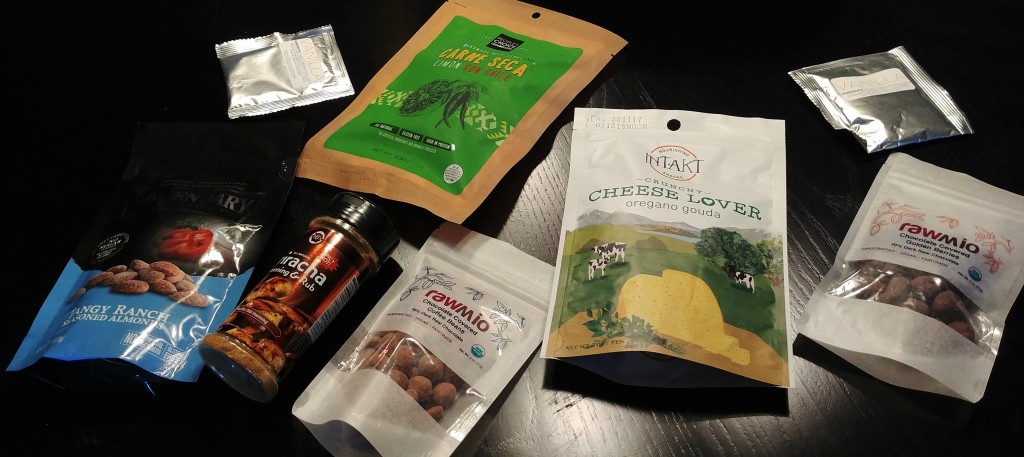 For me, it's always a good sign when you can't quite decide what to try first. This was one of those boxes, but ultimately I went for this snack: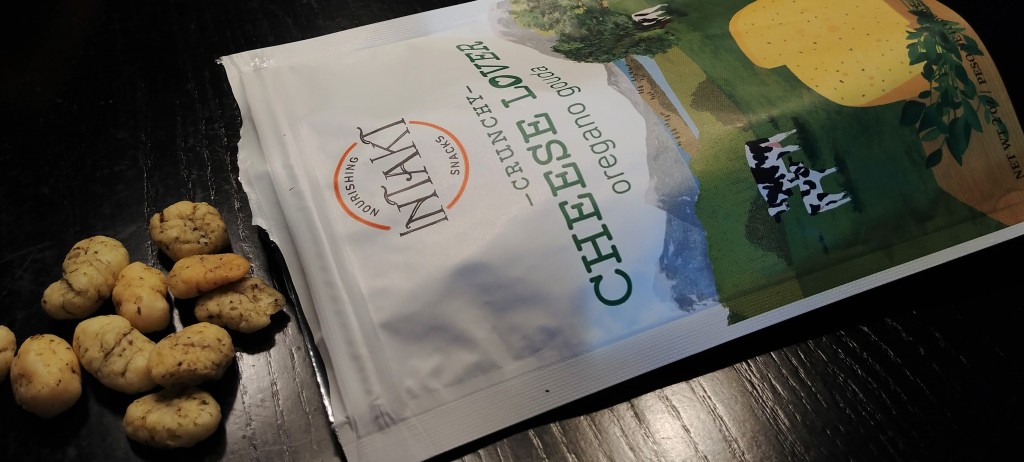 1x 2oz package Intakt Crunchy Cheese Lovers Oregano Gouda (value: about $5.00, based on similar products) [2g net carbs per serving]
Crispy/crunchy snacks have always been more challenging for me to replace than sweets and baked goods on keto, so I was really excited to try this option. I have had similar "crunchy cheese" style products in the past, so I had pretty high hopes for this one going in and I definitely wasn't disappointed.
These gouda snacks are nice and crunchy and have a subtle oregano flavor that makes them a good accompaniment for nuts, meats, and other keto-friendly snacks. My only complaint is that I can't seem to find any online outlets that have this product for sale yet so after finishing my bag, I didn't have a way to order more. If anyone knows where to find these online, please share in the comments!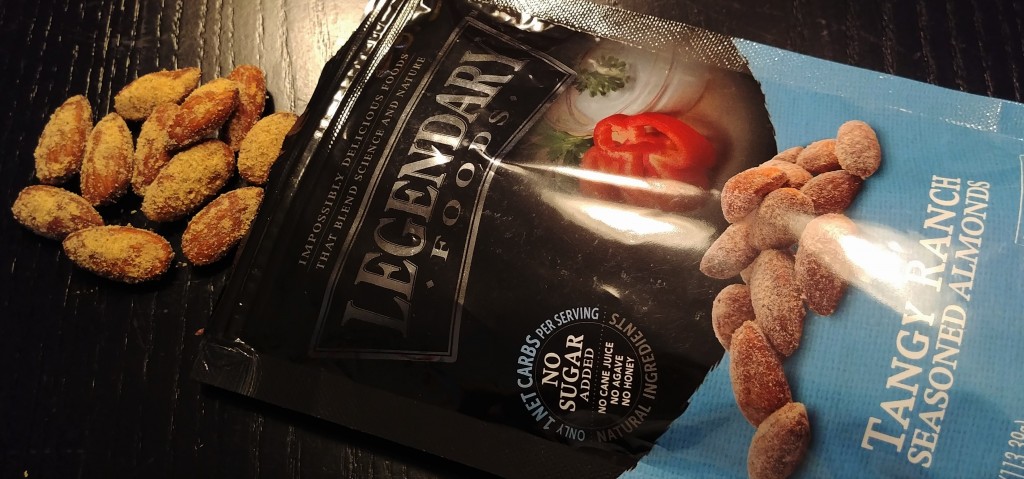 1x 4oz bag Legendary Foods Tangy Ranch Seasoned Almonds (value: $5.99) [2g net carbs per serving]
Nuts are pretty much the go-to crunchy snack of keto, and I'm always happy try something a little bit more out of the box than your standard salted and roasted variety. I was unsure how much I would like these ranch flavored almonds, but they fact that are made with all natural ingredients and no added sugars was appealing enough for me to give them a try.
I'm glad I did! The ranch flavoring on these is strong (but not overwhelming), and doesn't have any kind of artificial aftertaste that I noticed. This company also makes a buffalo wing flavored almond, and I bet the combination of the two would taste awesome!

1x 4.25oz canister J&D Foods Sriracha Seasoning & Rub (value: about $4.00) [1g net carb per serving]
This seasoning blend doesn't have the cleanest ingredient list that I've ever seen, but who doesn't love the spicy flavor of sriracha? I generally prefer my steaks to be more simply seasoned, but when it comes to chicken (especially wings), I am all in for trying some more interesting flavor combinations. This blend was a great fit for wings, either baked or fried!
I've also tried adding it to ribs, shrimp, and some veggies like broccoli with good results. All in all, it's a tasty seasoning mix but I would recommend still keeping an eye on how much you use; this product does use some carb-containing ingredients for flavor and texture.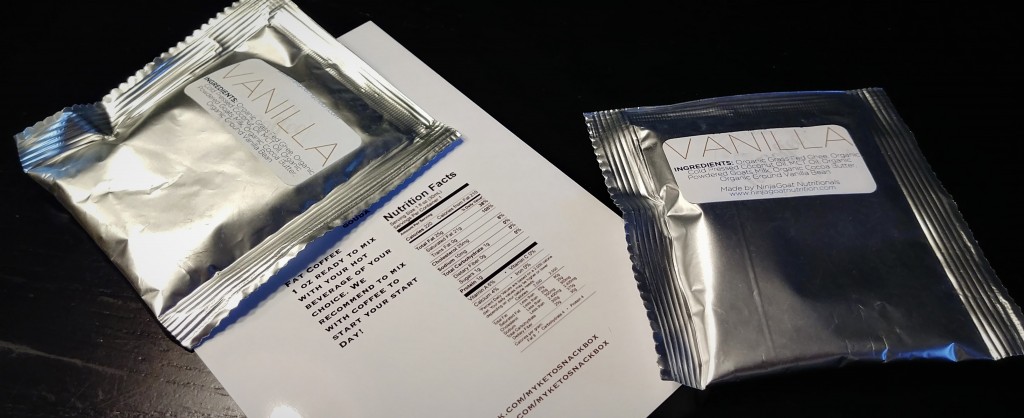 2x 1oz. fatCoffee Vanilla (value: about $5.00) [1g net carb per serving]
This fatCoffee grassfed butter blend, as the name suggests, is meant to be added to your coffee or other beverage to provide a boost of healthy fats and energy. If you're familiar with the concept of bulletproof coffee, this is meant to make a version of that convenient and accessible at home! The vanilla variety is a blend of organic grassfed ghee, coconut oil, MCT oil, goats milk, cocoa butter, and vanilla bean.
I love how creamy and rich it made my morning coffee, and I'm a big fan of the natural vanilla flavor. And if the full 220kcal/25g of fat is a bit much for you, it's pretty easy to use just half (or less) of the packet as needed and store the rest for later. FatCoffee also comes in other flavors (including a seasonal pumpkin spice option) and as a coffee addict, I will definitely be checking those out!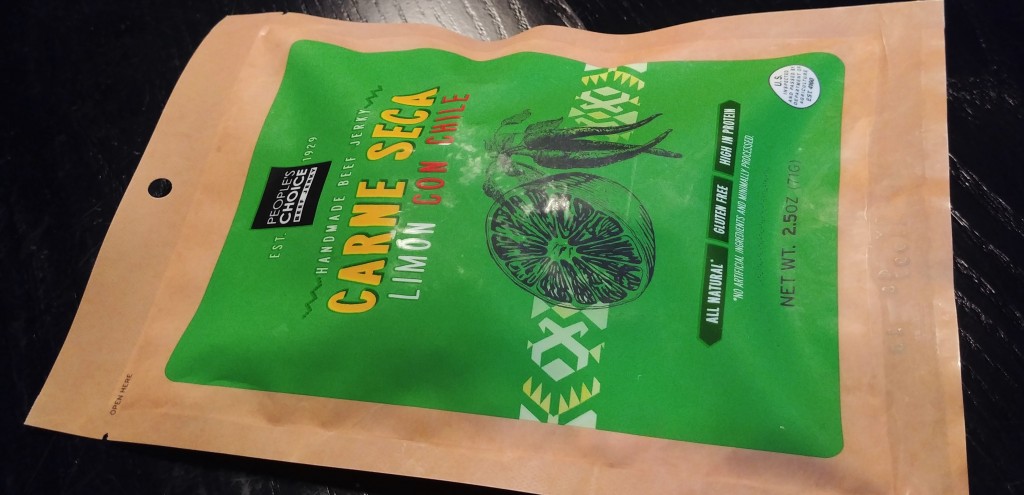 1x 2.5oz package People's Choice Carne Seca Limon Con Carne Jerky (value: $6.00) [0g net carbs per serving]
This is the only product in this box that I have had before, but it is literally one of my favorite jerkies ever so I will never complain about having more of it! The ingredient list is super clean,  the texture isn't too tough or dry, and the flavor is delicious. Here are some notes on it from a previous review:
It's rare to find a jerky that has a bold flavor without added sugars, but this definitely fits that bill. It's relatively spicy thanks to the inclusion of cracked red pepper and chili powder, but the spice is balanced by the lemon flavor so it isn't overpowering.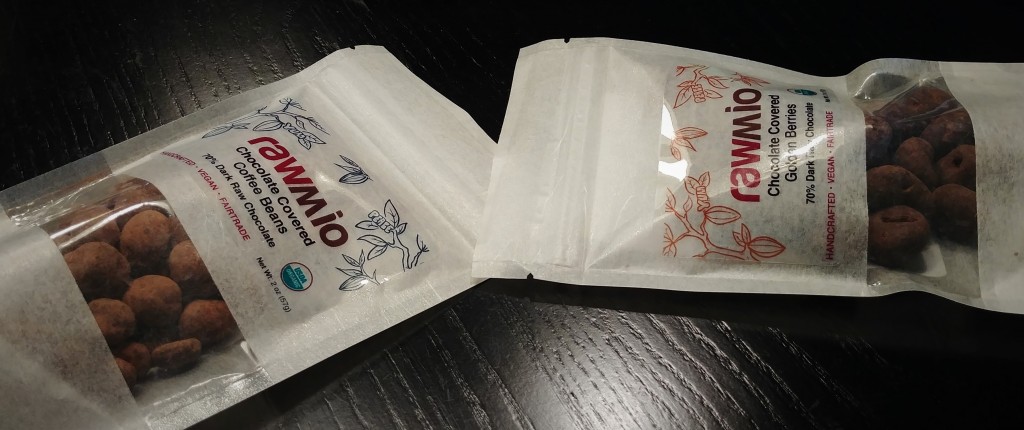 1x 2oz. package Rawmio Chocolate Covered Coffee Beans (value: about $4.50) [4g net carbs per serving]
1x 2oz. package Rawmio Chocolate Covered Golden Berries (value: about $4.50) [5g net carbs per serving]
These two products from Rawmio rounded out the August My Keto Snack Box with a bit of sweetness. At 4 and 5 net carbs each, they are higher in carb content than the other items in this month's box, but the quality, organic ingredients makes it a splurge you can feel good about, and the rich taste of the 70% dark chocolate means than even a few pieces are super satisfying to eat.
I enjoyed both of these snacks quite a lot. As a coffee fan, the combination of chocolate and coffee flavors is always a win for me. I was more surprised by how much I enjoyed the golden berry variety. The natural sweetness of the berry paired really nicely with the bittersweet dark chocolate! I also want to note that these seemed to hold up fine during shipping in the summer heat, so props to My Keto Snack Box for that!
Overall Thoughts
I was absolutely thrilled with this month of My Keto Snack Box! I loved every item in the box, which is especially impressive since almost everything in the box was totally new to me as well. The value for this month's items was also higher than last month's while still maintaining the same unique curation style, which is big plus for me.
If I had to be a little bit nitpicky, I suppose the one disappointment from this month of My Keto Snack Box is that some of these great products seem to be a bit difficult to locate online if you find something you'd like to order more of. I would really like to try more varieties of the Intakt cheese snacks, but it doesn't seem like they've spread to online stores yet. Hopefully getting positive feedback from My Keto Snack Box subscribers will help them get picked up by more retailers!
Want to join in the My Keto Snack Box fun? Head over to their website to sign up, and try the code MKSB5 to save $5 on your first box!