Keto Krate October 2017 Review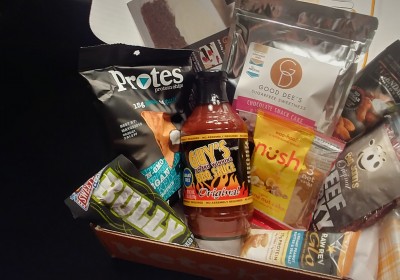 October officially marked six months of Keto Krate for me! It has been a reliable source of keto-friendly snacks since I first subscribed, including a mix of new brands and old favorites. At this point, I feel like I've got a good idea of what to expect each month: about two jerky/meat snacks, a couple of savory/salty snack options, some keto-friendly sweet treats, and then maybe a unique ingredient or pantry item.
As a reminder, Keto Krate costs $34.95 per month plus a $4.95 shipping fee ($39.90 total), and promises 6-8 keto-friendly snacks per month plus $20+ in coupons and discounts that subscribers can use to purchase more of the featured products. All products included are gluten free, aspartame/malitol free, and 5g net carbs or less per serving. You can view reviews of past Keto Krates here.
If you're a new subscriber, you can take advantage of the $5 discount offer when you sign up here.
Here are the items featured in the October 2017 Keto Krate: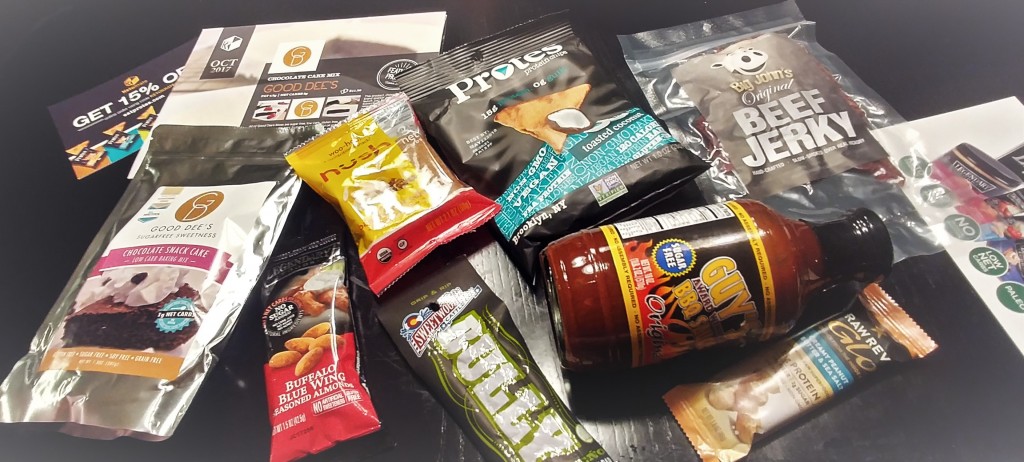 I couldn't resist trying the featured product first: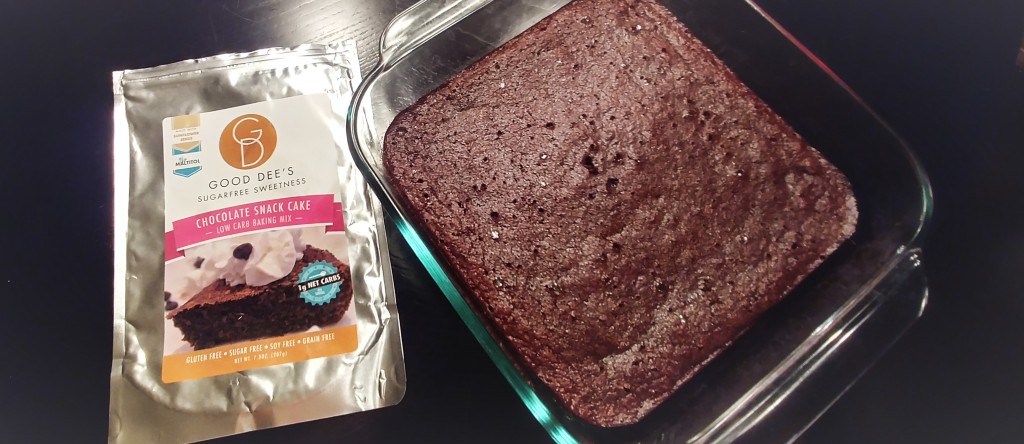 1x package Good Dee's Chocolate Snack Cake Mix (value:$11.99) [2g net carbs per serving]
This was the featured product for October and also an exclusive product launch for Keto Krate subscribers before officially going live! This is the third mix I've tried from Good Dee's thanks to my keto subscription boxes, and I've been a fan of them all so far. They use high quality ingredients that are low in carbs and high in healthy fats. Even better, they are super easy to whip up; all you need to add is eggs and butter (or coconut oil).
This mix had the same quality that I have come to expect from these mixes! It was easy to make, the texture was great, and the taste definitely reminded me of the chocolate snack cakes (like Hostess cupcakes) that I would eat as a kid. You could frost it like a traditional cake with a sugar free buttercream, but I thought it was super tasty with good old fashioned whipped cream!

1x serving Nush Cake, Banana Nut (value: $2.99) [3g net carbs per serving]
I had high hopes for these Nush cakes when I first tried the lemon poppyseed flavor, but I ended up disappointed  by the artificial lemon taste even though I liked the texture of them. I said at the time that I would be interested to try another flavor, and I ended up being right! This banana nut flavor didn't have the same overpowering, artificial taste, allowing me to enjoy the cake overall!
The texture is nice and moist, and I liked that it was sweet enough without being too sweet. I warmed it up a little and topped it with a bit of cinnamon butter, and it definitely reminded me of eating a slice of banana bread!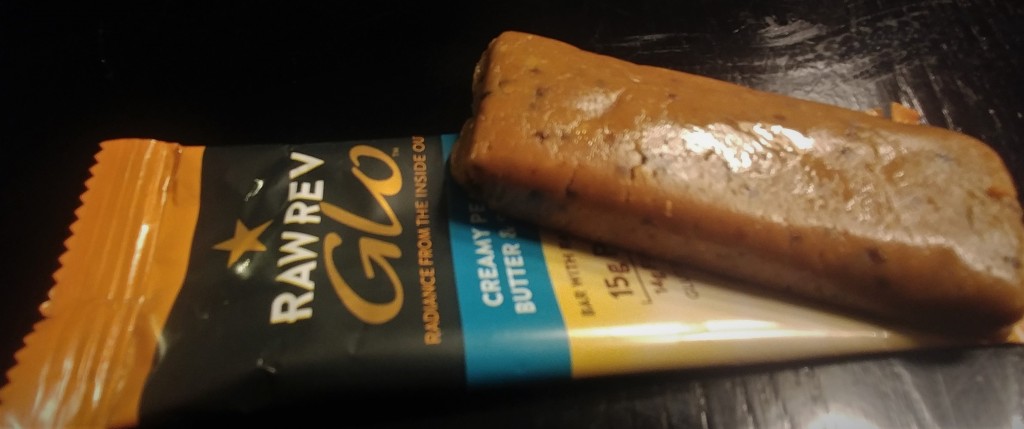 1x Raw Rev bar, Creamy Peanut Butter & Sea Salt (value: $1.99) [3g net carbs per serving]
I'm far from being a vegan, but I'm always interested in trying out items like this that might let me cut down on animal products without sacrificing my keto macros. This bar is made with a blend of plant-based protein, peanuts, coconut oil, chia seeds, and flax. Unless many other raw and/or vegan bars I have tried, it was actually pretty tasty!
I'm usually sensitive to the taste/texture of pea protein especially, but I hardly noticed it here. The bar had a nice peanut flavor and instead of being chalky or dry, it had the texture of an underbaked peanut butter cookie. I was pretty impressed overall, and would be willing to add these in to my protein bar rotation.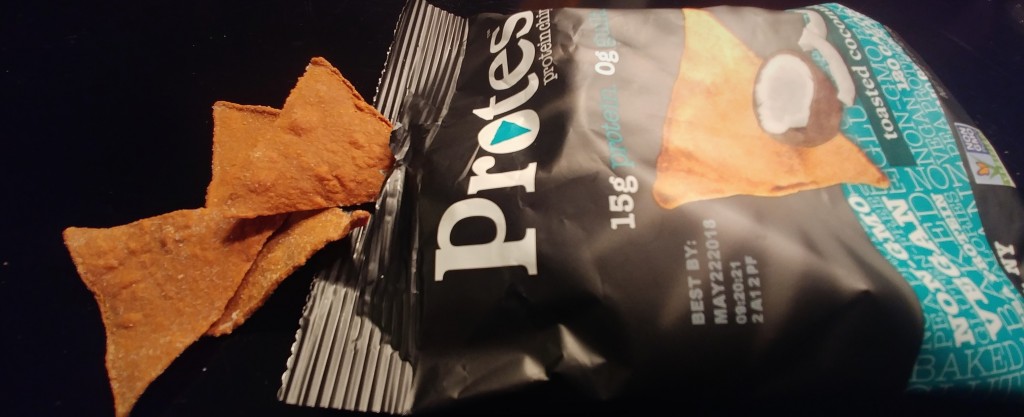 1x 1oz bag Protes Protein Chips, Toasted Coconut (value: $1.99) [4g net carbs per serving]
I'm not sure I've ever had a "protein chip" product that really satisfied, but I was definitely open to trying another option. These are vegan like the previous product, so I thought they might succeed where the whey-based versions I had tried before had failed. Unfortunately, it seems like the search for a truly satisfying protein chip will continue.
These were almost satisfying, with a good amount of crisp/crunch that seems like it would hold up well to dips and toppings. The texture seemed a bit grainy once you started chewing though, which took away from the pleasant crunch. I would have been able to get past that, but there was also a slightly burnt aftertaste that seemed to overpower the coconut flavor here. The spicy/savory flavors seem to have better reviews, so this might be another lemon vs. banana Nush cake situation for me.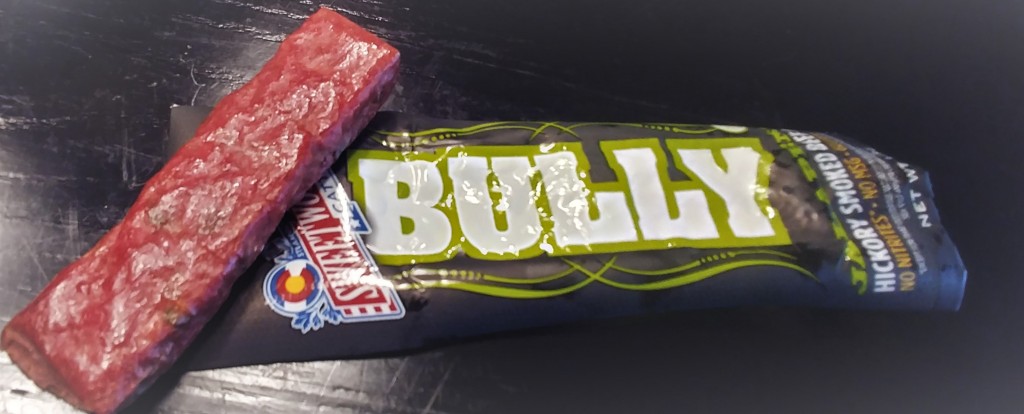 1x Sweetwood Smokehouse Bully Beef Bar, Jalapeno (value: $2.99) [1g net carbs per serving]
Although I've gotten to know a lot of different jerky types and brands via Keto Krate, I have to admit that I'm the most picky when it comes to any kind of meat "bar." I just feel like the thicker form factor leaves more room for the taste or texture to be weird, so I'm usually a little hesitant when biting in. With that said, this is 100% one of the best ones I've tried!
The flavor isn't as spicy as I expected for jalapeno, but there was still a pretty nice amount of flavor from the peppers that I appreciated. Best of all, the texture was good. Just the right amount of moisture and "bite" to avoid feeling like you're just chewing through a hunk of meat. I also loved that these have more fat content than many other meat bars, which can often be very lean.

1x 1.5oz bag Legendary Foods Seasoned Almonds, Buffalo Blue Wing (value: $1.99) [3g net carbs per serving]
Yum! I got to try another flavor of almond from this brand in another keto subscription box recently and loved them, so I was excited to try another flavor as well! I think the blurb from the Keto Krate description sums this one up pretty well for me:
Buffalo wing flavor? Check. Almonds? Check. Low carb? Double check.
I wouldn't have minded a little more spice personally, but these were still super tasty and well flavored. Also, a handful of these plus a handful of the tangy ranch flavor equals totally delicious!

1x 3.5oz bag Big John's Beef Jerky, Original (value: $6.95) [1g net carbs per serving]
I had never heard of this jerky brand before, but as I said, Keto Krate has been a great way to discover new meat and protein based snacks. This jerky came in thin strips rather than the thicker sticks or slices I was used to, so I wasn't sure what to expect, but I ended up really impressed! Although it is described as "original" flavor, the taste is far from plain.
There is a light lemon pepper flavor to these that I really enjoyed and haven't really seen from another brand. The texture wasn't too tough or chewy, and the jerky being in strips made it easy to just grab a handful to snack on. I would definitely try the other flavors from this brand.

1x 18oz bottle Guy's Award Winning Sugar Free BBQ Sauce, Original (value: about $5.99) [2g net carbs per serving]
From ribs to wings to pulled pork, I'm a fan of barbucue sauce and it was one of the first condiments that I sought a replacement for after going keto. Since then I've tried about four or five different low carb barbecue sauce brands (and even made my own!) with varying degrees of success. I've found a couple options that I like, but the most common complaint that I've had comes to texture rather than taste…many of them are just too watery for my preferences.
This sauce definitely doesn't have that problem! It's nice and thick, making it perfect for coating a slab of ribs or a plate of chicken wings. Flavor wise, it's on the sweeter side, which is what I usually preferred pre-keto and is especially nice since a lot of low carb barbecue sauce options are vinegar based which doesn't work with every dish. There are also four other flavor options, including spicy and smoky garlic.
In addition to the products included in the October Keto Krate, subscribers also received the following discounts:
20% off Good Dee's
10% off Big John's Beef Jerky
20% off Nush Foods
15% off Legendary Foods
30% off (!!!) Raw Rev
I'm especially excited for that Good Dee's discount so I can stock up for the holiday season! In addition, the box included an illustrated, easy to follow recipe for a cauliflower crust barbecue chicken pizza featuring the Guy's BBQ sauce from the Krate!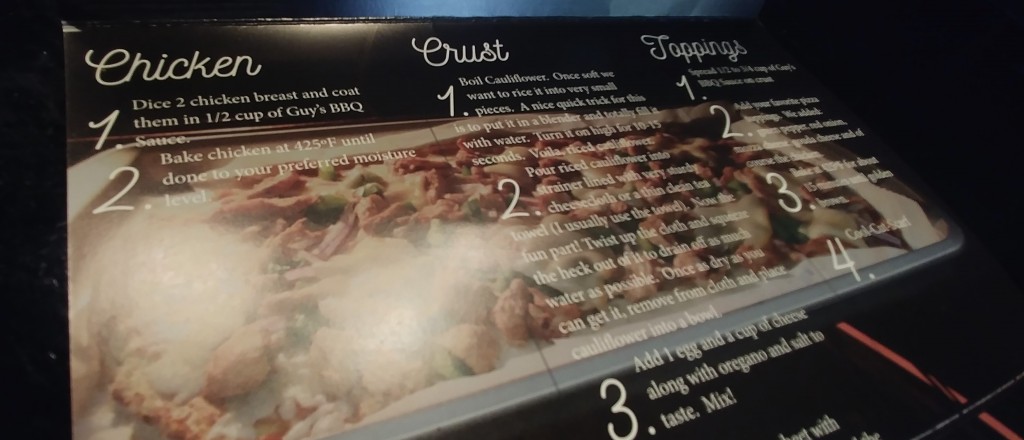 Overall Thoughts
This might be one of my favorite Keto Krates so far! There were 8 new products to try, and one of the best balances of sweet and savory that I've seen from this subscription (plus the addition of a new pantry item that I enjoyed in the form of the Guy's BBQ sauce). Jerky is one of those things that has the potential to get repetitive or boring even when trying different brands, but I really liked both of the options included this month.
In fact, almost everything was a hit for me in the October box, and the value was good too before even factoring in the discounts and recipe! I really like that we got an exclusive product to try (the Good Dee's snack cake mix), especially since it shows the mutual support between Keto Krate and some of our favorite keto brands! I'm already looking forward to my next Krate.
You can view past reviews here, and head here to sign up for your own Keto Krate. If you're a new subscriber, you can take advantage of the $5 discount offer at the bottom of the page!