Keto Krate February 2018 Review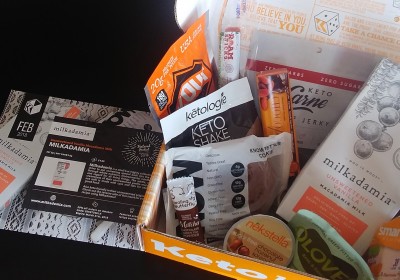 Keto Krate has been pretty consistent with its product mix so far, so I have a good idea of what to expect at this point: about two jerky/meat snacks, a couple other savory/salty snack options, some keto-friendly sweet treats, and then maybe a unique ingredient or pantry item. I've been happy with my Keto Krates so far, so I figured this month would be likely to keep up the quality and variety that I've come to expect.
As a reminder, Keto Krate costs $34.95 per month plus a $4.95 shipping fee ($39.90 total), and promises 6-8 keto-friendly snacks per month plus $20+ in coupons and discounts that subscribers can use to purchase more of the featured products. All products included are gluten free, aspartame/malitol free, and 5g net carbs or less per serving. You can view reviews of past Keto Krates here.
If you're a new subscriber, you can take advantage of the $5 discount offer when you sign up here using the Keto Krate promo code FIVE2018.
Here are the items featured in the February 2018 Keto Krate: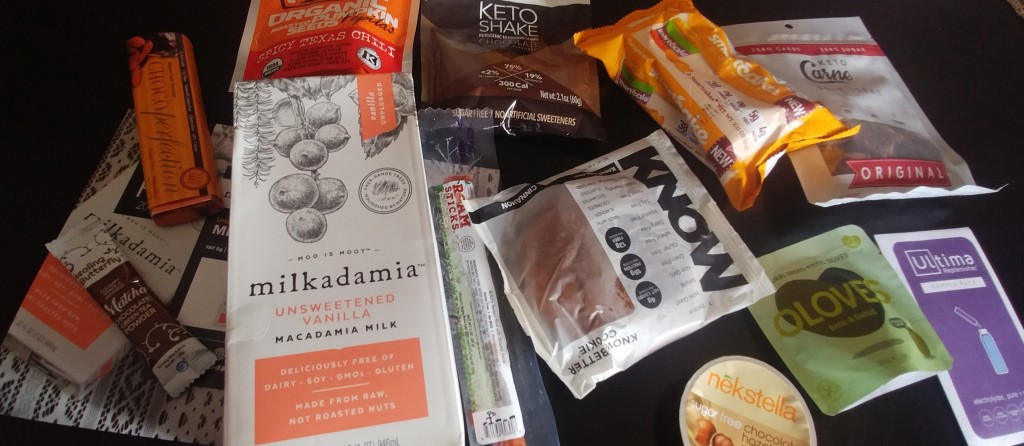 As you can see, this box was pretty packed! I started with the heaviest product first: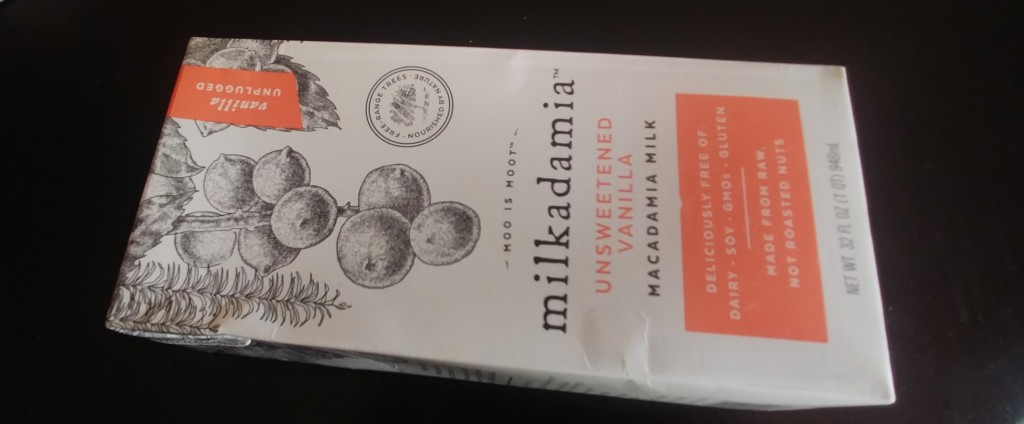 1x 32oz carton Milkadamia Macadamia Milk, Unsweetened Vanilla (value: about $5.00) [0g net carbs]
Yum! Regular dairy milk is too high in natural sugars to work in most keto diets, so if you were previously a big milk drinker, you've probably settled on some form of nut milk as a replacement. I have tried almond milk, coconut milk, cashew milk, and more, but actually hadn't heard of macadamia milk until recieving the original unsweetened version of this brand in a previous keto box.
I really enjoyed the plain version, and this vanilla flavored variety is even better! It's smooth and creamy, and the vanilla flavor is mild and natural. Like almost all milk, I recommend drinking it cold. It also works well in keto shakes, MCT matcha lattes, and with low carb cereal/granola. Basically anything you would use normal milk for.

1x ChocoPerfection Bar, Dark Almond (value: about $4.50) [3g net carbs]
ChocoPerfection was one of the first low carb chocolate brands I ever heard about, but the high cost has always kept me from trying it. I didn't want to commit to a whole box, especially since I discovered other brands of keto friendly chocolate that I enjoyed like ChocZero and CocoPolo. I do still very much enjoy those brands, but I'm always happy to try a new keto product, especially when chocolate is involved! This chocolate bar was small but satisfying, with a buttery texture, rich flavor, and a generous amount of almonds.
1x cup Nekstella Chocolate Hazelnut Spread (value: about $1.00) [4g net carbs]
Most chocolate hazelnut spreads I've tried (including the "original") are too heavy on the hazelnut flavor and too light on the chocolate for my tastes. This is one of the few keto friendly Nutella-type products I've tried that doesn't have that problem! The texture is super creamy, there's a nice amount of chocolate flavor, and the hazelnut flavor isn't overpowering. It's a bit thick for a "spread" but that's okay with me…I could probably just eat it with a spoon.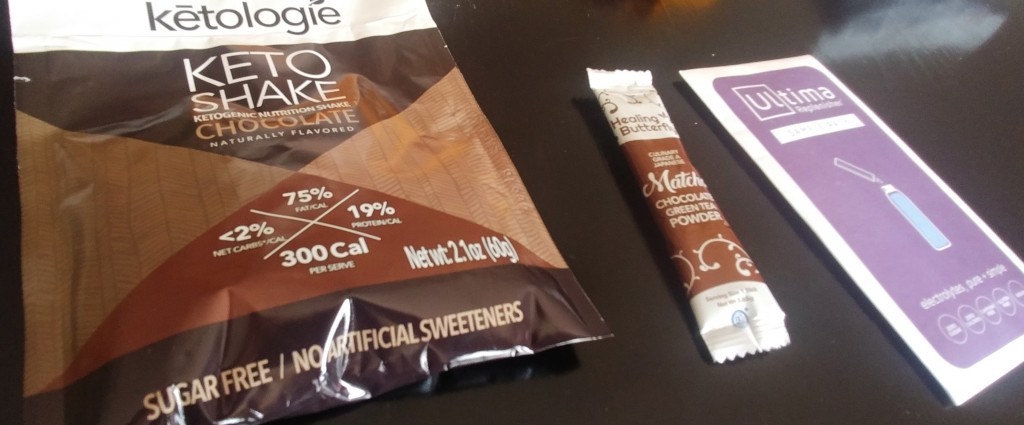 1x serving Ketologie Keto Shake, Chocolate (value: about $2.50) [0g net carbs]
This is a product I've tried before. After getting a sample in a previous keto subscription box, I immediately ordered a full size container from Ketologie. It's that good! It's super rich and creamy when mixed with your favorite non-dairy milk and served cold. The chocolate flavor reminds me of a chocolate Frosty or milkshake.
1x sample Healing Butterfly Chocolate Matcha Tea (value: about $1.50) [1g net carbs]
I'm totally addicted to my MCT Matcha Latte mix, so I was super excited to try another matcha based drink. This one adds organic cacao and probiotics. I mixed it with the Milkadamia, and found that I needed an extra bit of sweetness to balance it out. On its own, I found the bitter notes from the tea and cacao to be a little overpowering.
1x sample Ultima Replenisher, Cherry Pomegranate (value: about $0.75) [0g net carbs]
Electrolytes are super important, especially if you're new to keto. This sugar free drink mix provides electrolyte supplementation in a convenient single-serving drink mix to keep you hydrated. I liked the flavor, though it was a little harder to mix than similar drink mixes without electrolytes.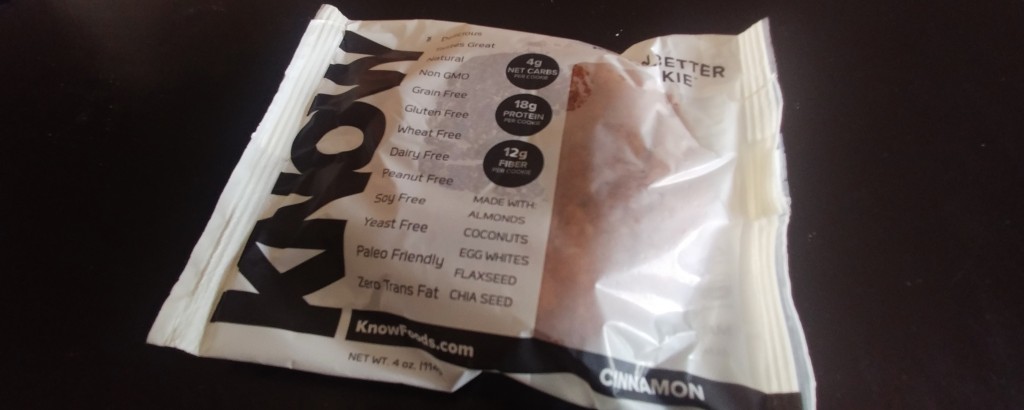 1x Know Foods Cookie, Cinnamon (value: about $2.75) [4g net carbs]
I like these huge cookies from Know Foods! They are super filling thanks to ingredients like chia, almonds, flax, and egg whites. Despite this, they are only 4 net carbs due to the use of allulose, a sweetener that has almost zero calories and glycemic impact. For me personally, this sweetener doesn't seem to impact my blood sugar or ketones negatively.
The cinnamon flavor is nice, and the texture almost reminds me of an oatmeal cookie. I divided the cookie into two servings, and ate it slightly warmed. It's also pretty nice with a bit of butter.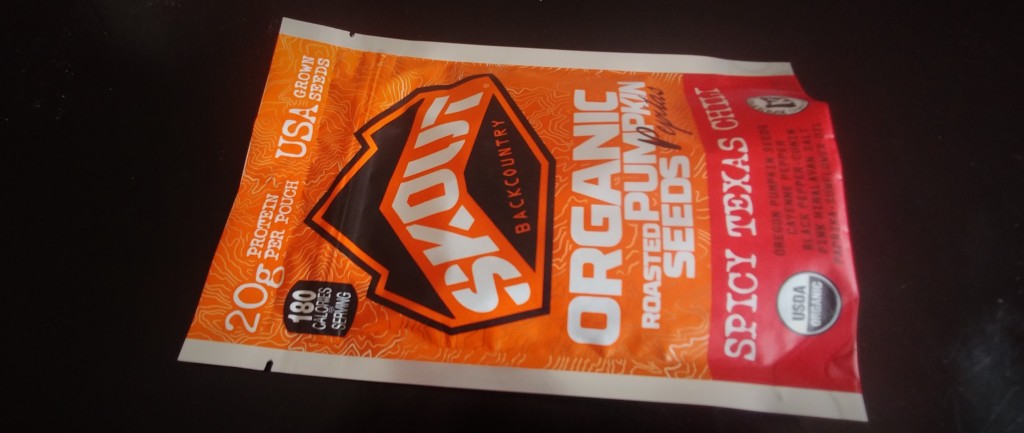 1x 2.2oz bag Skout Backcountry Organic Pumpkin Seeds, Spicy Texas Chili (value: about $4.00) [2g net carbs]
I've gotten the plain salted version of these organic pumpkin seeds in past boxes, but this Texas chili flavor was new to me. They weren't as spicy as I was expecting from the name, but they were generously seasoned and the flavor is tasty. I don't often think to pick up pumpkin seeds when shopping for snacks, but these might change that.

1x package Smart Cakes, Tangerine (value: about $3.50) [0g net carbs]
I love these! I got them in another box last month, and would stand by my original review:
These had a super soft, moist, and fluffy texture that was light and satisfying. I wasn't quite sure what to expect from the tangerine flavor, but I actually really liked it. It's citrusy without being overpowering or too sweet.

And as always, the best part about these is the excellent, keto-friendly macros. Each cake is just 38 calories and <1 net carb. They are surprisingly filling despite that, which makes them a great snack or breakfast option when you don't have a lot of calories to spare.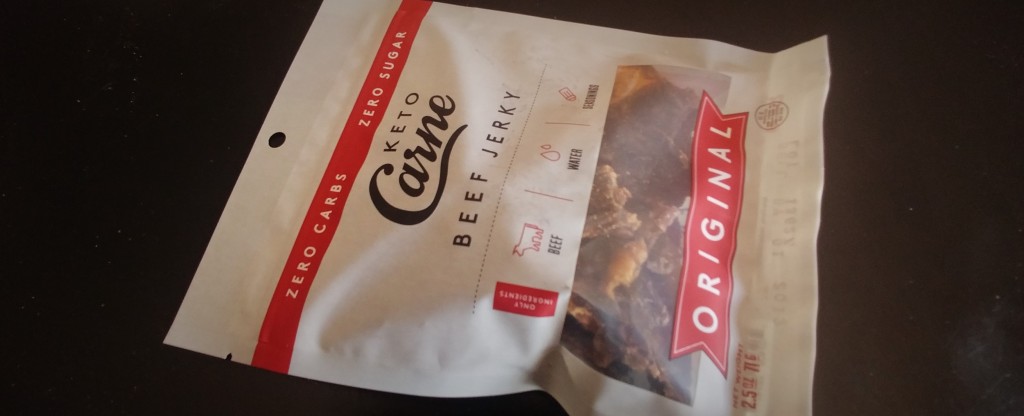 1x package Keto Carne, original (value: about $6.25) [0g net carbs]
This is one of my favorite keto jerky options, even after trying dozens of them! Here are some notes from a previous review:
I love that it's made with a simple ingredient list: beef, water, and spices. I think the spicy version remains my favorite thanks to the bit of extra kick, but the original is plenty flavorful too. The texture is neither too soft or too tough, making it convenient to take and eat on the go. And did I mention it tastes delicious? Seriously, I love this jerky!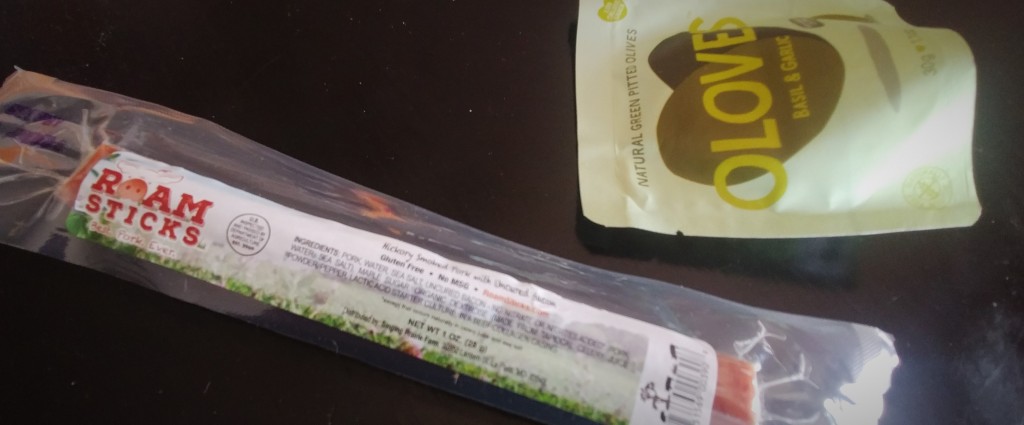 1x 1oz. stick Roam Sticks Hickory Smoked Pasure Raised Pork Stick with Uncured Bacon (value: $1.99) [1g net carbs per serving]
These sticks use pasture raised, responsibly farmed pork free of antibiotics and growth hormones. The are also free of gluten, soy, added nitrates/nitrites, and refined sugars (though there is a small amount of maple sugar and organic dextrose from tapioca). I really liked the mild, hickory smoked flavor of this and the slight hint of maple flavor.
1x serving Oloves, Basil and Garlic (value: about $1.25) [1g net carbs]
As I've mentioned in previous reviews, I don't really like olives. I'm not sure if it's a texture thing or a flavor thing, but even on pizza, I'm just not a fan. I passed these on to a friend and was told that the flavor was pretty tasty, so there you go!
In addition to the products included in the February Keto Krate, subscribers also received the following discounts:
20% off Milkadamia on Amazon
20% off ChocoPerfection
15% off Ketologie
25% off Know Foods
25% off Skout Backcountry
15% off Smart Cakes
15% off Keto Carne
15% off Ultima Replenisher
10% off Roam Sticks
20% off Healing Butterfly on Amazon
In addition, the box also included an illustrated, easy to follow recipe for a low carb snickerdoodle ice cream featuring the Milkadamia and Know Cookie from the Krate!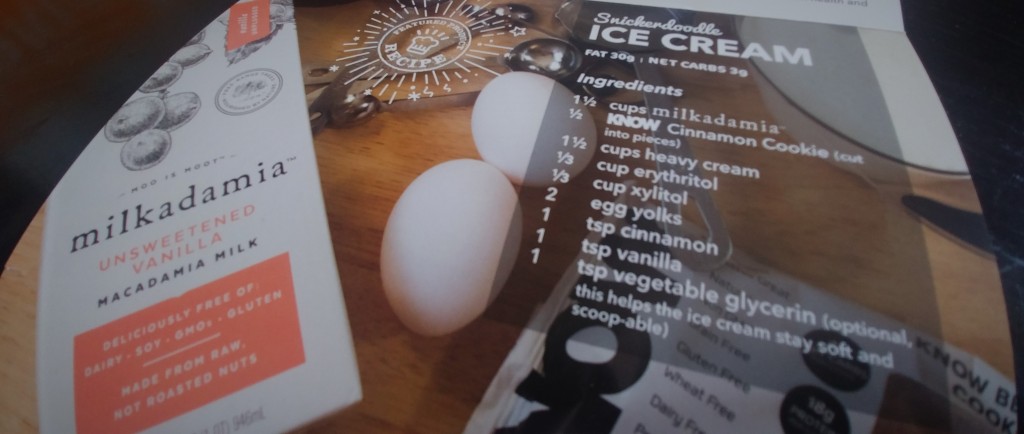 Overall Thoughts
This month's Keto Krate was packed with goodies AND packed with discounts. We got 12 different keto products to try, and ten discounts to go along with them. It was definitely one of the most impressive month's for this subscription since I started. I also love getting products that go well together. We got drink mixes (and a cookie!) that went well with the Milkadamia. The included recipe also featured two of the products from the box working well together.
The value of the products also exceeds the cost of the box, before factoring in the discounts and extras. The products themselves were a good mix of sweet and savory, plus the drinks and Milkadamia for even more variety.
You can view past reviews here, and head here to sign up for your own Keto Krate. If you're a new subscriber, you can use the code FIVE2018 to save $5!