What Are the Best Keto Jerky Brands?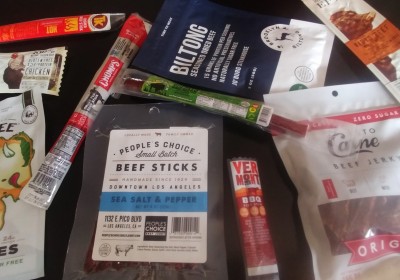 If you've heard that jerky is a good, keto-friendly snack, you might have been surprised the first time you checked the ingredients on the common grocery store brands and found them to be loaded with sugar and other junk. The truth is that jerky certainly can be a great keto snack, but only if you know what to look for. A good keto jerky will use quality cuts of meat and spices, and so won't need to rely on sugar and other sneaky carbs to improve the taste.
With the limited carb consumption of a keto diet, sugary jerky is usually off limits. Thankfully, many jerky brands are catching on and focusing on making sugar free or even zero carb jerky products. So where should you start looking for the best keto jerky with the lowest carb content?
In my opinion, these are some of the top keto jerky brands:
---

Available here. Use promo code tryketowithme to save 10%.
Notable for: keto specific; higher fat content
Carb content: 0g
Who better to make a good keto jerky than people who actually live a keto lifestyle? The jerky from Keto Carne has zero carbs/sugar per serving, thanks to being made with just three natural ingredients: beef, water, and spices. Despite the short ingredient list though, the jerky actually packs a lot of flavor, without being too salty or too dry.
I'm partial to the Spicy variety myself, but even the Original is plenty flavorful with a bit less heat. Both feature the same great texture that isn't too tough or too chewy. This is because Keto Carne higher fat cuts of beef, which makes it both tastier and more keto friendly than many other options. They've recently expanded to offer beef sticks as well, for those who prefer that style of jerky snack.
My Favorite: Keto Carne Beef Jerky, Spicy.
Check out the full Keto Carne line here. Also available on Amazon.
---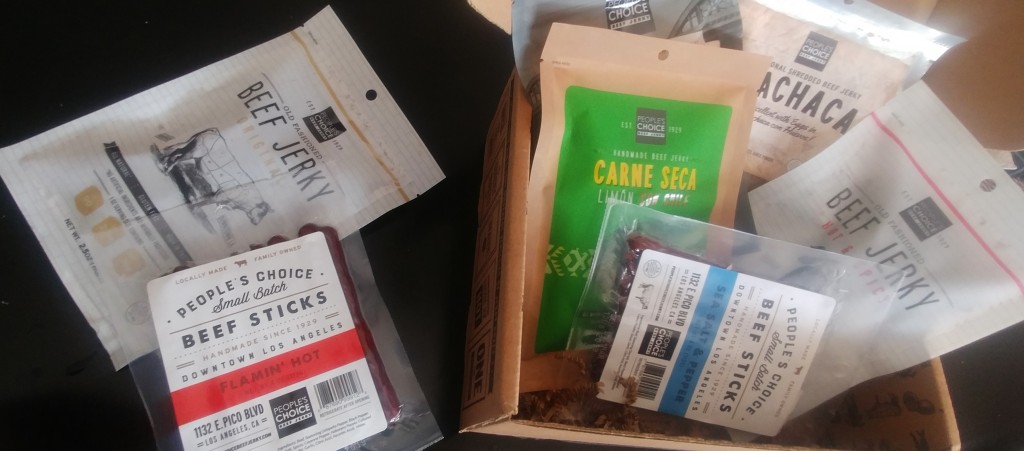 Available here. Also available on Amazon.
Notable for: high protein; small batch; spicy options
Carb content: 0g (excluding sriracha)
Although People's Choice doesn't exclusively make keto jerky, their "keto collection" of jerkies features everything from old fashioned jerky pieces, to beef sticks in natural casings, to even machaca (or "jerky chew"). The machaca and old fashioned varieties use leaner beef, making them good for a quick protein boost, while the sticks have a more balanced fat/protein ratio. All of them are 0g of carbs and sugar per serving.
If you're a fan of spicy keto jerky in particular, People's Choice has a lot of flavor options from Hot & Spicy old fashioned jerky to the Flamin' Hot beef sticks, but my personal favorite is the Limon Con Chile Carne Seca jerky. Instead of being purely "spicy", the heat from the chili is balanced with lemon and other flavors.
My Favorite: People's Choice Carne Seca Limon Con Chile
Check out the People's Choice keto collection here. Also available on Amazon.
---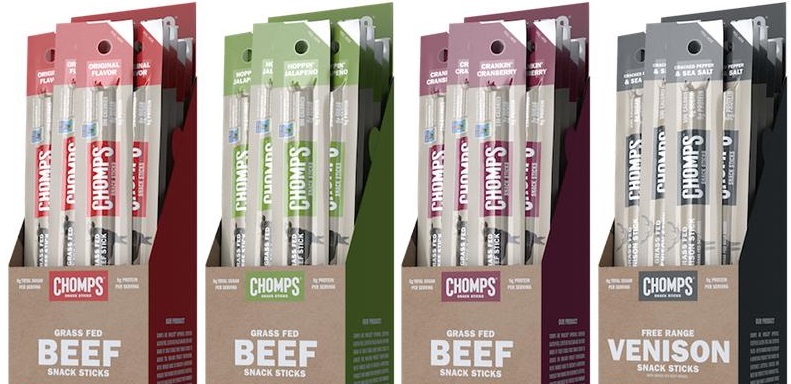 Available here. Also available on Amazon.
Notable for: certified Paleo/Whole 30; Non-GMO Project Verified
Carb content: 0-1g (excluding cranberry)
If you're following paleo or Whole 30 alongside your keto lifestyle, Chomps has you covered. They make meat stick snacks that are compliant with both regimens, as well as containing no gluten, soy, or added sugar. Additionally, the meat itself is sustainably sourced from grass fed animals raised with no added hormones or antibiotics.
The original variety is a good starting point for a basic keto jerky snack, and if you're a fan of spice, the jalapeno beef stick is tasty too. All of the sticks provide a clean 9g of protein and a respectable 6g of fat, with just 100-110 calories each.
My Favorite: Chomps Hoppin' Jalapeno Beef
Check out the Chomps online store here. Also available on Amazon.
---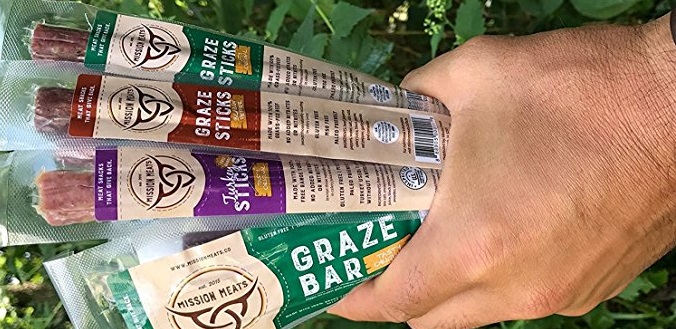 Available here. Also available on Amazon.
Notable for: grass fed beef; supports charity
Carb content: 1g
The keto jerky sticks and bars from Mission Meats have just 1g of carbs each, and are made with grass fed beef, water, and spices. In addition to having a clean ingredient list, they are 80 or fewer calories per stick, and 10% of the profits go to support charitable organizations working on causes like environmental protection, anti-poverty, and childhood education.
My Favorite: Mission Meats Grass Fed Beef Snack Sticks
You can order Mission Meats on their site here, or alternatively on Amazon.
---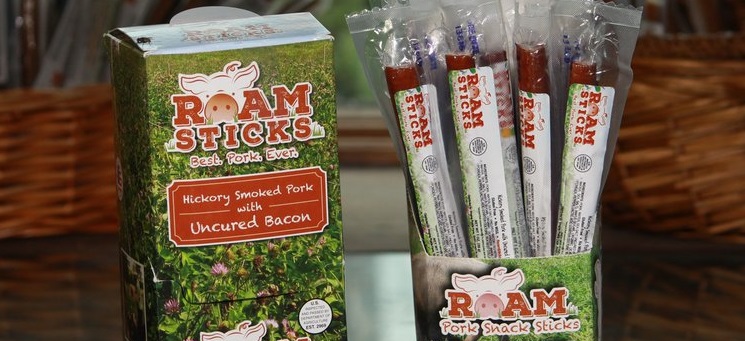 Available here. Also available on Amazon.
Notable for: pasture raised pork; natural hickory smoked
Carb content: 1g
The vast majority of keto jerky brands out there make beef products, but Roam Sticks is unique in offering their naturally flavored pasture raised pork sticks. Founded by a farmer, they focus on sustainably raised pork (no antibiotics or growth hormones) and a product made without additives like corn syrup, dyes, or artificial preservatives. And although a small amount of maple sugar is used in the ingredients, the natural fermentation process ensures that just 1g of carbs is present in the final, hickory smoked product.
My favorite: Roam Sticks Hickory Smoked Pork with Uncured Bacon
Roam Sticks are sold online here, and also available on Amazon.
---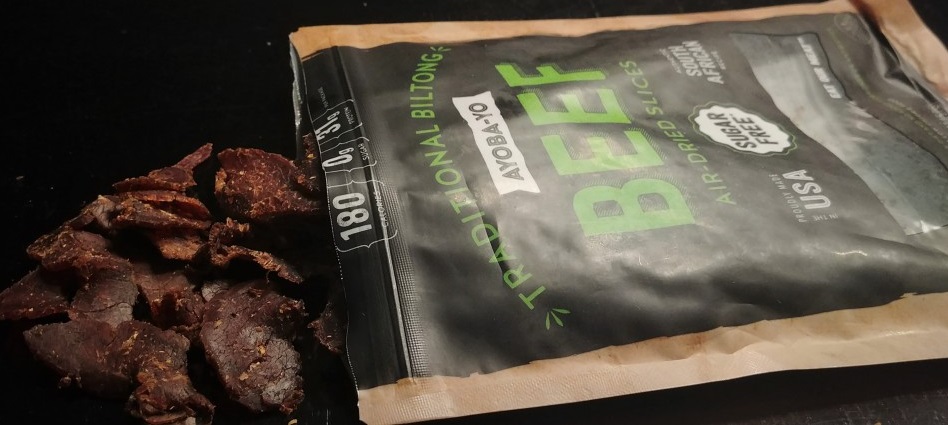 Available here. Also available on Amazon.
Notable for: all natural ingredients; air dried
Carb content: 0g
Feeling a little more adventurous in your search for the best keto jerky brands? Ayoba-yo technically doesn't make "jerky," but instead a South African meat snack known as biltong. Rather than being dehydrated with a few hours of low heat like traditional jerky, biltong uses a longer, air drying process that let's the flavor and texture of the meat really shine. Similarly, their "droewors" (beef sticks) have a buttery texture and rich complex flavor. Both products are made with just beef, spices, and (for the droewors) vinegar.
My Favorite: Ayoba-Yo Spicy Biltong, Grass Fed
Ayoba-yo has an online store here, and is also available on Amazon.
---

Available here. Use the code tryketowithme20 to save 20%.
Notable for: naturally smoked in Vermont; humanely/transparently sourced meat
Carb content: 0-3g
Vermont Smoke & Cure has one of the biggest selections of low carb meat stick options on this keto jerky brand list, and though some of them aren't strictly keto, you can count on the ones that are to be packed with flavor. In addition to using quality meat sources and seasoning with no added nitrites, everything is naturally smoked (with real wood and/or corn cobs) right at their Vermont smokehouse!
My Favorite: Vermont Smoke & Cure Chipotle Beef & Pork Stick
Vermont Smoke & Cure has an online store here, and is also available on Amazon.
---
I've tried a number of other tasty jerky products here and there (thanks keto subscription boxes!) but these are the brands that really stood out to me as making a range of keto-friendly jerky snacks.
Do you have a favorite keto jerky brand or product? Share it in the comments!