My Keto Snack Box August 2018 Review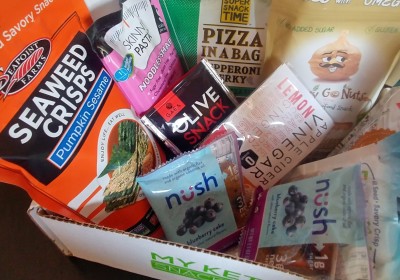 After a year of My Keto Snack Box, I like that I have a reasonable idea of what to expect but still end up surprised every so often. It's a little less predictable than some of my other keto subscriptions, and I appreciate the chance to learn about some less familiar keto brands. You can view past reviews here.
As a reminder, My Keto Snack Box is a $38 per month keto subscription that sends subscribers a box of 6-8 "unique" low carb products with free shipping. The products are guaranteed to be keto-friendly, with 5 net carbs or less per serving. It is meant to make it easy and convenient to have keto snacks on hand without having to shop around for them yourself. Ketoers who live abroad will also be happy to hear that My Keto Snack Box ships internationally!
Here's the contents of the August 2018 My Keto Snack Box: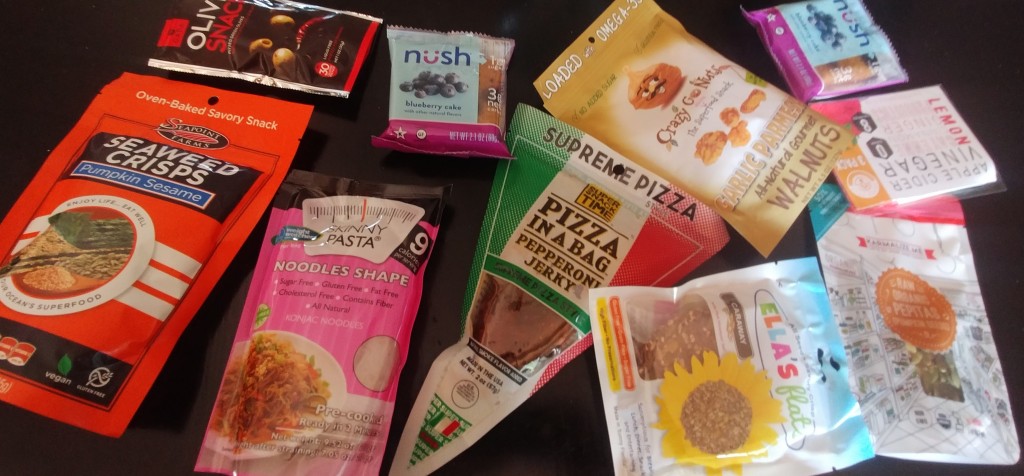 First up, I couldn't resist this treat:

2x Nush Cake, Blueberry (value: about $6.00) [3g net carbs per serving]
Yum! I've had these little low carb snack cakes before, but this is by far my favorite flavor that I've tried so far. It's made with ingredients like flax and coconut oil, and sweetened with erythritol and monk fruit extract. The flavor is like a blueberry muffin, but it's slightly denser in texture.
I like how moist these were, especially when slightly heated and topped with a bit of butter. I liked that they weren't too sweet, which makes them suited for a morning snack as well as dessert. Note: There were two of these in the box…I just couldn't wait to eat one before snapping the pic!

1x Super Snack Time Pizza in a Bag, Supreme (value: about $5.00) [2g net carbs per serving]
I love pepperoni, and I had heard some positive whispers about this product already, so I was super excited to try it! I was a little wary about it being supreme pizza flavored (I'm not a fan of supreme pizza), but I gave it try anyway and I'm glad I did! This was super flavorful and somehow did pack a lot of pizza flavor into each bite. As you might expect, the texture is like pepperoni meets a more traditional jerky. There was a bit more sweetness than I thought was necessary, but I enjoyed it overall.

1x 1oz pack Gaea Olive Snack, Chili and Black Pepper (value: $2.50) [<1g net carbs per serving]
I'm not a fan of olives, although the name of this flavor made me wish I was. I passed them on to an olive lover, who reported back that they were very tasty with a nice amount of heat but a softer texture than some other pitted olives.
1x Ella's Flats, Caraway (value: about $3.50) [3g net carbs per serving]
These large crispbread-style "flats" are made with a mix of seeds including pumpkin, flax, sunflower, and in this particular variety, caraway. They are crisp and sturdy, which makes them good for topping with spreads, cheese, etc. Just be aware that the caraway flavor is noticeable, and choose toppings accordingly.

1x package Skinny Pasta, Noodles (value: about $4.00) [0g net carbs per serving]
Shiritaki noodles (or konjac pasta) is one of those things that seems to be "love it or hate it" for a lot of people. Some are big fans, while others find that they don't like the taste, texture, or smell. I personally enjoy it when prepared properly, and have found this brand to be one of the easiest to prepare without a lot of extra rinsing or soaking.
This "noodle" shape is well-suited to making low carb versions of dishes like ramen and stirfry. They absorb flavors nicely and I usually find them more filling than zucchini noodles.

1x 2oz bag Karmelize.Me Raw Organic Pepitas (value: about $2.50) [1.3g net carbs per serving]
These are exactly what they sound like: raw, unseasoned pumpkin seeds. They are a good source of healthy fats and minerals whether you have them as a snack or add them to other dishes. I personally like them sprinkled over a salad, or even with a bit of low carb yogurt.

1x 1.2oz bag Seapoint Farms Seaweed Crisps, Pumpkin Sesame (value: about $2.50) [2.5g net carbs per serving]
I've had a different flavor of these seaweed crisps from MKSB before, but this combination of the savory nori, sweet pumpkin, and nutty sesame was interesting too! I still think they could use a touch of salt or something to meld the flavors together, but they were definitely a unique, crispy snack.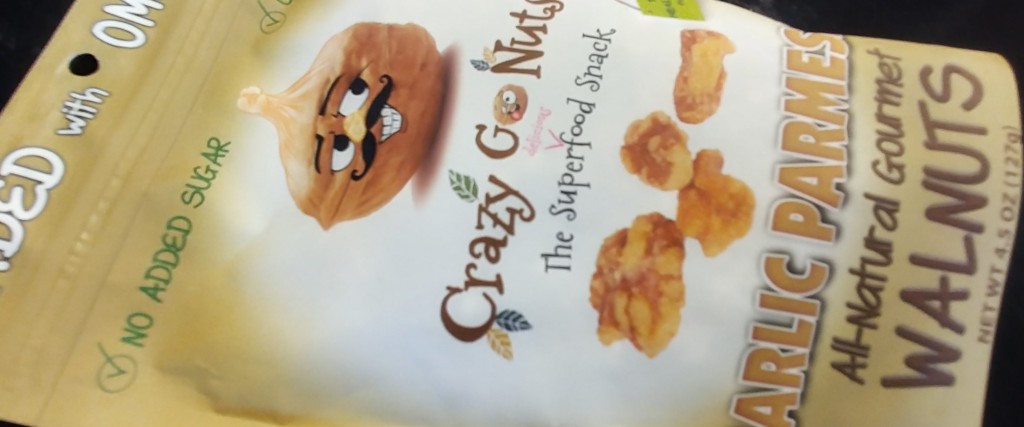 1x 4.5oz bag Crazy Go Nuts Walnuts, Garlic Parmesan (value: about $5.00) [3g net carbs per serving]
I've had these a couple times before, and I'm definitely a fan. Here are some notes from a past review:
These garlic parmesan seasoned walnuts are from a brand called Crazy Go Nuts, a fun name that's also appropriate if keto helped you discover (or newly appreciate) nuts as a healthy snack option. I tried these on a salad, as a snack, and even ground some to use in a breading for chicken. I enjoyed them for all of those uses, so I'd say they were a win!

3x packets Squeeze Dried Apple Cider Vinegar (value: about $4.00) [2g net carbs per serving]
This drink is basically the health benefits of apple cider vinegar and probiotics meets the flavor of a sweet and spicy lemonade. I say sweet and spicy because in addition to being flavored with lemon and sweetened with stevia, the packets also feature cayenne, ginger, and cinnamon for flavor and an extra kick. I enjoyed them cold, but you can also use them to make a hot drink instead.
Additional promos/discounts are also becoming a regular addition in MKSB. This month we got 10% off Super Snack Time and 20% off Nush!
Overall Thoughts
This was one of my favorite month's of My Keto Snack Box! We got a total of 10 items, with many of them being multi-serving packages instead of sample sizes. I especially enjoyed getting to try the new Nush Cake flavor, which was delicious, and the pepperoni jerky which I also enjoyed.
Although I've tried some of these product in different keto boxes before, I like that My Keto Snack Box still introduces me to plenty of new brands and snacks that are less common too. I'm looking forward to next month!
Want to join in the My Keto Snack Box fun? Head over to their website to sign up, and try the code TRYKETOWITHME to save $3 on your first box!