Keto Krate October 2018 Review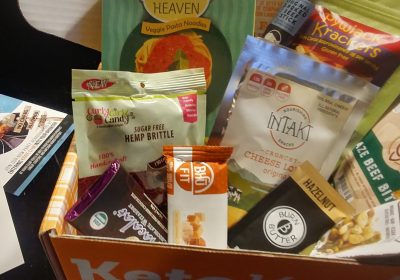 After a pretty good run of summer boxes, I was hoping the October Keto Krate would come through with treats rather than tricks. This keto subscription has been pretty consistent with its product mix so far, so I have a good idea of what to expect at this point: about two jerky/meat snacks, a couple other savory/salty snack options, some keto-friendly sweet treats, and then maybe a unique ingredient or pantry item.
As a reminder, Keto Krate costs $34.95 per month plus a $4.95 shipping fee ($39.90 total), and promises 6-8 keto-friendly snacks per month plus $20+ in coupons and discounts that subscribers can use to purchase more of the featured products. All products included are gluten free, aspartame/maltitol free, and 5g net carbs or less per serving. You can view reviews of past Keto Krates here.
If you're a new subscriber, you can take advantage of the $5 discount offer when you sign up here using the Keto Krate promo code FIVE2018.
Here's what was in the October Keto Krate: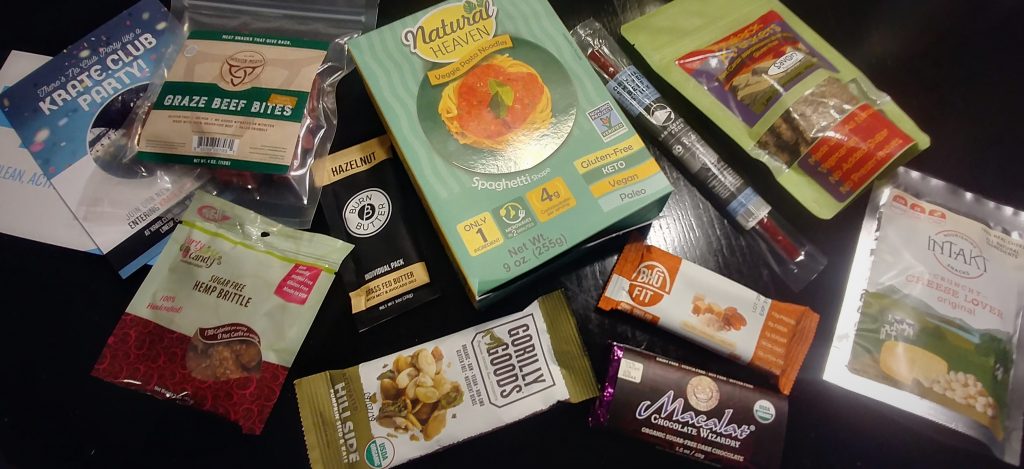 It's Halloween season, so obviously I went for the candy first!

1x 2oz bag Curly Girlz Candy Hemp Brittle (value: $5.79) [<1g net carbs per serving]
Yum! I've never really been a big brittle person, but this stuff is delicious. It's sweet (but not too sweet) and buttery. It doesn't make you worry about losing a tooth due to being too hard or sticky. And the flavor is great, with just the right amount of cinnamon and vanilla to round it out.
1x 1.5oz bar Macalat Sugar Free Dark Chocolate Bar (value: about $4.89) [<1g net carbs per serving]
I love chocolate, so I'm always willing to try out a new keto friendly version of it. This dark chocolate bar is sweetened with erythritol and monkfruit, and has added healthy ingredients like maca and mushroom extract. I liked the smooth and creamy texture, but I would have appreciated just a hint more richness.

1x Landcrafted Foods Grass-Fed Beef Stick, Original Smoked (value: $1.99) [1g net carbs per serving]
Even after dozens of keto boxes, this particular jerky stick was new to me. I really enjoyed it! It has a nice flavor, and it well-seasoned without being too salty. The texture also had just the right amount of bite to it rather than being too tough or mushy. Also it's made with grass-fed beef, which is always a plus.
1x packs Gorilly Goods Trail Mix, Hillside (value: about $2.50) [3g net carbs per serving]
This snack is one that I've had a few times before. Here are some notes from a past review:
It's a low carb savory trail mix with pumpkin seed and kale as the main ingredients tossed in a spice blend. With just a handful of ingredients, it's a pretty straightforward snack with just 3 net carbs. I'm a bit picky about the flavor of dried kale, so I actually prefer the "Baja" variety of this trail mix, but this one still satisfies me in a pinch.

1x pack Natural Heaven Veggie Pasta, Spaghetti (value: about $5.99) [2g net carbs per serving]
Hearts of palm seem to be catching on as a low carb pasta substitute, with one of the main benefits being that they hold up to sauces and heating a bit better than something like zucchini noodles. I found that to be the case with these as well. They don't have much flavor of their own, so they can work in a range of dishes. I feel like I still need to nail down the best way to prepare them though.

1x bar Bhu Fit Primal Protein Bar, Salted Caramel + Pecan (value: $2.50) [1g net carbs per serving]
I've had these bars before, and I'm a big fan. Here are some notes from a past review:
The texture is nice and soft (not tough or chewy like some protein bars can be) and the flavor is absolutely delicious! On top of all of that, the macros and ingredients are excellent for keto! With only 1 net carb, it's easy to fit these bars in even with very strict keto. And if the unconventional sweeteners and fibers in other bars make you nervous, these bars use a much smaller (and more familiar) list of ingredients.
1x serving Burn Butter, Hazelnut (value: about $2.50) [0g net carbs per serving]
This packet of flavored healthy fats is meant for blending with your coffee or other hot drinks, or even just to enjoy as a fat bomb. I personally added it to my morning coffee, and liked the extra creaminess and energy boost from the grassfed butter and MCT oil. It's lightly sweetened, with a natural hazelnut flavor.
1x bag Intakt Snacks Crunchy Cheese Lover, Original (value: about $3.50) [1g net carbs per serving]
This is another snack that I've tried before. Here are some notes from a past review:
They were a perfect balance of creamy and crunchy, which is nice, since some similar cheese snacks can fall too far on one end of the spectrum or the other. According to the ingredient list, these are made with "Chilean buttery cheese" which might help to explain the smooth texture.

1x bag Pywiack Krackers, Savoury Parmesan (value: $4.99) [2g net carbs per serving]
Flax crackers can be a bit hit or miss with me, but these are actually made with almond, chia, and parmesan in addition to flax. I found that this made for a more well balanced flavor and better texture. They hold up well to toppings, and the combination of healthy fats and fiber make them surprisingly filling.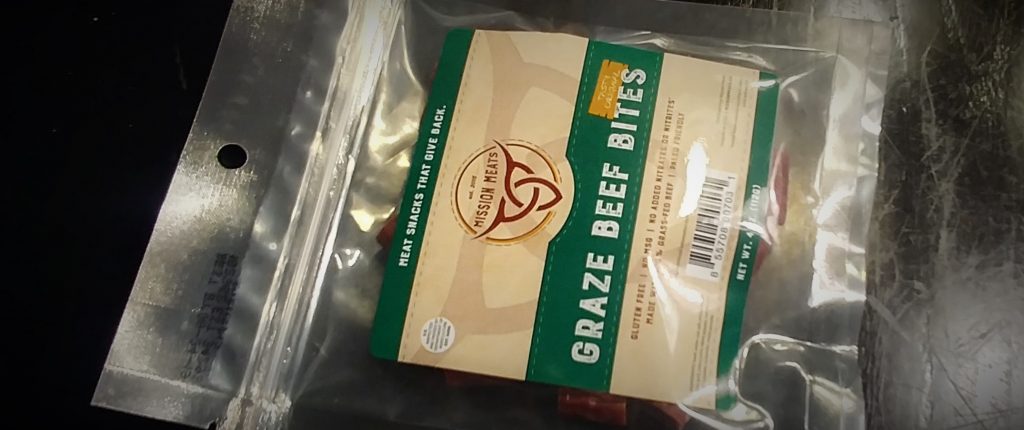 1x bag Mission Meats Grass Fed Beef Bites (value: $7.99) [1g net carbs per serving]
Mission Meats is one of my favorite keto jerky brands, but I actually hadn't tried these beef bites from them before. Like their standard beef sticks though, I really enjoyed them. They are nice and flavorful, with a great texture. I would just note that if you don't plan on finishing the package on the day you open it, these should probably go in the fridge. I learned the hard way that the lack of artificial preservatives means that they will go bad quicker than normal jerky at room temperature.
In addition to the items in the October Keto Krate, subscribers also received the following discounts:
15% off Curly Girls Candy
20% off Macalat
15% off Intakt Snacks @ Amazon
10% off Natural Heaven
Free Beef Bites w/ Order @ Mission Meats
15% off Pywiack Krackers
20% off Landcrafted Foods
15% off Bhu Fit
15% off Burn Butter
25% off Gorilly Goods
No recipe this month, though the digital hub for subscribers includes a nice interview with a fellow ketoer!
Overall Thoughts
With 10 items (and 10 discounts to match), this was a good pretty well rounded Keto Krate. Getting two meat snacks is pretty standard, but it was nice that one was a multi-serving package this month. We also got some sweet treats perfect for Halloween, and other snacks and pantry items to round out the rest of the month.
It was a good month value-wise as well, with a couple of higher priced items that would have been harder to discover and try elsewhere (like the Macalat chocolate and Pywiack Krackers).
You can view past reviews here, and head here to sign up for your own Keto Krate. If you're a new subscriber, you can use the code FIVE2018 to save $5!