Keto Krate November 2018 Review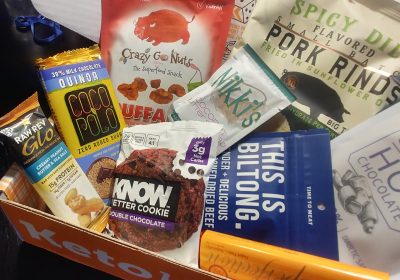 I went into this month hoping the November Keto Krate would give me something to be thankful for! This keto subscription has been pretty consistent with its product mix so far, so I have a good idea of what to expect at this point: about two jerky/meat snacks, a couple other savory/salty snack options, some keto-friendly sweet treats, and then maybe a unique ingredient or pantry item.
As a reminder, Keto Krate costs $34.95 per month plus a $4.95 shipping fee ($39.90 total), and promises 6-8 keto-friendly snacks per month plus $20+ in coupons and discounts that subscribers can use to purchase more of the featured products. All products included are gluten free, aspartame/maltitol free, and 5g net carbs or less per serving. You can view reviews of past Keto Krates here.
If you're a new subscriber, you can take advantage of the $5 discount offer when you sign up here using the Keto Krate promo code FIVE2018.
Here's what was in the November Keto Krate: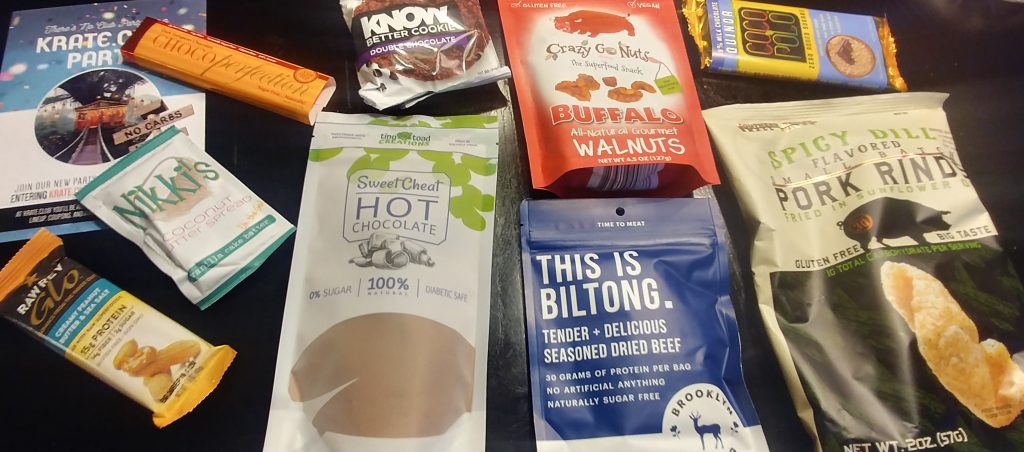 More chocolate this month, which is always a plus for me!

1x bar Chocoperfection, Dark European Chocolate (value: $4.50) [3g net carbs per serving]
As far as sugar free chocolate goes, this is definitely one of the richer options. It's also one of the pricier ones, which is why I'm always glad to see it in a subscription box! It's super creamy, and distinctively dark chocolate without being overly bitter. It's a small bar, but that's perfect for portion control.
1x bar CocoPolo 39% Milk Chocolate, Quinoa (value: $6.99) [5g net carbs per serving]
So I'll admit that quinoa definitely isn't something I expect to see in a chocolate bar, let alone a low carb chocolate bar, but it actually works surprisingly well here! It adds a nice crispy crunch to each bite of creamy milk chocolate without adding too many carbs. I generally prefer a darker chocolate, but this reminded me of a Nestle Crunch bar, so I wasn't disappointed in the slightest.

1x 150g bag Sweet Cheat Hot Chocolate Mix (value: about $10.95) [1g net carbs per serving]
That's right, there's still more chocolate to enjoy in this box. The weather is starting to get chilly, so this is the perfect inclusion for a November box. This hot chocolate mix is sweetened with monk fruit and fiber instead of sugar. I made it with unsweetened almond milk, and it tasted almost exactly how I remember the standard prepackaged mixes tasting. Very yummy, although I wouldn't mind if the chocolate flavor was a little richer.
1x packet Nikki's Coconut Butter, Vanilla Cake Batter (value: $1.99) [4g net carbs per serving]
Coconut butter is one of those things that I had never even heard of pre-keto, but it has definitely grown on me since. I usually go for unflavored versions because they're versatile for baking, but as a fat bomb or snack, the flavor of this one was pretty tasty.

1x KNOW Better Cookie, Double Chocolate (value: about $3.00) [3g net carbs per serving]
This is another chocolate treat, and one that I have tried before. Here are some notes from a past review:
These cookies have a new recipe and smaller size compared to the huge meal replacement size they were before. They are dense (but soft), rich, and very filling. I generally find that half a cookie is enough to satisfy even with the new snack size.
1x bar Raw Rev Glo, Creamy Peanut Butter and Sea Salt (value: about $2.50) [3g net carbs per serving]
What goes better with chocolate than peanut butter? This bar is both low in carbs and vegan which is a somewhat rare combination. I liked that the plant proteins weren't too overpowering in taste or texture which is a problem I sometimes have. The bar tasted almost like peanut butter cookie dough, just with a bit of added texture from the chia seeds.

1x bag Crazy Go Nuts Walnuts, Buffalo (value: $4.49) [3g net carbs per serving]
I've seen plenty of flavored almonds, peanuts, and pumpkin seeds, but for some reason flavored walnuts are a little harder to come by. This brand definitely does them justice though. This buffalo flavor is little spicy, a little umami, and the perfect addition to a salad. This is the third flavor I've tried (after garlic parmesan and rosemary sea salt), and they've all been tasty.

1x 2oz bag Brooklyn Biltong, Jo'Burg Steakhouse (value: $8.00) [0g net carbs per serving]
We only got one meat snack this month instead of the usual two (although the nuts are meaty in their own way). With that said, this was a good one! I would describe biltong as having a more buttery texture compared to traditional jerky. This one has a bit of a tangy steak sauce flavor to it, which makes the name pretty accurate.

1x bag Southern Recipe Small Batch Pork Rinds, Spicy Dill (value: $2.49) [1g net carbs per serving]
Finally, the last savory snack for the month: these flavored pork rinds. A flavor like spicy dill can be hit or miss, especially since I'm not a huge pickle fan, but it actually worked well here. The texture of these was nice and crispy but not too hard. I snacked on a few, and then used the rest to make a crispy coating for chicken tenders.
In addition to the products included in the November Keto Krate, subscribers also received the following discounts:
10% off Sweet Cheat
15% off Brooklyn Biltong
20% off KNOW
20% off Crazy Go Nuts
20% off Raw Rev
20% off + Free Shipping @ Chocoperfection
20% off Nikki's Coconut Butter
The digital hub for subscribers includes two recipes: a low carb buffalo bacon dip and pita wedges.
Overall Thoughts
I mean, including plenty of chocolate is a pretty good way to make sure I'm happy, to be honest. But this Krate had plenty to offer in addition to the candy bars: we also got some savory snacks and a couple other goodies as well. I especially liked getting the hot chocolate mix, which was perfect for this month.
Value wise, we got quite a few higher value items as well as those that are a bit harder to order without committing to a full case (like the chocolate bars and coconut butter). I was pretty happy with this Krate, and I'm looking forward to wrapping up the year next month!
You can view past reviews here, and head here to sign up for your own Keto Krate. If you're a new subscriber, you can use the code FIVE2018 to save $5!