Keto Krate December 2018 Review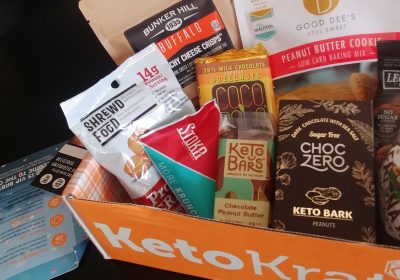 I had pretty high hopes for the last Keto Krate of the year, so I was excited to see what was inside. This keto subscription has been pretty consistent with its product mix over time, so I have a good idea of what to expect at this point: about two jerky/meat snacks, a couple other savory/salty snack options, some keto-friendly sweet treats, and then maybe a unique ingredient or pantry item.
As a reminder, Keto Krate costs $34.95 per month plus a $4.95 shipping fee ($39.90 total), and promises 6-8 keto-friendly snacks per month plus $20+ in coupons and discounts that subscribers can use to purchase more of the featured products. All products included are gluten free, aspartame/maltitol free, and 5g net carbs or less per serving. You can view reviews of past Keto Krates here.
If you're a new subscriber, you can take advantage of the $5 discount offer when you sign up here using the Keto Krate promo code FIVE2018.
Here's what was in the December Keto Krate: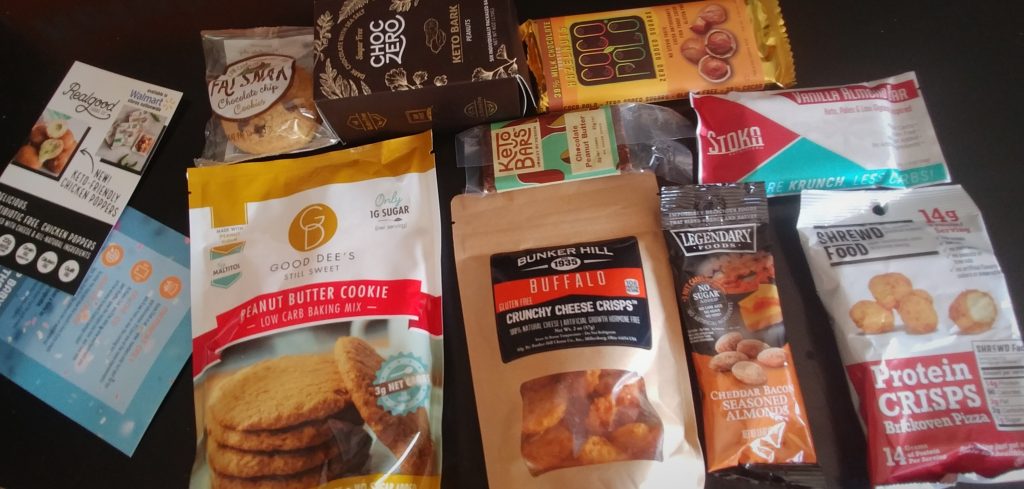 Of course I had to go for the chocolate first:

1x box ChocZero Keto Bark, Dark Chocolate Peanut (value: $6.99) [2g net carbs per serving]
ChocZero's Keto Bark is legitimately one of my favorite chocolate keto treats on the market, so getting a full box of it is absolutely a win in my book! It has a super rich chocolate flavor that doesn't taste "watered down" like some other sugar free chocolates and has just the right amount of sweetness. Like most ChocZero products, it's sweetened with monk fruit.
In addition to the delicious dark chocolate, these bars also have chopped peanuts and sprinkling of sea salt. The combination is so tasty that one piece is enough satisfy pretty much any sweet tooth or chocolate craving. There are 6 pieces in the box.

1x bar CocoPolo, Milk Chocolate Hazelnut (value: $6.99) [4g net carbs per serving]
And in case you still want more chocolate, we got this too! While I do prefer dark chocolate overall, this milk chocolate bar from CocoPolo is still pretty good. It has a creamy texture and is more sweet than the ChocZero bark if that's your preference. There are pieces of toasted hazelnut throughout for added crunch and flavor.

1x bag Bunker Hill Crunchy Cheese Crisps, Buffalo (value: $6.25) [1g net carbs per serving]
I love cheese and crunchy cheese-based snacks like these. This is one of the pricier brands of cheese crisps, made with 100% natural cheese from cows with no artificial growth hormones. The buffalo flavor has some added herbs and spices meant to add a bit of spice. It wasn't particularly spicy to me, but it worked well with the saltiness of the cheese and was tasty overall.

1x Stoka Bar, Vanilla Almond (value: $2.99) [4g net carbs per serving]
I've tried this bar before, and am always happy to get another one. Here are some notes from a past review:
The Stoka Bar is like a low carb version of a Nature Valley granola bar. It's crunchy and not overly sweet, so it works just as well as a quick breakfast or afternoon snack. I like to add a little sprinkle of cinnamon or crumble it into some low carb yogurt.

1x bag Shrewd Foods Protein Crisps, Brickoven Pizza (value: about $2.75) [2g net carbs per serving]
This is another snack that I've tried before. Here are some notes from a past review:
These "protein crisps" are similar to cheese puffs, but they use a protein blend instead of carby ingredients like flour or corn. The pizza flavor adds a handful of spices in addition to the cheese flavor. I actually wish they were a bit cheesier, but they are a pretty good snack as is. Just make sure to pack a drink; the protein makes them a bit drier than traditional cheese puffs.
1x 1.5 oz bag Legendary Foods Seasoned Almonds, Buffalo Blue Wing (value: about $1.99) [3g net carbs per serving]
I've also had these before, but I'll never complain about getting more. Almonds are probably my favorite low carb nut overall. Plain varieties are plenty satisfying on their own, but I also enjoy the flavored options from Legendary Foods. They are dusted with a buffalo wing flavoring that has minimal spice and a hint of blue cheese creaminess.

1x bar Keto Bars, Chocolate Peanut Butter (value: about $2.50) [3g net carbs per serving]
Yum! I've noticed a recent influx of new keto snack bars hitting the market lately, but I believe this brand was actually one of the earliest to make a bar specifically for ketoers. The packaging is a little awkward to open in my open, but the bar itself is pretty tasty. It seems to use shredded coconut as a main ingredient, which you can tell from the texture. It has a nice chocolate peanut butter flavor but isn't too sweet.
1x pack FatSnax Cookies, Chocolate Chip (value: about $2.99) [2g net carbs per serving]
I've had these cookies before, and they are a pretty tasty premade option. They are made with familiar low carb ingredients like almond flour, coconut flour, and butter. They are definitely on the "cakey" side as far as texture goes, while I generally prefer a denser chocolate chip cookie when I make them myself. My personal favorite FatSnax cookies are the lemon flavor, which are delightful.

1x Good Dee's Low Carb Baking Mix, Peanut Butter Cookie (value: $12.99) [3g net carbs per serving]
I have my own keto peanut butter cookie recipe that uses just a handful of ingredients, so they aren't a huge hassle to make. Even so, a premade mix is obviously even easier! This baking mix is peanut flour based (as you might expect) and I found it really easy to use (just add egg and butter). The cookies came out nice and fluffy, but with less rich peanut butter flavor/texture than when you use actual peanut butter.
In addition to the products included in the December Keto Krate, subscribers also received the following discounts:
15% off ChocZero
15% off CocoPolo
15% off Shrewd Food
20% off Good Dee's
10% off Legendary Foods
10% off FatSnax
We also got a recipe for a low carb chocolate lava cake using the CocoPolo chocolate.
Overall Thoughts
I was absolutely a fan of this Keto Krate, and it was a great way to wrap up the year! Holidays are a big time for temptation, especially when it comes to sweets, and this box included plenty of sweet keto treats to help get you through it all. I have noticed Keto Krate leaning more towards the sweet side lately (this month had no meat snacks, for example) and I do wonder if that's due to the end of year holidays like Halloween, Thanksgiving, and Christmas. We'll see if the pattern keeps up into the new year.
In any case, I enjoyed everything in the box and there was a nice total value to boot: there was over $45 worth of products, plus the discounts, recipe, and other content. Maybe of the items are things I've tried before, but I don't mind that too much when the value is there and they are quality products.
You can view past reviews here, and head here to sign up for your own Keto Krate. If you're a new subscriber, you can take advantage of the $5 discount offer at the bottom of the page!