My Keto Snack Box December 2018 Review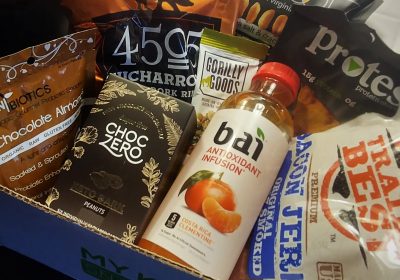 It's been pretty cool seeing MKSB include some up and coming keto brands over this year, so I was interested to see how they would finish out 2018. This box is a little less predictable than some of my other keto subscriptions, and I appreciate the chance to learn about some less familiar keto brands. You can view past reviews here.
As a reminder, My Keto Snack Box is a $38 per month keto subscription that sends subscribers a box of 6-8 "unique" low carb products with free shipping. The products are guaranteed to be keto-friendly, with 5 net carbs or less per serving. It is meant to make it easy and convenient to have keto snacks on hand without having to shop around for them yourself. Ketoers who live abroad will also be happy to hear that My Keto Snack Box ships internationally!
Here's the contents of the December 2018 My Keto Snack Box: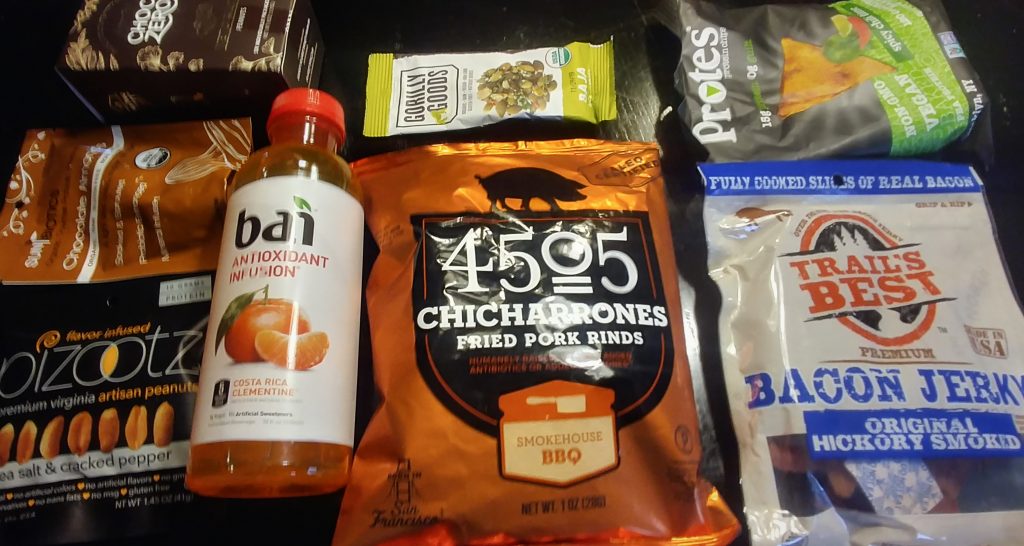 First up, I had to reach for the chocolate:

1x box ChocZero Keto Bark, Dark Chocolate Peanut (value: $6.99) [2g net carbs per serving]
This was in THREE out of my four keto boxes this month, but I love the stuff so I am 1000% not complaining. Here are some notes from a recent review:
It has a super rich chocolate flavor that doesn't taste "watered down" like some other sugar free chocolates and has just the right amount of sweetness. Like most ChocZero products, it's sweetened with monk fruit. In addition to the delicious dark chocolate, these bars also have chopped peanuts and sprinkling of sea salt. The combination is so tasty that one piece is enough satisfy pretty much any sweet tooth or chocolate craving. There are 6 pieces in the box.
1x 1.45oz bag Pizootz Flavor Infused Peanuts, Sea Salt and Cracked Pepper (value: about $3.00) [5g net carbs per serving]
Pizootz are "flavor infused" rather than having a seasoned coating, and I've had this particular flavor before. Salt and pepper might sound like a kind of boring flavor combination, but it actually works well here. After a few peanuts, the black pepper notes really pop and compliment the slight natural sweetness of the nuts.
1x 1.5oz Sunbiotics Chocolate Almonds with Probiotics (value: about $4.00)[4g net carbs per serving]
This product is a throwback all the way to my very first MKSB in 2017! My opinion on them is essentially unchanged from back then:
These chocolate almond from Sunbiotics go a step further by also including a blend of probiotics, which are important for maintaining gut health. The strains include B. bifidum, which has antioxidant properties, and L. acidophilus, which has immune system boosting effects. The almonds themselves are tasty in addition to the probiotic punch they pack. The coating is nice and chocolatey, but without being excessively sweet or bitter like pure cocoa powder.

1x Bai Flavored Water, Costa Rica Clementine (value: about $1.99)[1g net carbs per serving]
I have to admit, I do find myself missing certain fruit flavors on keto and citrus like orange and clementine can be high on that list. This clementine flavored drink from Bai is sweetened primarily with an erythritol/monk fruit blend and does a great job at scratching that itch. I liked the flavor and the added antioxidant boost.
1x pack Gorilly Goods, Baja (value: about $3.00)[2g net carbs per serving]
I've gotten these savory trail mix packs from various keto boxes before, and Baja is one of my favorite flavors. It's mainly pumpkin seeds (and some hemp seeds) seasoned with lime, cilantro, chili peppers, and salt. I like the flavor combination, along with the potential health benefits from the healthy fats and sprouted seeds.

1x bag Trail's Best Bacon Jerky, Original Hickory Smoked (value: about $4.00)[1g net carbs per serving]
While freshly cooked bacon is naturally the best way to enjoy it, sometimes you want bacon that you can take on the go. This bacon jerky tastes like bacon (of course), but with a texture that's chewy instead of crispy. It's a nice and quick way to get in some protein and fat, although I do prefer the real deal.

1x 1oz bag 4505 Chicarrones, Smokehouse BBQ (value: about $4.25)[<1g net carbs per serving]
I normally don't like "barbecue flavored" anything (other than sauce and meat), but this was a rare exception. The spice blend on these pork rinds is a really nice combination of salty, smoky, sweet, and (slightly) spicy. It really emulates that barbecue flavor without tasting fake or overdone. Maybe that's because the "meatiness" of pork rinds balances it out better than something like potato chips? I'm not sure, but I'm a fan either way.

1x 1oz bag Protes Protein Chips, Spicy Chili Lime (value: about $1.99)[4g net carbs per serving]
I've had a few flavors of Protes at this point, and they have been a little hit or mit for me for one reason: I'm pretty sensitive to the taste of pea protein. Basically, I enjoy the stronger flavors where the protein taste doesn't dominate. Luckily, this chili lime variety meets that requirement. They are crisp with a nice lime flavor and a bit of heat. They probably aren't sturdy enough to make nachos with a pile of toppings, but they work just fine for dipping. They are a little dry in texture, so consider keeping a drink nearby!
Overall Thoughts
This was a decent month for MKSB, but I think another item or two would have really helped to round out the overall value. With that said, I enjoyed the items in the box and everything will get used. My favorite inclusion was (of course) the ChocZero Keto Bark, but I also enjoyed discovering the BBQ pork rinds (since I would have never bought them on my own).
I like that MKSB tends to introduce me to keto products/brands I'm not as familiar with, and I look forward to that continuing in the new year!
Want to join in the My Keto Snack Box fun? Head over to their website to sign up, and try the code TRYKETOWITHME to save $3 on your first box!