Onnit Keto Box December 2018 Review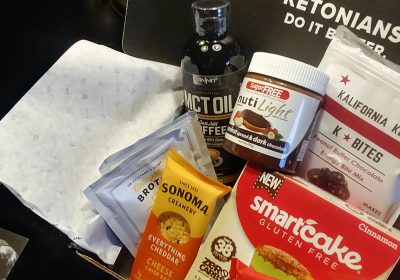 This is my sixth month of Onnit Keto Box, which means I'm starting to get an idea of what to expect. In general, you'll get a full sized Onnit product, a selection of higher end keto snacks, and perhaps an additional keto supplement or pantry item. There are fewer items than with my other keto subscriptions, but they seem to be of higher value to match the higher price of the box.
As a refresher, Onnit Keto Box is a premium keto subscription that costs $55.95 per month. For that fee, subscribers are promised a box "personally curated" by Onnit founder Aubrey Marcus and comedian/former UFC fighter Brendan Schaub to include the "highest quality low-carb snacks and supplements." It seems to be targeted for those interested in getting more full sized items, supplements, and trying out new Onnit products in particular. You can review my reviews of past months here.
Here's what was in my December Onnit Keto Box: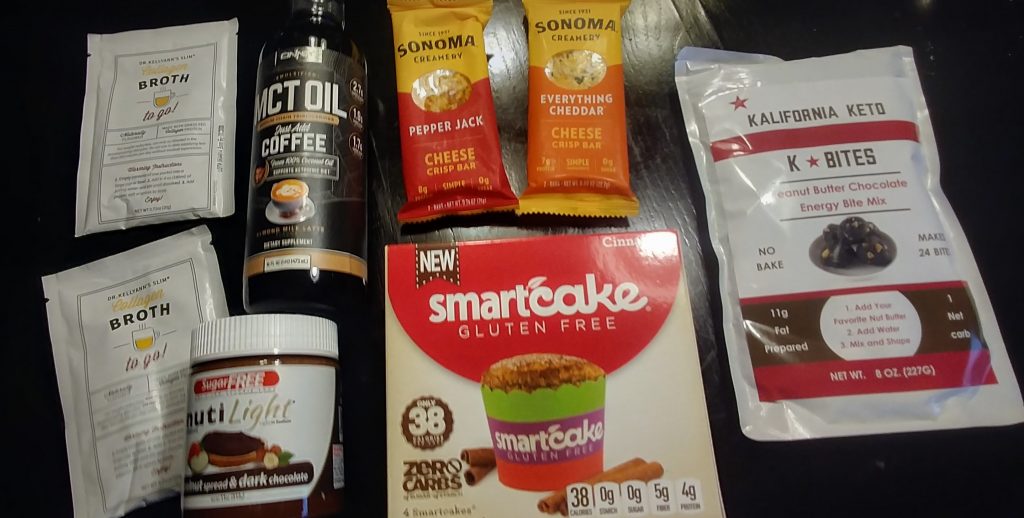 First up, the featured Onnit product for the month:

1x 16oz bottle Onnit Emulsified MCT Oil, Almond Milk Latte (value: $27.95)
Finally! MCT Oil is one of the supplements I was really hoping to get from Onnit Keto Box at some point, so I was happy to see it show up! This particular variety is their emulsified Almond Milk Latte flavor. Being emulsified means that it blends easily with liquids like coffee rather than settling into an "oil slick" layer at the top.
Because of that, I found it easy to add to my morning coffee or tea. It adds a nice creaminess, and of course the excellent health benefits of MCT oil. It's also pretty darn tasty! Sweetened with a blend of monk fruit and stevia, it has a light nutty flavor and isn't too sweet.

1x box Smart Baking Company Smart Cakes, Cinnamon (value: about $6.50)
I was also happy to see this box containing one of my favorite keto products! These Smart Cakes from Smart Baking company are super soft, super fluffy, and super low carb! They are just 38 calories and <1 net carb per cake. This box contained two packs with two cakes each inside. The cinnamon variety is among my favorite flavors. I like them warmed and topped with a bit of butter or ghee. If you want to try them out yourself, you can save 10% on your order with the code tryketowithme!

2x pouch Dr. Kellyann's SLIM Collagen Broth (value: about $6.00)
I like taking collagen for joint health and well as its benefits for hair, skin, and nails. Bone broth can be a good source of it, but naturally takes a while to make yourself, so I was very open to trying this powdered option instead. You just add hot water and you've got a quick serving of bone broth. Despite being so simple to make, it's pretty tasty and well-seasoned! Definitely a good way to warm up on a cold day, and especially nice with a bit of cream added.

1x package Kalifornia Keto K-bites, Peanut Butter Chocolate (value: $8.99)
I've had cookie mixes from Kalifornia Keto recently, but this is actually a mix for fat bomb style "K-Bites." The mix uses classic keto ingredients like peanuts, almond flour, erythritol, cocoa, and MCT oil powder. You add nut butter (or coconut oil) and water to make the bites. The package is meant to my 24 bites (12 servings of 2), but it's resealable so you don't have to make the whole package at once.
The mix was tasty made with Perfect Keto Nut Butter.You can also use peanut butter to really emphasize the peanut flavor (there are peanuts and powdered peanut butter already in the mix), but when I did that I added some chopped ChocZero so it wouldn't overpower the chocolate too much.

1x jar Nutilight Sugar Free Hazelnut Spread, Dark Chocolate (value: about $8.00)
I've tried a handful of low carb "Nutella" replacements, and I think which one you'll like best basically boils down to your preferred sweeteners, your preferred texture, and the balance of chocolate and hazelnut flavors. This one is sweetened with stevia and erythritol, both good keto options, but I'd say it's noticeably less sweet than the "real" stuff (and some other brands). The hazelnut flavor doesn't overpower the chocolate, which I appreciate, and it's thick enough to be "spreadable" rather then syrupy.

1x pack Sonoma Creamery Cheese Crisp Bars, Everything Cheddar (value: about $2.50)
1x pack Sonoma Creamery Cheese Crisp Bars, Pepper Jack (value: about $2.50)
Lastly, we got this pair of cheese snacks, which are a pretty common inclusion in Onnit Keto Box (much to my appreciation!). These are bar shaped crisps which, rather than being just cheese like some others, have small amounts of seeds and grain to make them crisp and make the cheese flavor milder.
This ups the carb count a bit, so it's up to you to decide if that's a worthwhile tradeoff. Flavor-wise, I really enjoyed the spice level in the pepper jack version and the everything version was good too. I wouldn't have minded them being a bit cheesier, though.
In addition to the products in the Onnit Keto Box, we also got the following discounts:
10% off Onnit food and supplements
$15 off Dr. Kellyann
One Bottle of Wine for $0.01 with your first order @ Dry Farm Wines
Overall Thoughts
I was pretty happy to finally get a full sized bottle of MCT oil in this box! The supplements are really what sets this box apart from other keto subscriptions, and MCT oil is of course a keto staple as far as supplements go. As an added bonus, this was a tasty, emulsified oil perfect for adding to coffee rather than just a plain version.
We also got a selection of higher priced snacks to try, with a mix of sweet and savory options and multiple servings for all of them. Although this box doesn't always have the highest number of items (this one had 6, counting the broth and cheese bar pairs as 1), I appreciate that it does seem to make sure they're at least worth the cost of the box. This box included an estimated $62.50 worth of products.
Want to try out this premium keto subscription? You can sign up for your own Onnit Keto Box at their website here.