Cast Iron Low Carb Pizza Crust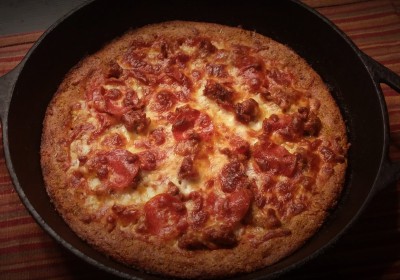 There's just something about baking in a cast iron skillet that adds a little special "oomph" to a pizza crust. This recipe results in a golden brown keto pizza crust that stands up to all the cheese, meat, and veggie toppings you could need.
Prep Time: 10m
Cook Time: 50m
Total Time: 1h
Serves:

6 slices

Yield:

1 pizza
Ingredients
5

ounces

(~140g) shredded mozzarella cheese

1

ounce

(~28g) shredded cheddar cheese

1

ounce

(~28g) cream cheese

3/4

cup

(~85g) finely ground almond flour

1/2

teaspoon

baking powder

1/2

teaspoon

psyllium husk powder

1

large egg

1/2

teaspoon

dried basil

1/2

teaspoon

dried oregano

other seasonings (garlic, fennel, etc.) to taste
Instructions
Preheat oven to 300F. In a microwave safe bowl, combine shredded cheese, cream cheese, and spices.
Microwave cheese mixture for about 90 seconds, or until melted. Stir to combine.
Add remaining ingredients and combine well, then microwave for an additional 10-15 seconds to ensure the dough is still pliable.
Turn dough into the center of a well greased cast iron skillet, and use your hands to gently spread it to the edges of the pan. You can add a sprinkle of coconut or almond flour to prevent the dough from sticking and make it easier to spread. Using a fork, lightly poke holes in the surface of the dough to prevent bubbles from forming.
Bake the crust in the oven for about 30 minutes, or until golden brown. Use a spatula to gently lift the crust from the skillet and flip it over to the other side. If the center is sticking to the pan, it may need another 2-3 minutes in the oven.
Raise oven temperature to 500F. While it heats, top your pizza! The crust is pretty sturdy, so you can be generous with your meats, veggies, and cheeses. Just make sure that any meats are cooked first!
Return your pizza to the oven and bake for 10-12 minutes or until cheese is bubbly and lightly browned. Allow to cool for 2-3 minutes before slicing.