Fresh Strawberry Basil Lemonade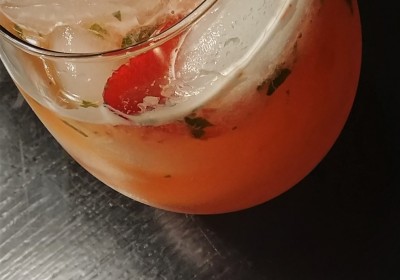 This refreshing low carb strawberry basil lemonade is easy to make, and perfect to enjoy on a warm summer or fall day. Per serving: ~15kcal, 3.5g total carbs – 1g fiber = ~2.5g net carbs.
Prep Time: 5m
Cook Time: 5m
Total Time: 12m
Ingredients
4

ounces

(~112g) fresh strawberries. trimmed and chopped

1

tablespoon

fresh basil, chopped

3

fluid ounces

(6T, ~90ml) freshly squeezed lemon juice

1/2

cup

sugar equivalent sweetener

1

cup

ice

3

cups

water
Instructions
Combine strawberries, sweetener, and 1/2C of water in a small saucepan over medium heat. Cook until strawberries are softened and sweetener is dissolved, about 5 minutes.
Stir in chopped basil. Remove from heat and allow to rest for ~2 minutes.
Add strawberry mixture and lemon juice to a blender or food processor, and puree for 8-10 seconds.
Add ice to a drink pitcher or carafe. Pour strawberry puree over ice to cool. Add remaining water (using more or less as desired) and stir to combine.
Store in the refrigerator. Serve over ice, optionally garnished with strawberry slices, basil leaves, and/or lemon wedges/zest.