Cooking Keto Dinners with Green Chef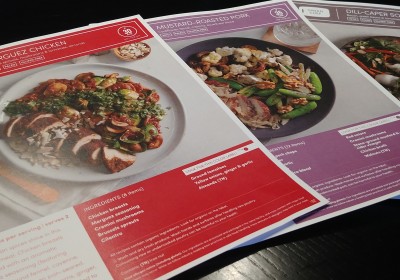 After nearly three years of keto, I can't really imagine myself going back to a more "standard" way of eating. The food is delicious, and I love the fact that so many companies are starting to notice that there is an increasing demand for food products that are low in carbs and high in healthy fats and proteins. But despite being such a huge fan of keto foods, I do have to admit that I occasionally find myself stuck in a bit of a rut when it comes to original dinner ideas. My keto favorites like steak and veggies, low carb pizza, zoodles, and cheese shell tacos are definitely tasty…but sometimes you're just in the mood for something different.
That's why I was super happy to learn about Green Chef! If you watch TV or listen to podcasts, you might be already familiar with the variety of recipe/meal kit delivery services that are out there. If not, the basic premise is this: you sign up, and for a set price per meal you receive a recipe and the premeasured portions of ingredients required to make it. You get to learn how to make a new meal without all the hassle of measuring everything yourself or having to stock your pantry with niche ingredients you'll never use up.
Green Chef Keto
What makes Green Chef different from the vast majority of other offerings out there is that, in addition to keeping a focus on USDA-certified organic ingredients, they offer meal plans that cater specifically to cleaner ways of eating. This includes paleo, gluten free, and as of now, keto! Naturally, I was super excited to try it out!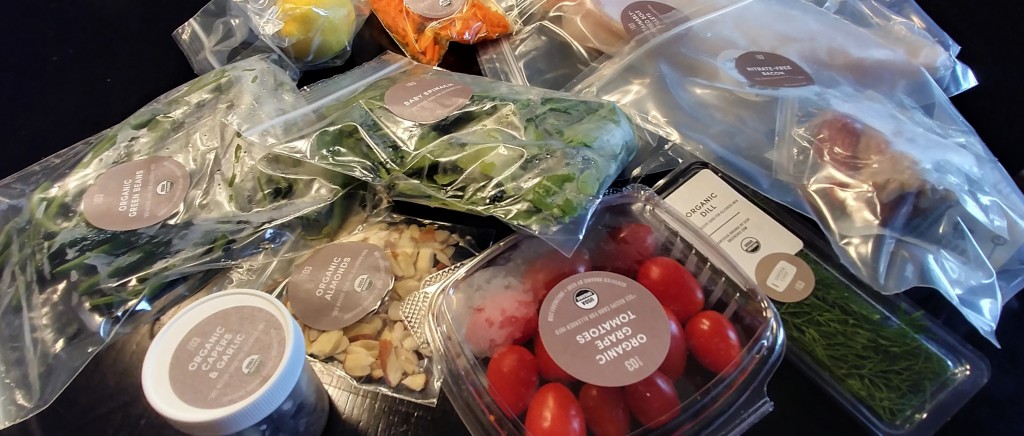 Above you can check out the contents of my Green Chef Keto box (or at least, what I could fit in one picture; there was a lot!). Everything arrived securely packaged in a refrigerated box, and a few things immediately stuck out to me:
Everything was still nice and cold, even after a being outside in the summer heat.
Almost all of the ingredients were organic, a huge plus if you prefer USDA organic meats and produce over conventionally produced options.
All of the ingredients looked super fresh! No wilted herbs or wrinkled tomatoes…it was like I had just run to the store myself.
I was a little concerned about the amount of packaging, but Green Chef provides a thorough guide of how to reuse, recylcle, or compost everything here.
My first box came with the recipes and ingredients to make three separate meals, each meant to serve two people. The recipe cards are printed on a thicker cardstock (good to save for later), and are brightly illustrated with clear instructions. They are also color coded; you can easily see which ingredients go with which recipe by matching the colored labels to the recipe sheet.
Recipe #1: Merquez Chicken with brussels spouts, mushrooms, tomatoes, and almonds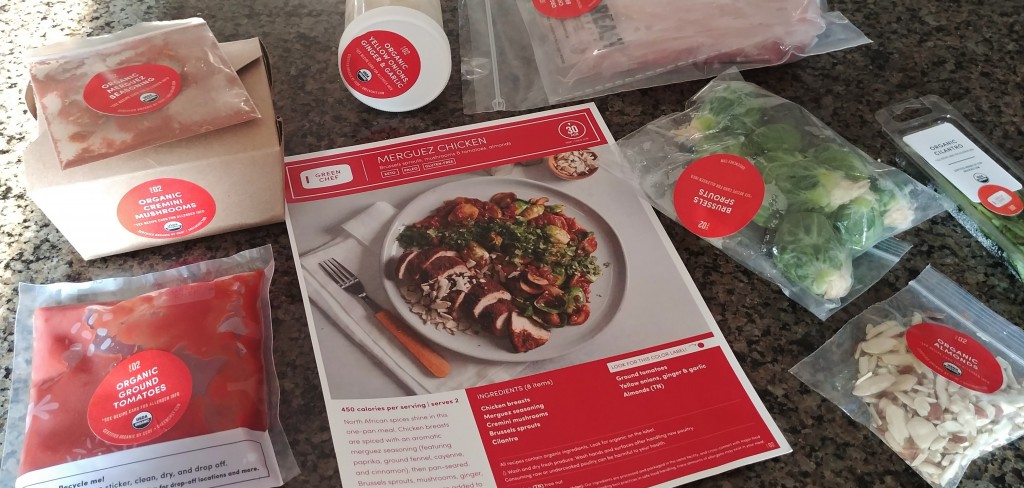 I had never heard of merguez chicken before, but the recipe card described it as a North African spice blend that features paprika, ground fennel, cayenne, and cinnamon. It sounded delicious, and as a bonus, it was something I never would have thought to make myself! Also on the front of the recipe card:
The list of ingredients
Estimated cook time
Allergen information
Calorie count
A picture of the completed dish
The back of the recipe card is where the real fun begins though! That's where you'll find the pantry items (things like salt or oil) and cooking tools (cutting boards, pans, etc.) that you'll need to complete your dish. And of course, the step by step instructions that you'll need to get cooking.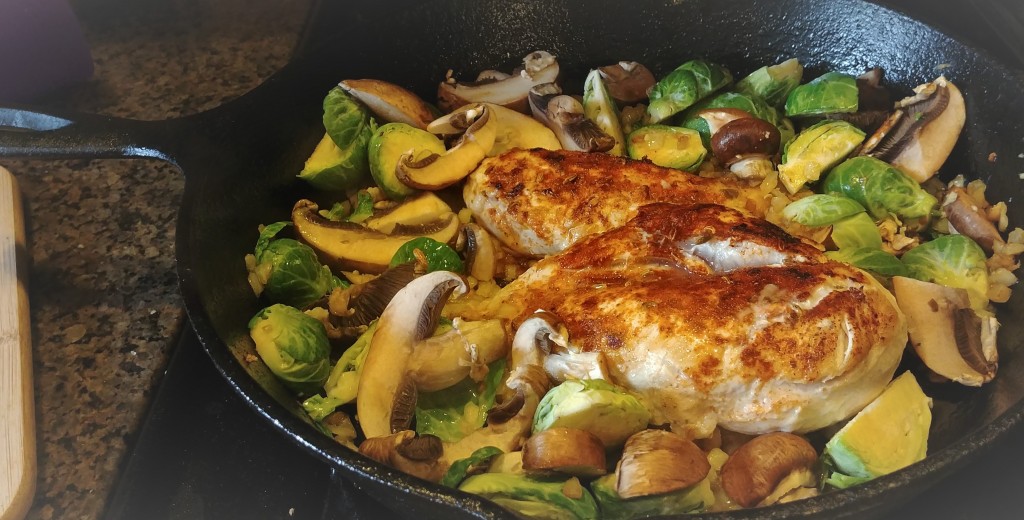 The first step here was to prep all of the veggies. This recipe featured Brussels sprouts and cremini mushrooms that needed to be washed and sliced. After that, I followed the directions to season the two chicken breasts with the merguez seasoning blend and then sear them in oil. Onion, ginger, and garlic were next to go in the pan, followed by the veggies that were sliced earlier.
The last addition was ground tomatoes. I let everything simmer until the chicken was cooked through. While I waited, I prepped the garnish by roughly chopping the cilantro and almonds.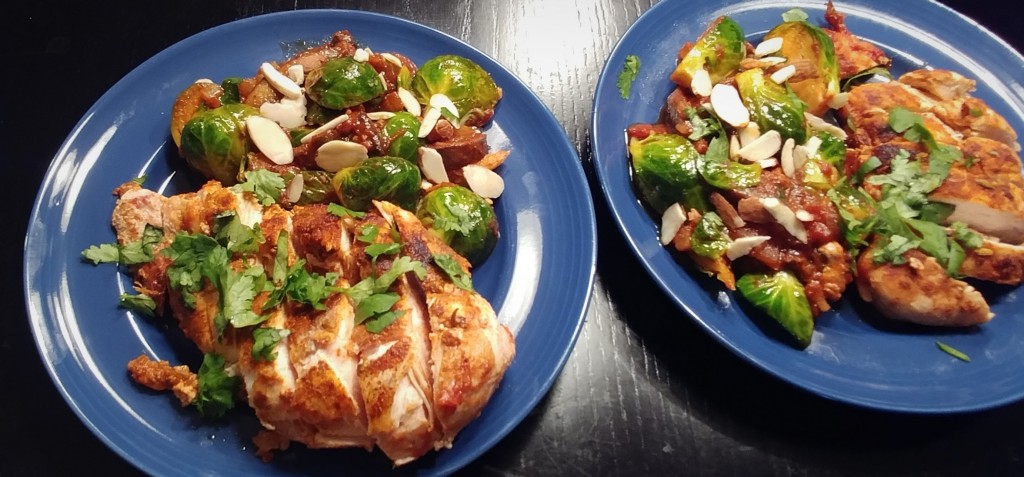 In total, this meal took me about 35 minutes to make (a little over the 30 minute time estimate since I was getting used to the Green Chef Keto format). It was super convenient since it only used one pan, and I liked that it packed in a lot of flavor thanks to the merguez seasoning. I'm not the biggest fan of mushrooms, so I left some of those out of my portion, but either way, there was more than enough food to feed two comfortably. We usually had some of the veggies leftover for lunch the next day.
Recipe #2: Dill-Caper Sole Roulades with bacon, green beans, & tomatoes, and spinach salad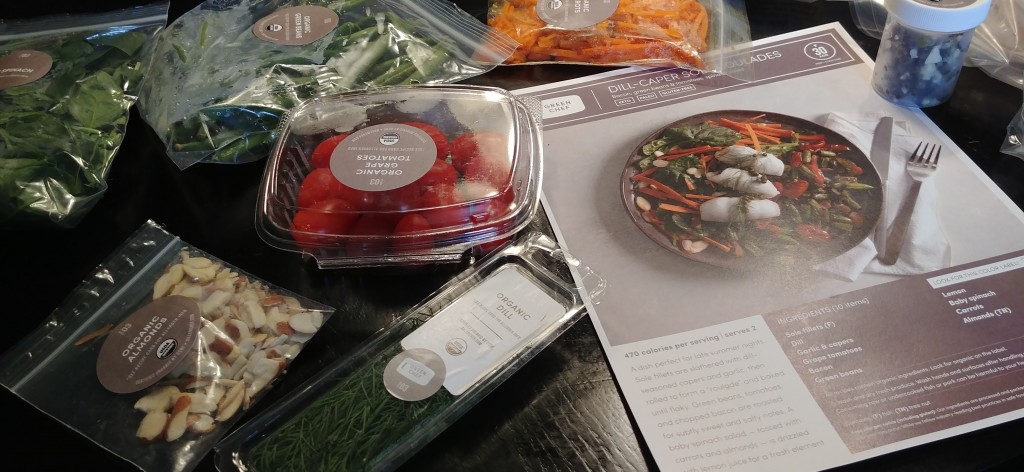 Phew! Just the name of this recipe was a bit intimidating for me. It sounded like something you might order in a fancy restaurant rather than something I could make in 30 minutes at home. Still, I was more than happy to give it a try, and it was nice to having the option of accessing the recipe and cooking instructions from my tablet or laptop on the Green Chef website if I misplaced the recipe card or just wanted to check out the images in more detail.
Once again, the first step here was to clean and prep all the veggies. After that, the bacon went into a pan with the green beans and tomatoes, which then went into the oven to roast. I don't often think to roast my veggies with bacon, but it definitely adds a nice flavor and after making this recipe I feel like it's something I would be comfortable trying with more veggies in the future.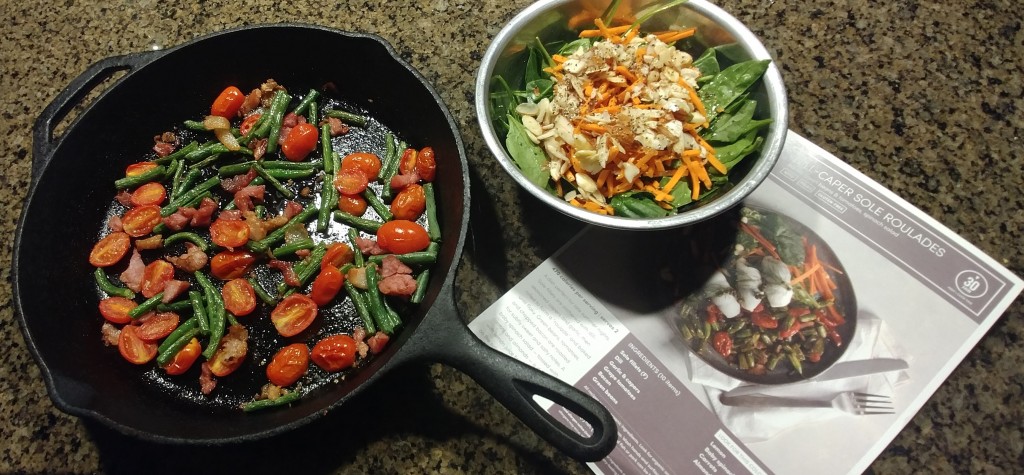 With the veggies out of the way, the next step was to make the roulades, which used sole fillets lightly seasoned with salt and pepper and then rolled with a dill and caper filling. I had never cooked with sole before (or dill, or capers for that matter), so I really liked being able to work with some new ingredients.
While the fish was in the oven, I prepped a quick salad with spinach, carrots, and almonds to serve on the side.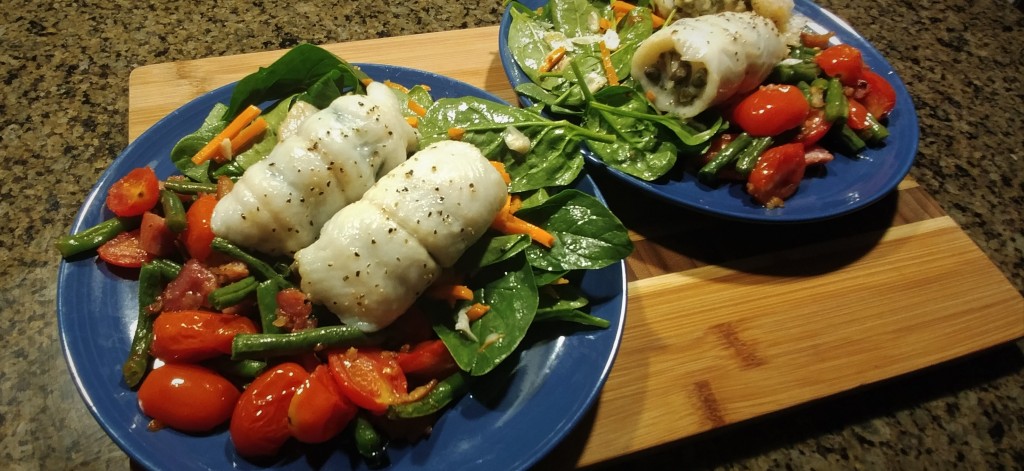 This meal was estimated to take 30 minutes according to the recipe sheet, and I would say that ended up being accurate. I was worried about over or under cooking the fish since I wasn't used to using sole in my kitchen, but it turned out just right following the cooking timings on the recipe card. I think in the future I would try adding a squeeze of lemon juice or something to up the flavor factor, but the dill and caper filling was tasty. I also really liked the way the light, citrusy salad balanced out the richer flavor of the bacon roasted veggies.
Again, the veggie portions were a bit large for my stricter keto macros, but it's never a bad thing to have some leftover for the next day. Out of the three meals, this one is probably the one that pushed me out of my culinary comfort zone the most, and I mean that in a good way. I really like being able to learn about and experience new ingredients and combinations.
Recipe #3: Mustard-Roasted Pork with cauliflower, fennel, creminis, and sauerkraut sauce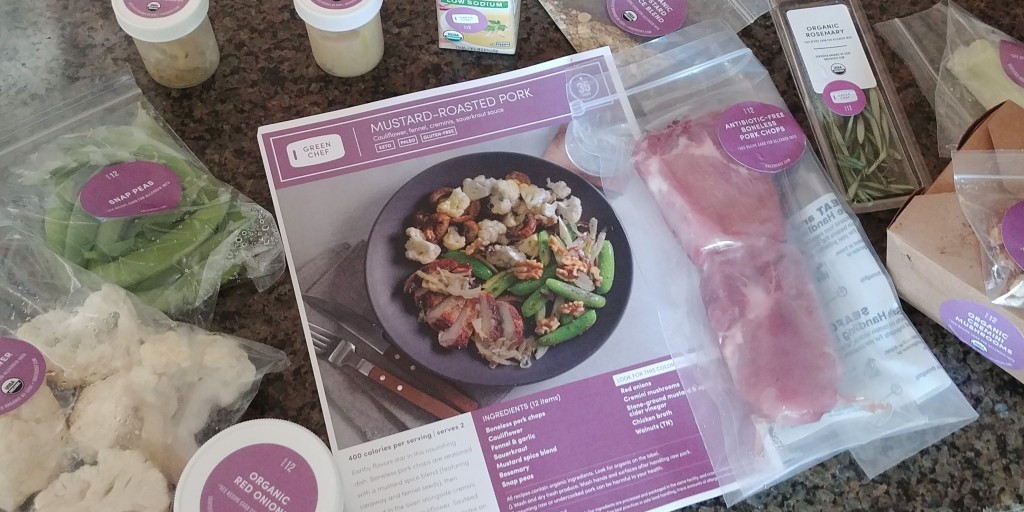 With 12 ingredients and a 35 minute prep/cook time, this recipe was the most involved of the bunch. I felt pretty prepared to tackle it though, since I already had the other two under my belt for experience. I already knew what to expect for the first step: cleaning and prepping all of the veggies and herbs! After that, the cauliflower and mushrooms were tossed with oil and spices, and then went into the oven to roast. Next, the pork was seasoned, seared, and then joined the veggies in the oven.
This recipe is the only one that called for two pans on the stove instead of one, and the next steps made in clear why. In the one used to sear the pork, I made a pan sauce with chicken broth, sauerkraut, mustard, apple cider vinegar, rosemary, and garlic. The other pan was used for the second side dish: a sauteed mix of fennel, onion, snap peas, and walnuts.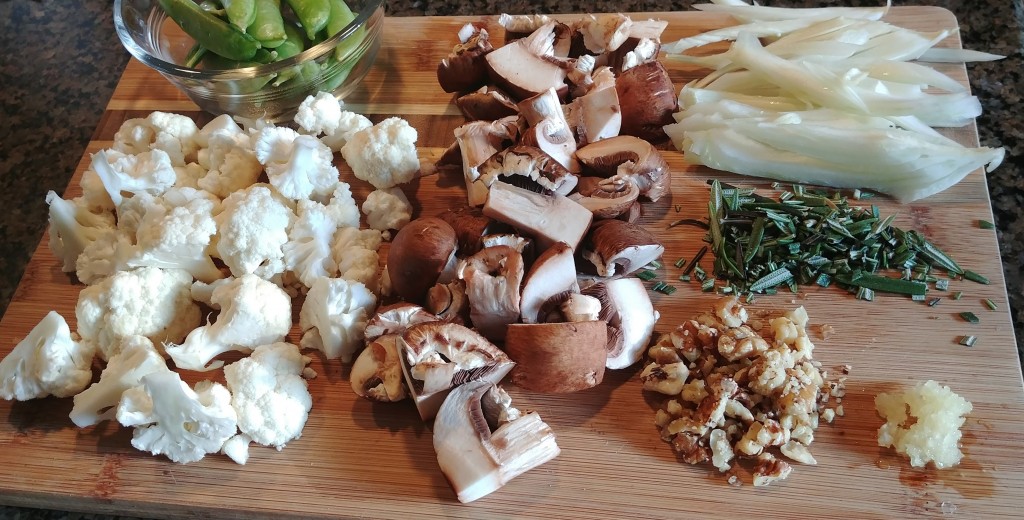 This meant that there was a bit more chopping and slicing for these recipe than the others, but just look at all that fresh produce! I didn't get around to making this meal until the week after my box arrived, so I was happy to see that everything stayed nice and fresh for that long.
Again, mushrooms aren't my favorite thing in the world, but it was pretty easy to adjust the veggie mix to my liking. And even though I don't eat them regularly, it was kind of nice to see multiple ways to prepare them thanks to these recipes.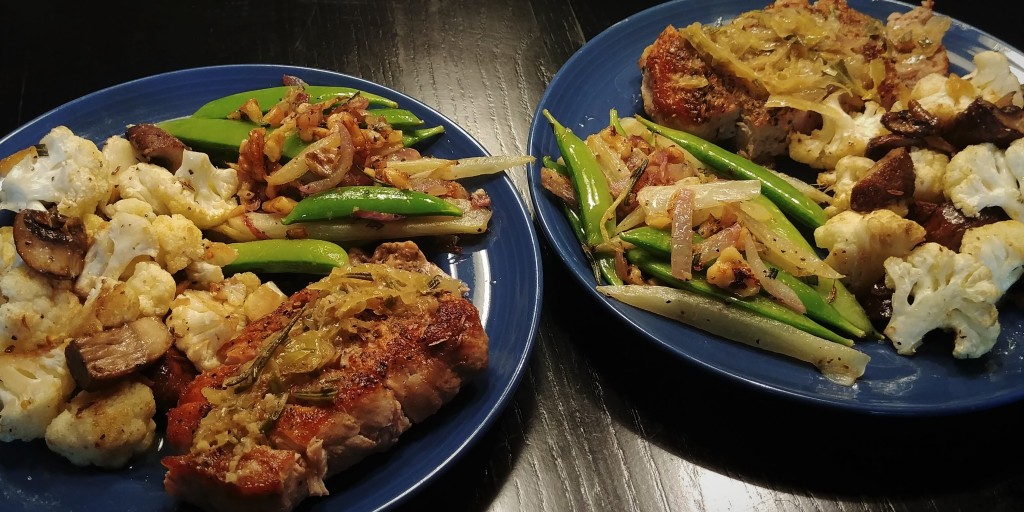 Thanks to the extra pan, this recipe had a little more clean up than the others, but I think it was worth it. This one was my favorite of the bunch! The flavor from the mustard spice blend was delicious on the roasted cauliflower, and the pork was super tasty topped with the sauerkraut pan sauce.
I don't cook with pork chops very often despite them being a pretty good cut of meat for keto, but after making this recipe I definitely feel like I should start buying them more often. It's a nice change of pace from beef and poultry, and I feel like I've learned some good flavor combinations to accompany it.
Overall Thoughts
Overall, I had a great time cooking with Green Chef Keto. I got to make recipes that I never would have come up with on my own using ingredients that I usually don't think to buy myself in stores. I liked that all of the ingredients were high quality, most of them were organic, and they all stayed fresh long enough that I didn't feel "rushed" to make the meals; I made the first meal the day after my Green Chef Keto box arrived, and the last six days later.
If you have additional dietary restrictions in addition to being keto, you should know that the Green Chef Keto meals are gluten-free and dairy-free in addition to being low in carbs. Nutrition wise, the mustard pork was the lowest calorie meal with 400kcal, and the sole was the highest with 470. As someone who usually eats a much larger dinner, I was surprised at how filling they were!
Depending on your specific macro requirements, you can customize the portions a little more to your liking. For example, the meals had very large veggie portions which would have been a squeeze for my 20-25g/day carb limit. I was able to downsize them pretty easily without feeling like I was missing anything from the meals or still hungry afterward. I also frequently upped the fat and calorie content by adding olive or avocado oil, or having a high fat drink after my dinner.
In summary, if you're looking for a way to mix things up at dinner time without having to invent new recipes yourself or spend tons of money on ingredients that you might not use very often, Green Chef Keto is definitely worth considering! In addition to getting to make and enjoy three tasty, mostly organic meals, I also learned a couple of new cooking techniques and gained some experience with new ingredients. If you want more information, or to see what's currently on the Green Chef Keto menu, head to their website here.
Note: Green Chef provided me with a complimentary box of their keto meal kit and an entry into a giveaway for reviewing their service. All opinions in this review are my own.