Low Carb Pumpkin Spice Cupcakes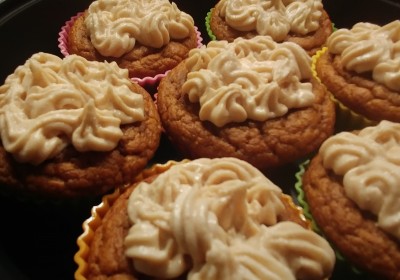 I know it's kind of blasphemy to say this at this time of year, but I have never been a big fan of pumpkin-flavored or pumpkin spiced foods. I can probably count my average yearly pumpkin spice latte consumption on one hand, and the number of times I've had pumpkin pie on the other. With that said…this week I was craving pumpkin spice.
I picked up some pumpkin puree and pumpkin spice with the goal of maybe making some sugar free mini pumpkin pies or something, but I came up with these low carb pumpkin spice cupcakes instead. They are a bit easier to eat on the go, and if you skip the frosting, you don't have to feel bad about having one with your morning coffee!

Notes:
Need a quick cream cheese frosting? Beat 4oz of softened cream cheese with 1oz of softened butter, 1/2t of vanilla extract, 1 scoop of vanilla or cinnamon bun WakeShake, and sweeten to taste. Pick up the WakeSake for 10% off when you use the code TKW10 here.
This batter can be a bit "stickier" than others, so I really recommend using nonstick baking cups if you have them.
If you're skipping the frosting, these are also pretty tasty served warm with a little butter!