Onnit Keto Box November 2018 Review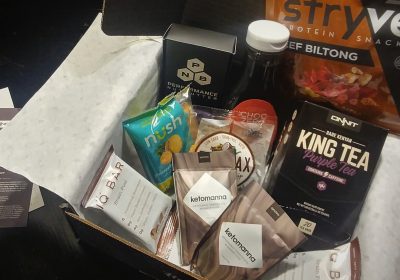 Onnit Keto Box number 5 is here, and I can't wait to see what's inside! It's definitely pricier than my other keto subscription boxes, but I'm okay with the higher price if it also means higher value items and larger product sizes.
As a refresher, Onnit Keto Box is a premium keto subscription that costs $55.95 per month. For that fee, subscribers are promised a box "personally curated" by Onnit founder Aubrey Marcus and comedian/former UFC fighter Brendan Schaub to include the "highest quality low-carb snacks and supplements." It seems to be targeted for those interested in getting more full sized items, supplements, and trying out new Onnit products in particular. You can review my reviews of past months here.
Here's what was in my November Onnit Keto Box: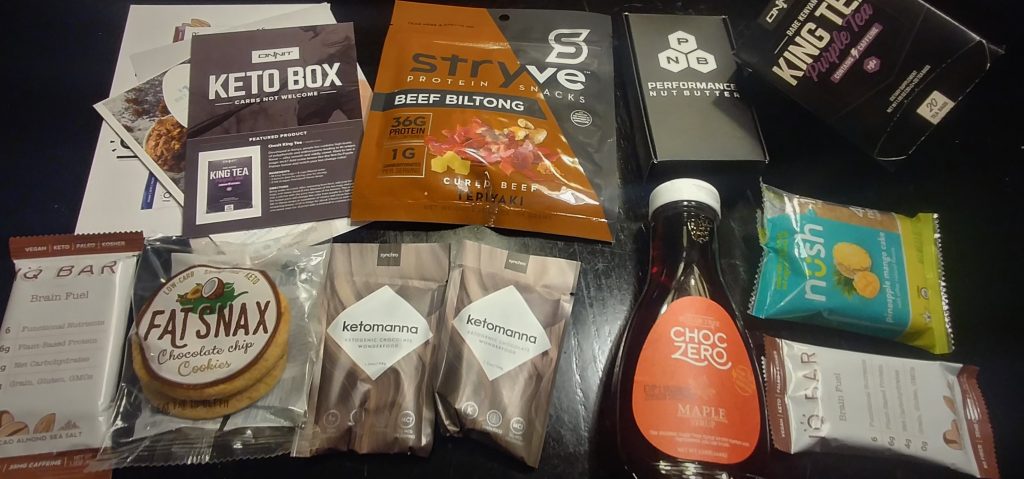 First up, the featured Onnit product for the month:

1x 20ct box Onnit King Tea (value: $19.95)
This is the second month with a drink included instead of a supplement. Last month we got coffee, and this month it's tea! I drink both, so I don't mind the inclusion at all. The box describes this as "purple tea" and it definitely does have a purplish color to it after brewing. This is apparently due to the higher levels of polyphenols and antioxidant compounds, which is a definite plus if you drink tea for the health benefits. Taste wise, I also really liked it. It's very smooth with few bitter or grassy notes. I'll definitely use it up, but I'm not sure I'd ever pay $20 for another box to be honest. A dollar per cup is pretty pricey for tea.

1x 2.25oz bag Stryve Biltong, Teriyaki (value: $7.99)
I'm used to "teriyaki" flavored products being loaded with sugar and carbs, so I was pleasantly surprised to find that there are just 2g of carbs in the whole bag of this biltong. Like most biltong I've tried, this is more tender and moist than traditional jerky. The thinly sliced beef pieces have a really nice Asian-inspired flavor with hints of ginger, sesame, and pepper.

2x bar IQ Bar, Cacao Almond Sea Salt (value: $5.00)Save 15% w/ code TRYKETO15
I discovered IQ Bars earlier this year, and I am definitely a fan! They are packed with healthy fats from ingredients like nuts and cacao, and beneficial nutrients like fiber, magnesium, and flavenoids. Best of all, they are tasty! This variety has a rich chocolate flavor, and I like the matcha hazelnut and lemon blueberry varieties even more!

1x serving Nush Cake, Pineapple Mango (value: $3.00)
This is one of the newest flavors from Nush, who makes these low carb cake snacks. I like how moist these little cakes are. This particular variety has a bright, fruity flavor thanks to the pineapple and mango. This makes it a little higher in carbs at 4g net than the other flavors which are 2-3g, but that's manageable for a snack or treat. They are also surprisingly filling thanks to ingredients like flax and egg.
1x pack FatSnax Cookies, Chocolate Chip (value: about $2.99)
We also got a pack of these FatSnax cookies, which I've tried before. Here are some notes from a past review:
These are a pretty tasty premade option. They are made with familiar low carb ingredients like almond flour, coconut flour, and butter. They are definitely on the "cakey" side as far as texture goes, while I generally prefer a denser chocolate chip cookie when I make them myself. The texture works great in their lemon cookies, which I love!

1x bottle ChocZero Honest Syrup, Maple (value: $7.99)Save 10% w/ code tryketowithme
ChocZero is one of my favorite keto-friendly brands, and their Honest Syrups have certainly been a good addition to the lineup. This maple syrup is perfect for topping keto pancakes or low carb almond flour biscuits. I like that it is super thick and rich compared to other sugar free syrup brands, which have a tendency to feel watered down.
2x pouch Synchro KetoManna (value: about $5.00)
Here are some notes on this fat-fueled treat from a past review:
This is a fat bomb style product made with coconut and MCT oil as the main fats and flavored with vanilla and cocoa. The flavor ends up somewhere between a dark chocolate fudge and brownie batter, so I was definitely a fan. You could probably whip up something similar on your own, but the convenience of these grab and go packs is always nice. I'm guessing it would be good blended with coffee as well.

3x pack Performance Nut Butter (value: about $8.40)
Aside from the occasional spoonful of peanut butter or Keto Nut Butter, I'm not super sold on the "nut butter alone as a snack" phenomenon. With that said, if I was going to snack on a nut butter by itself, this would be a pretty good option! This blend of macadamia, cashew, and coconut butter is nice and creamy with just a hint of natural sweetness. The pouch format is nice if you are the type to take your nut butter on the go.
In addition to the products in the Onnit Keto Box, we also got the following discounts:
10% off Onnit food and supplements
20% off KetoManna
15% off IQ Bars
$12 off @ Killer Creamery
20% off Performance Nut Butter
There was also a drink recipe on the insert using the Onnit King Tea.
Overall Thoughts
This month's Onnit Keto Box was good, but did feel a tiny bit light compared to my previous months. I think that's because, though I like tea, a box of 20 tea bags isn't something I would normally value at $20. This makes it feel a bit less exciting than the full sized supplements and coffee from past boxes.
Still, the retail value of the products does exceed the cost of the box, we got a good number of discounts, and I really liked getting to try the nut butter and biltong especially. Overall, I still like the focus on higher valued items to try in this box and I definitely used everything included. I still have my fingers crossed for an Onnit MCT Oil inclusion though!
Want to try out this premium keto subscription? You can sign up for your own Onnit Keto Box at their website here.