The Keto Box December 2018 Review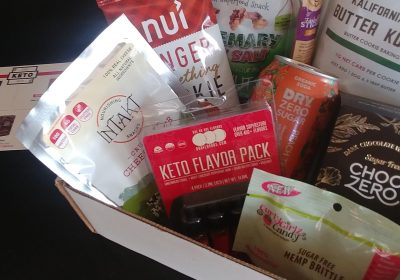 After last month's packed The Keto Box, I was eager to see if this one would hold up. This keto subscription sometimes includes a couple of surprises, but you can generally expect a mix of sweet and salty keto snacks alongside some pantry items or other unique low carb products. I was curious to see what this month would offer!
Before we get to what was inside, a quick refresher: The Keto Box is a monthly subscription that describes itself as a "low carb care package for your body." For $39.99/month, subscribers receive a box full of 5-8 keto snacks and other products delivered to their doorstep.
You can view my reviews of previous months of The Keto Box here.
Now on to the December 2018 The Keto Box: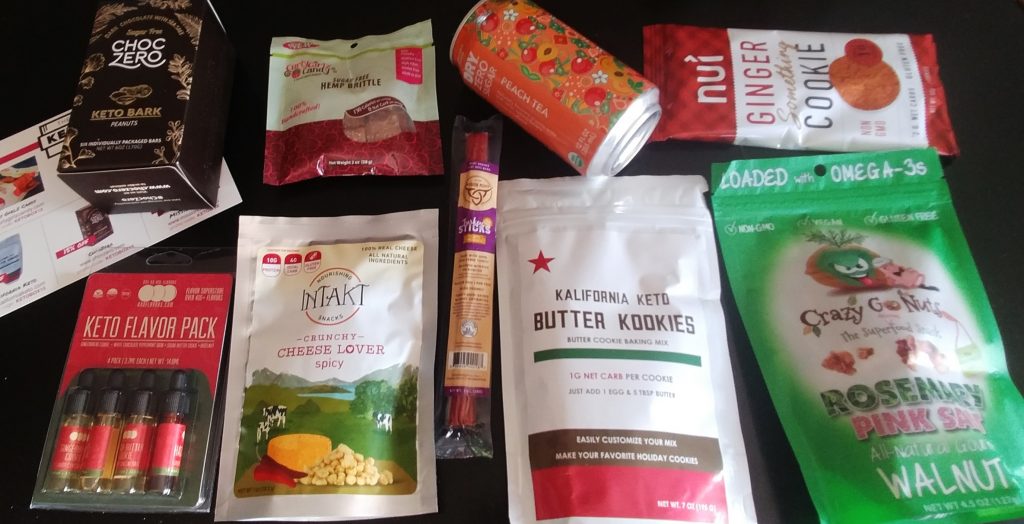 First up, a brand I've been wanting to try for ages:

1x OooFlavors Keto Flavor Pack (value: $12.99)
How cool (and adorable!) are these! These little droppers contain flavor concentrates which you can add to drinks, baked goods, and other recipes to add flavor without adding any carbs or sugars. This particular pack includes the flavors: Hazelnut, White Chocolate Peppermint Bark, Gingerbread Cookie, and Sugar Butter Cookie. It's not listed on the site, so it might be a TKB exclusive!
In any case, I used these in coffee as well as in keto pancakes and other baked goods with great results! There were no funky aftertastes and a little went a long way (1-2 drops per cup of coffee) so even these small bottles will last longer than you'd think.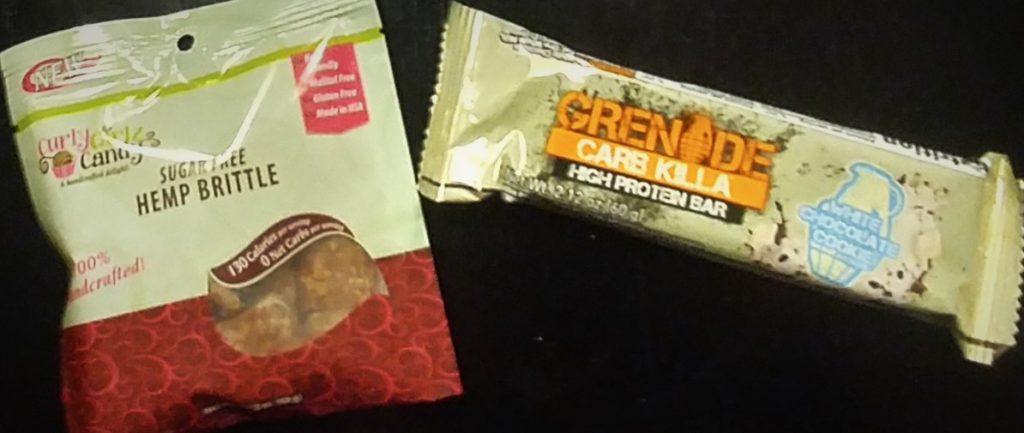 1x 2oz bag Curly Girlz Candy Hemp Brittle (value: $5.79)
I've tried this in a previous box, and it remains a pleasure to eat. Here are some notes from that review:
I've never really been a big brittle person, but this stuff is delicious. It's sweet (but not too sweet) and buttery. It doesn't make you worry about losing a tooth due to being too hard or sticky. And the flavor is great, with just the right amount of cinnamon and vanilla to round it out.
1x bar Grenade Carb Killa Protein Bar, White Chocolate Cookie (value: about $2.00)
So I'll be upfront: the ingredient list on this bar is pretty long-ish and contains some ingredients (like maltitol) that I'd rather avoid. With that said, I still gave it a try and  I can't deny that it's pretty tasty. There's a white chocolate coating with a cakey/chewy filling and crunchy cookie pieces. It's pretty filling due to the protein (22g), fat (8g) and fiber (6g) content, but I can't help wishing the ingredient list was cleaner.

1x stick Mission Meats Turkey Stick, Tasty Original (value: about $1.75)
Although Mission Meats is one of my favorite keto jerky brands, I actually hadn't tried their turkey products until now. Naturally, they are leaner than beef or pork based sticks, which makes them a bit less tender. That might be a plus if you like your jerky with more "bite" to it. The flavor is good, as I would expect from Mission Meats, but maybe a little on the salty side. I would love to try the jalapeno version of these for some extra kick!
1x bag Intakt Snacks Crunchy Cheese, Spicy (value: about $3.50)
I've had these before, and I like the buttery flavor/texture of the cheese used to make them. The flavored varieties add a bit of extra oomph, and I was a fan of this spicy version. It uses chili for heat, rounded out with some cumin and coriander. I definitely enjoyed them.

1x pack Nui Cookies, Ginger Something (value: about $3.50)
I enjoy Nui cookies, and this particular variety is there first seasonal flavor. It's like a gingerbread cookie meets a gingersnap which is why they ended up on the name "Ginger Something." I really love the balance of sweetness and warming spices in these, which you can complement with a cold glass of macadamia milk or a bit of cream cheese on top.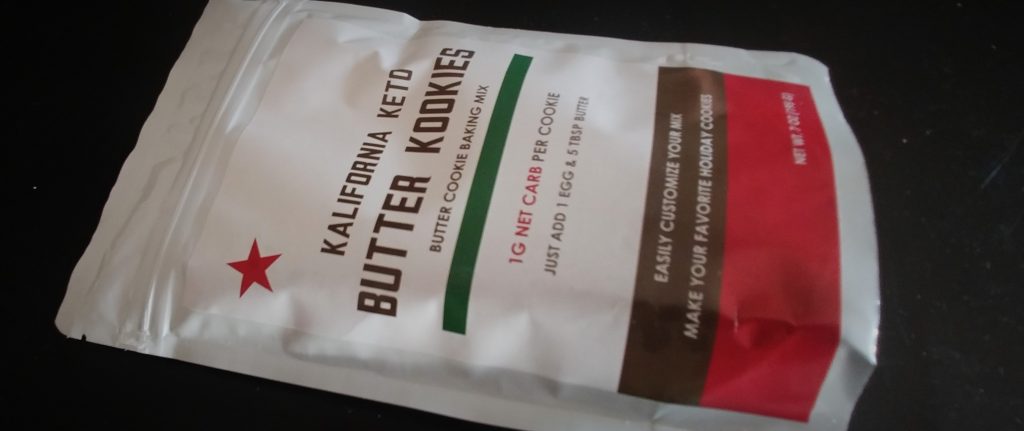 1x bag Kalifornia Keto Kookie Mix, Butter Cookie (value: $7.99)
I saw this brand pop up on my Instagram feed a few weeks ago, so I was excited to see them show up in my box. It's a baking mix for low carb butter cookies, with almond flour and erythritol as the main ingredients. You only need to add butter and an egg, but I spruced things up a bit with a splash of almond extract and some slivered almonds on top, and the final product was delicious!
Easy to make, sweet but not too sweet, and with a nice, soft texture. There are also other recipes on the Kalifornia Keto site to make other cookie variations with this mix like snickerdoodles and shortbread. The OooFlavors would also be a good addition, I suspect.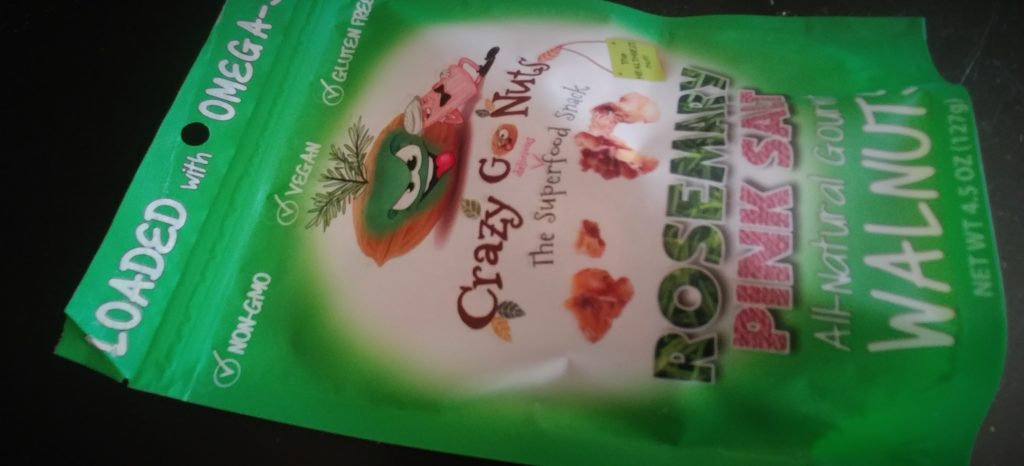 1x bag Crazy Go Nuts Walnuts, Rosemary Pink Salt (value: about $4.50)
I've had a couple of flavors from this brand now thanks to my keto subscriptions, but this was my first time trying this one. They are lightly salted and seasoned with rosemary. The combination is pretty tasty, but maybe not the best for snacking on alone. I like them best alongside a nice meat/cheese plate, but I'm also thinking about using them as a breading for chicken.

1x box ChocZero Keto Bark, Dark Chocolate Peanut (value: $6.99)
I love ChocZero, and this is one of my favorites from them. Here are some notes from a recent review:
It has a super rich chocolate flavor that doesn't taste "watered down" like some other sugar free chocolates and has just the right amount of sweetness. Like most ChocZero products, it's sweetened with monk fruit. In addition to the delicious dark chocolate, these bars also have chopped peanuts and sprinkling of sea salt. The combination is so tasty that one piece is enough satisfy pretty much any sweet tooth or chocolate craving. There are 6 pieces in the box.

1x can Dry Soda Zero Sugar, Peach Tea (value: about $1.50)
Finally, we got this zero carb/calorie drink to try. I know some people avoid soft drinks on keto, but I definitely enjoy my fizzy beverages. You don't see a lot of carbonated teas out there, but I actually thought it worked well. The peach flavor tastes natural, the fizz isn't too strong, and the sweetness (from erythritol and stevia) isn't overpowering. I really liked this drink, and as an added bonus, it's organic!
In addition to the items in the December The Keto Box, subscribers also received the following discounts:
20% off Crazy Go Nuts
20% off Intakt Snacks
$5 off Grenade Carb Killa Box
15% off Nui Cookies
15% off Curly Girlz Candy
30% off OooFlavors
15% off Kalifornia Keto
15% off ChocZero
20% off Mission Meats
Overall Thoughts
This was another good month from The Keto Box! The snacks leaned a bit to the sweet side this month, which felt appropriate for those holiday cravings. Even the nuts and crunchy cheese sort of fit that theme, since they would be right at home on a charcuterie board. My favorite new discovery is a tie between the OooFlavors and cookie mix, while my favorite repeat would have to be either the hemp brittle or ChocZero.
Value-wise, we got 10 items with a total retail value of $50+, which is more than the cost of the box before even factoring in the coupon codes or shipping costs. This was a great way to end the year for The Keto Box, and definitely one of my favorite boxes from them in 2018!
Want to sign up for next month? Use the code TRYKETOWITHME to save 15% and get FREE SHIPPING ($15.99 shipping to Canada) on your order!