The Keto Box July 2019 Review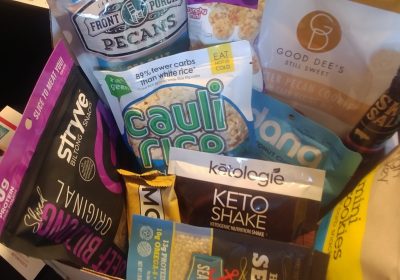 The July 2019 edition of The Keto Box is here! This keto subscription sometimes includes a couple of surprises, but you can generally expect a mix of sweet and salty keto snacks alongside some pantry items or other unique low carb products. I was curious to see what this month would offer!
Before we get to what was inside, a quick refresher: The Keto Box is a monthly subscription that describes itself as a "low carb care package for your body." For $39.99/month, subscribers receive a box full of 5-8 keto snacks and other products delivered to their doorstep.
You can view my reviews of previous months of The Keto Box here.
Now on to the July 2019 The Keto Box: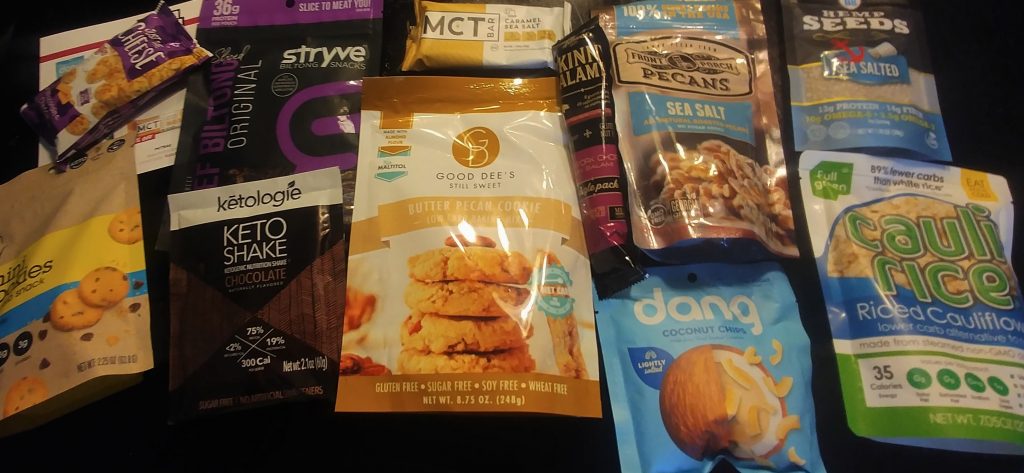 First up, two sweet treats with healthy fats: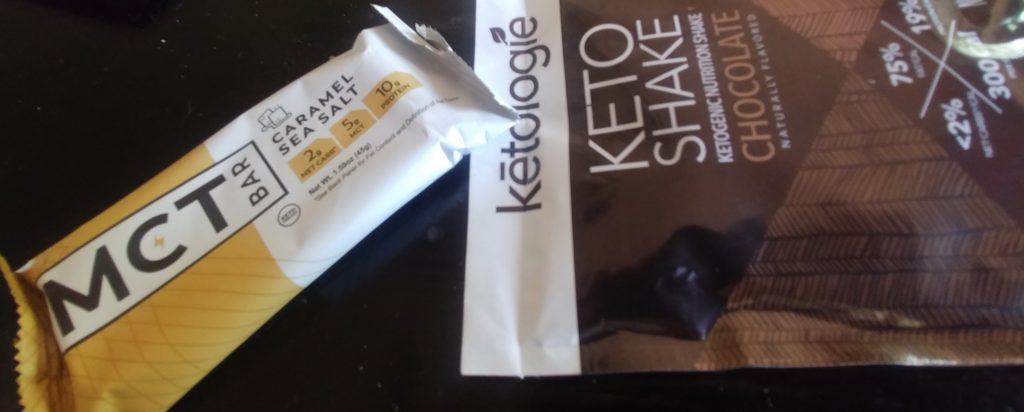 1x MCT Bar, Caramel Sea Salt (value: $3.00)
This was my second time trying this particular snack bar. It has a sweet caramel flavor with hints of salt and a somewhat buttery texture. It's made with quality keto ingredients like almond butter, collagen, MCT oil and cacao butter. I enjoyed it!
1x serving Ketologie Keto Shake, Chocolate (value: about $2.50) 
I was already a fan of this creamy chocolate shake mix from Ketologie. Here are some notes from a past review:
Ketologie shakes are super rich and creamy in both flavors, and are a tasty and filling way to get in some healthy fats. I recommend having them very cold, or even blended with ice. This chocolate flavor reminds me of a chocolate Frosty or milkshake, especially if you opt for the blended route. They mix relatively easy in a standard shaker cup as well. Depending on your macro goals, this packet is good for one meal replacement or two smaller "snack" servings.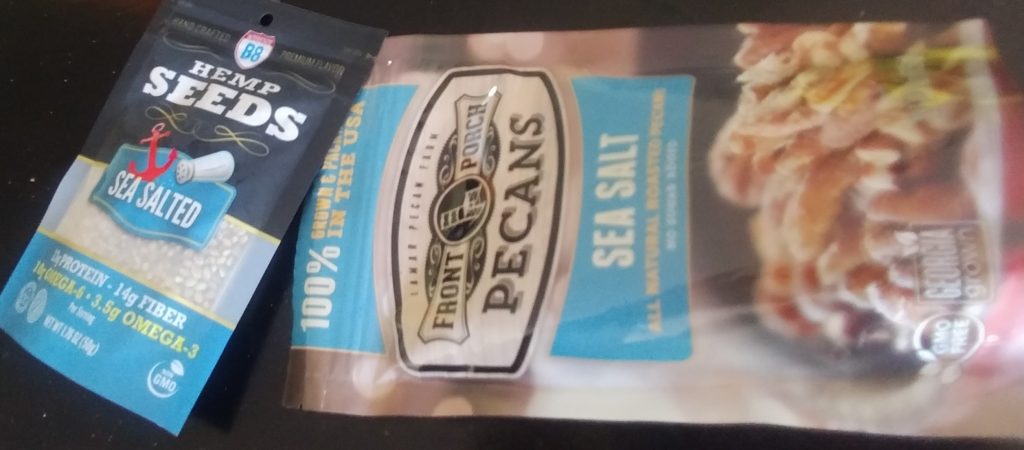 1x 4oz bag Front Porch Pecans, Sea Salt (value: $5.99) [1g net carbs per serving]
These nuts are a big favorite of mine, and they show up pretty often in my various keto subscription boxes. Here are some notes from a past review:
I could eat these all day! This is one of those products that I was introduced to via keto subscription boxes and have absolutely fallen in love with since. I went from being pretty neutral on pecans (I didn't dislike them, but also didn't go out of my way to buy them) to being a pretty big fan! These nuts are perfectly roasted with just the right amount of salt and a delightfully buttery texture.
1x 50g bag Interstate Bait  Hemp Seeds, Sea Salt (value: $1.99)
This is the second nutty, salty snack in this month's box. I generally use plain hemp seeds for sweet or breakfast dishes like keto yogurt or low carb "noatmeal," so I'm not as used to eating seasoned or savoury versions like this. I've been adding it to salads, but it seems like they could be good for making low carb trail mix or something too.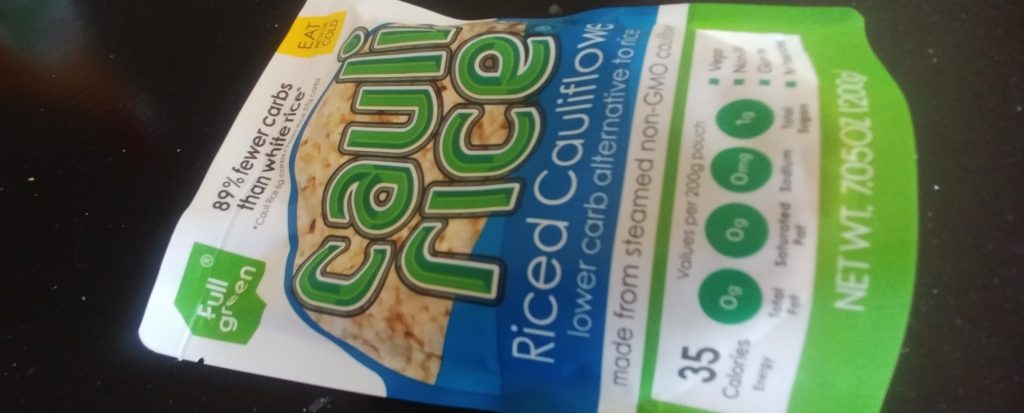 1x pouch Full Green Cauli-Rice (value: about $3.50)
This prepackaged riced cauliflower seems like an option for when you don't have the time or equipment to make your own. You can prepare it in the microwave, on the stove top, or even just use it as is. I did find that it had a slightly different taste/texture compared to freshly riced cauliflower, but it wasn't too noticeable after sauteing in a pan with spices and other ingredients.

1x 2.25oz bag Stryve Sliced Beef Biltong, Original (value: $5.00)
This one one of two meat-based snacks in this month's box. Biltong is made using an air drying technique that's slower than traditional jerky, resulting in a softer texture. This biltong came as thinly sliced small pieces, seasoned with vinegar (quite common in biltong) and a mild blend of spices. It's a good, high protein snack, though I would probably opt for a more "exciting" flavor next time.
1x pack Skinny Salamis, Pork Chorizo (value: $3.00)
Yum! I really enjoyed these little "skinny" salami sticks. They have a lovely, almost buttery texture and I really liked the chorizo-style seasoning. I also love the reletively clean/short list of ingredients and of course the keto-friendly macros. I've had other flavors from this brand as well and have never been disappointed.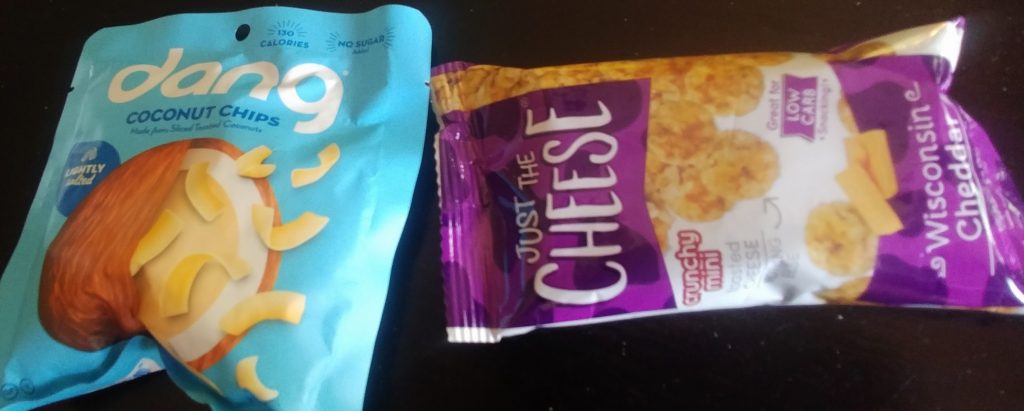 1x serving Dang Coconut Chips, Lightly Salted (value: about $1.50)
From oil to flour, coconut is obviously a pretty keto friendly ingredient. Unfortunately, a lot of coconut-based "snack" products add extra sugar to appeal to a broader audience. Thankfully, these coconut chips from Dang don't do that. I think the combination of coconut and salt on it's own isn't necessarily my favorite (I liked it with a bit of chocolate though), but I did enjoy the light, crisp texture of these.
1x 0.5oz pack Just the Cheese Crunchy Minis, Wisconsin Cheddar (value: $1.50
A second crunchy snack! Here are some notes from the last time I tried these:
This was just a standard cheddar flavor, with a nice amount of crunch and a convenient size for a quick snack on the go. There's a certain buttery aspect to the flavor/texture of these that I really like, and I found them to be surprisingly filling since the 95 calories in this pack is mostly from fat.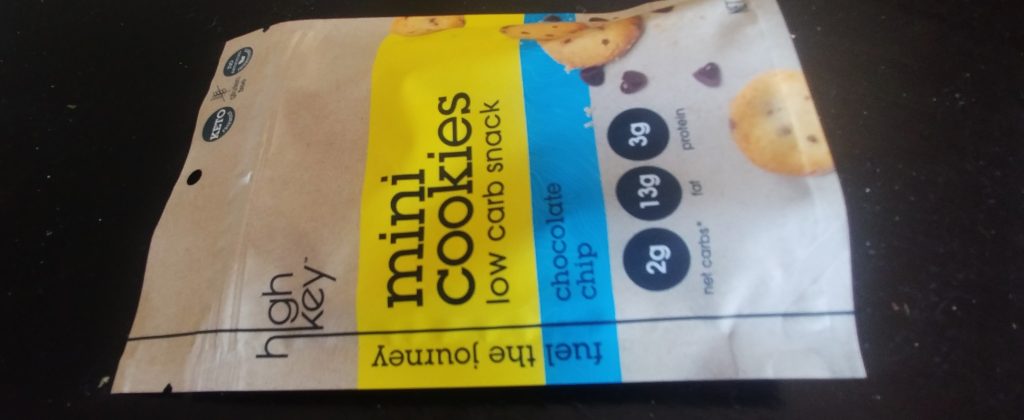 1x bag High Key Mini Cookies, Chocolate Chip (value: about $4.75)
This was a bag of low carb mini chocolate chip cookies, and they were delicious! They are made with low carb ingredients like almond flour, erythritol, and coconut oil, but they taste very similar to mini Chips Ahoy cookies in my opinion. Slightly crisp and surprisingly filling, thanks to the healthy fats.

1x bag Good Dee's Baking Mix, Butter Pecan (value: $12.99)
Finally, we got a pack of low carb cookie mix from Good Dee's. This flavor is new, so it was pretty cool to get to try it out early. Like the name suggests, it's a sweet, buttery cookie with bits of chopped pecan throughout. They were easy to make following the included instructions, and you can even up the ante a bit by adding a little almond extract for more nutty flavor. My only quibble is that I did feel the sweetness could have been toned down just a bit.
In addition to the items in the July The Keto Box, subscribers also received the following discounts:
20% off Interstate Bait
15% off Just the Cheese
15% off High Key
10% off Skinny Salamis
15% off Good Dee's
25% off Dang
15% off Ketologie
15% off Stryve
20% off MCT Bar
15% off Front Porch Pecans
Overall Thoughts
The July edition featured in this The Keto Box review contained 11 items with a total value of about $45.75 before counting the extra discounts. We got a mix of sweet and savory snacks, plus a couple interesting cooking items like the cookie mix and cauliflower rice! My favorite new discovery was definitely the High Key cookies, while my favorite repeat items were the Skinny Salamis, pecans, and Ketologie.
While supplies last, you can add on this box to your order when you sign up for just $30, making it an even better value!
Want to sign up for next month? Use the code TRYKETOWITHME to save 15% and get FREE SHIPPING ($15.99 shipping to Canada) on your order!