Keto Krate September 2019 Review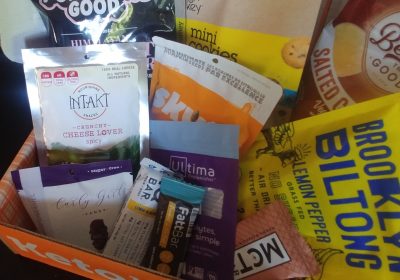 Time to fall into a new season of Keto Krate! This keto subscription has been pretty consistent with its product mix over time, so I have a good idea of what to expect at this point: about two jerky/meat snacks, a couple other savory/salty snack options, some keto-friendly sweet treats, and then maybe a unique ingredient or pantry item.
As a reminder, Keto Krate costs $34.95 per month plus a $4.95 shipping fee ($39.90 total), and promises 6-8 keto-friendly snacks per month plus $20+ in coupons and discounts that subscribers can use to purchase more of the featured products. All products included are gluten free, aspartame/maltitol free, and 5g net carbs or less per serving. You can view reviews of past Keto Krates here.
If you're a new subscriber, you can take advantage of the $10 discount offer when you sign up here using the Keto Krate promo code TRYKETOWITHME.
Here's what was in the September Keto Krate: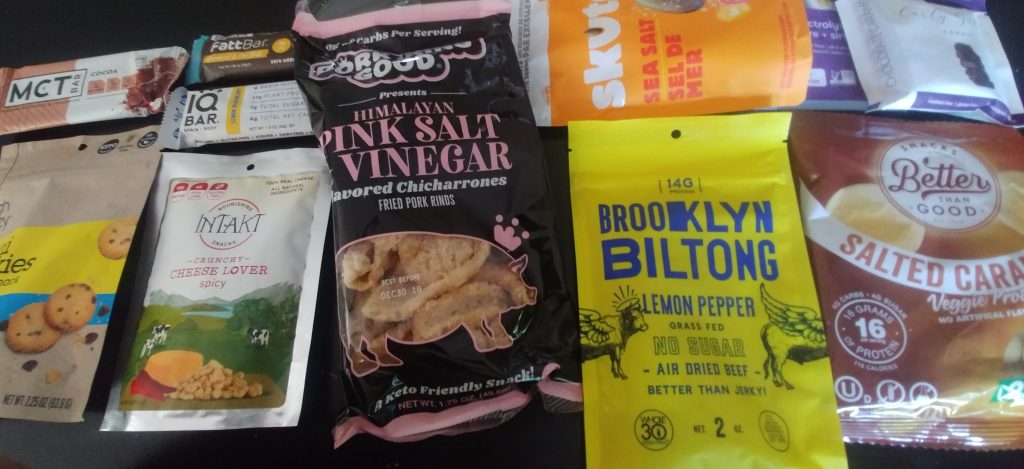 First up, this salty, savory keto snack: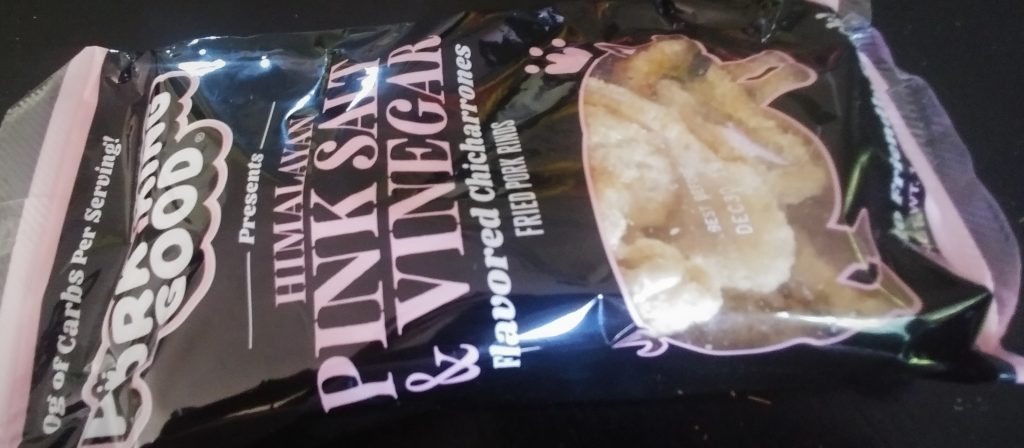 1x bag Pork King Good Fried Pork Rinds, Himalayan Pink Salt and Vinegar (value: about $2.50) [0g net carbs per serving]
These were so good! I'm a bit picky about pork rinds, since I tend to not like those that are too hard and crunchy. These are perfectly crisp and airy, and the salt and vinegar flavor was perfect. I would definitely recommend pairing them with a drink, since it's still a salty snack at the end of the day, but I definitely finished this bag within a couple minutes of opening it. This is also one of their new flavors, so it was cool to get to try it!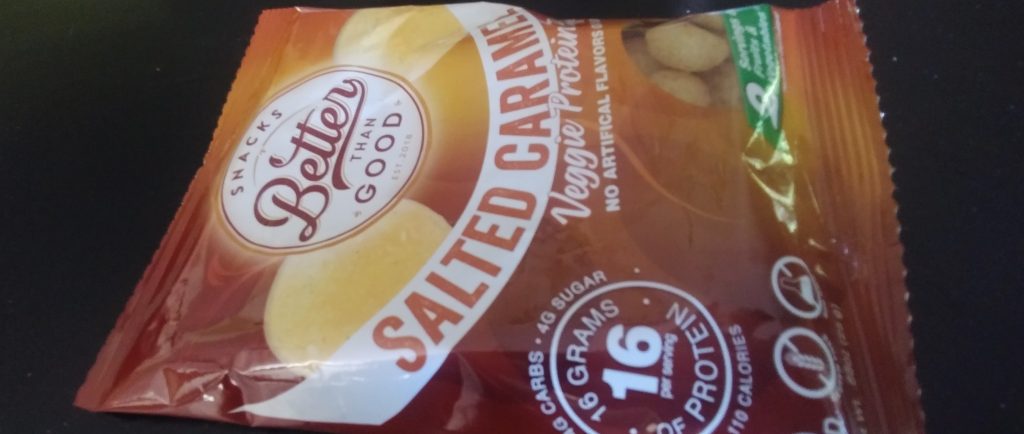 1x bag Better than Good Veggie Protein Puffs, Salted Caramel (value: $2.50) [4g net carbs per serving]
I have sort of mixed feelings about these. At first bite, the flavor and crunch were actually pretty good. They are sweet, but not overly so, and I could even see them being a decent cereal alternative when paired with cold almond milk. On their own however, I found that they had a slight aftertaste and a drying effect. I should note that I have always been really sensitive to veggie protein-based snacks though, so these might be great for someone without that issue.

1x IQ Bar, Lemon Blueberry (value: $3.00) [4g net carbs per serving]
I was a fan of these bars previously, but they recently revamped their recipe and added new flavors so it was nice to revisit them. I like that these bars have more of a "real food" texture instead of the plasticy smooth texture of some other bars. They have a relatively mild level of sweetness, but I really liked the blueberry flavor (I wouldn't have minded a bit more lemon).
1x MCT Bar, Cocoa (value: $3.00) [2g net carbs per serving]
We got another flavor of this bar back in the July Keto Krate, but I personally liked this one better (because it's chocolate, of course!) It has a nice, almost melt-in-your-mouth richness and I like that it wasn't overly sweet. It has a rich chocolate flavor and is made with familiar ingredients like almond butter, cocoa, and MCT oil.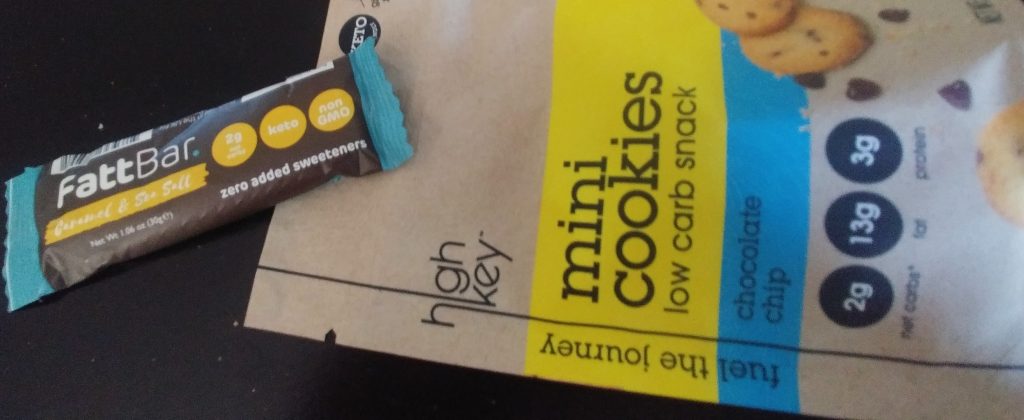 1x FattBar, Caramel & Sea Salt (value: $3.00) [2g net carbs per serving]
This bar has a nice nutty flavor and a refreshingly short ingredient list. I like that is only a couple of net carbs, although it's also smaller in size (and calorie count) than a lot of other bars on the market. It's more of a mini fat bomb macro-wise, without the added protein of some other bar options, so it could be a good option if you don't struggle to meet your protein goals but want to add some healthy fats.
1x bag High Key Mini Cookies, Chocolate Chip (value: about $4.75) [2g net carbs per serving]
I've had these before, and am definitely a fan. Here are some notes from a past review:
This was a bag of low carb mini chocolate chip cookies, and they were delicious! They are made with low carb ingredients like almond flour, erythritol, and coconut oil, but they taste very similar to mini Chips Ahoy cookies in my opinion. Slightly crisp and surprisingly filling, thanks to the healthy fats.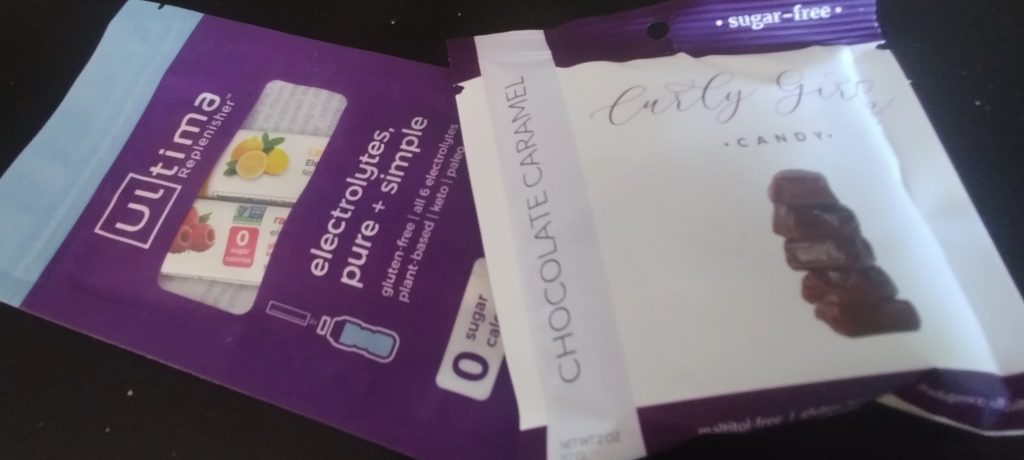 2x servings Ultima Replenisher (value: about $1.50) [0g net carbs per serving]
This is a sugar free drink mix that also contains electrolytes and minerals to support hydration. Electrolyte balance is especially important on keto, so I like keeping products like this on hand. The flavors I got were lemonade and raspberry, both of which were tasty!
1x bag Curly Girlz Candy, Chocolate Caramels (value: $5.99) [<1g net carbs per serving]
I generally like the sugar free candies from this brand, but I'm not really a fan of chocolate flavored caramels so these weren't my favorite. They are sweet and chewy like you would expect, but I like the flavor of caramel to shine through in candies like this but the chocolate sort of overpowers it here.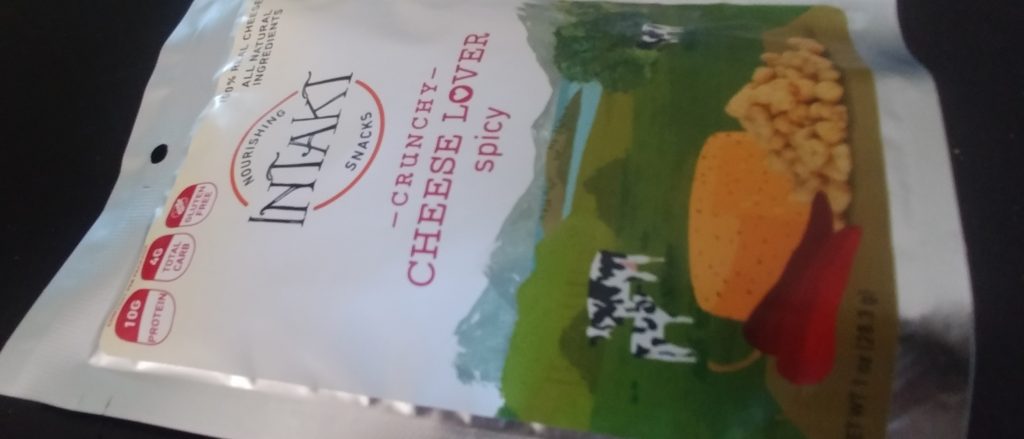 1x bag Intakt Snacks, Spicy (value: $3.50) [1g net carbs per serving]
Some notes from a past review:
I've had these before, and I like the buttery flavor/texture of the cheese used to make them. The flavored varieties add a bit of extra oomph, and I was a fan of this spicy version. It uses chili for heat, rounded out with some cumin and coriander. I definitely enjoyed them.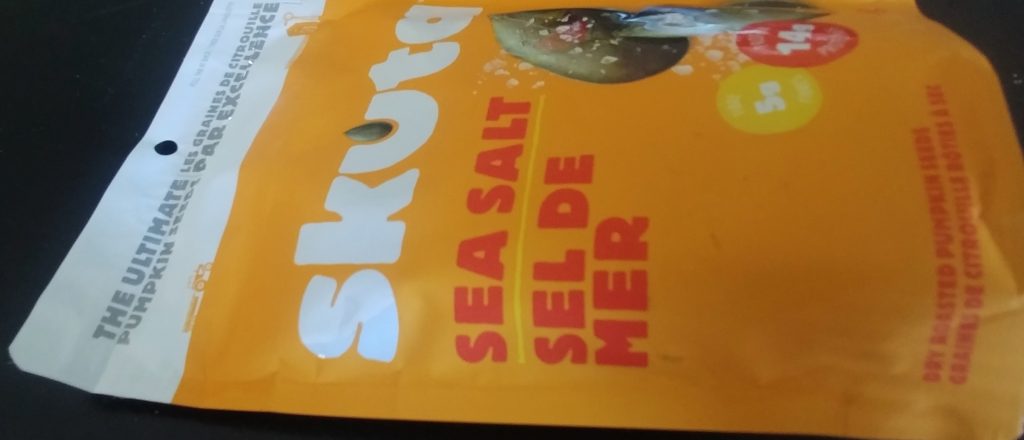 1x bag Skuta Dry Roasted Pumpkin Seeds, Sea Salt (value: about $5.00) [2g net carbs per serving]
This is a pretty straightforward snack, so there isn't too much to say about it. Pumpkin seeds are a great source of protein and healthy fats, as well as being packed with some key minerals. I thought this brand was roasted to perfection and had a good amount of slat (although I wouldn't have minded a bit more, honestly). The bag is resealable, which is convenient for snacking.

1x bag Brooklyn Biltong, Lemon Pepper (value: $7.00) [2g net carbs per serving]
Finally, we got this bag of biltong which is a jerky-like snack native to South Africa. I wasn't sure how it would work with the lemon pepper flavor, but I was pleasantly surprised. A lot of biltong is seasoned with vinegar and a relatively simple spice blend, and sometimes the vinegar notes can hit a little too strongly for me. I thought the brightness of the lemon was a nice balance.
In addition to the products included in the September Keto Krate, subscribers also received the following discounts:
15% off High Key
15% off Curly Girlz Candy
20% off MCT Co
15% off Pork King Good
25% off IQ Bars
20% off Intakt Snacks
20% off Brooklyn Biltong
25% off Better than Good
10% off Ultima
15% off FattBar
20% off Skuta
We also got a recipe for pumpkin muffins featuring the pumpkin seeds from the box.
Overall Thoughts
This September Keto Krate included 11 items with a total value of about $42 (not including the discounts). My favorite new discovery was the salt and vinegar pork rinds. My favorite familiar face was probably the High Key cookies. Overall, this month's Krate had a pretty decent variety of both sweet and savory snacks.
I was generally happy with the variety and value of snacks this month, and I look forward to seeing what next month has to offer! Hopefully some sweet treats for Halloween!
You can view past reviews here, and head here to sign up for your own Keto Krate. If you're a new subscriber, you can take advantage of the $10 discount offer when you use the code TRYKETOWITHME.