How to Make Cheese Cups for Keto Appetizers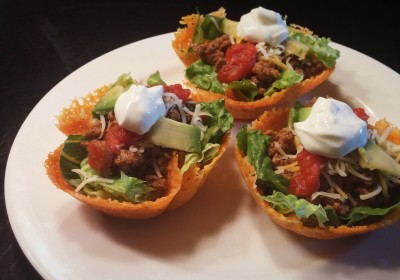 How adorable are these little keto taco cups? They're almost too cute to eat…emphasis on the almost. I made these cheese cups using a variation of my standard cheese shell taco method, but I decided to add a little more detail in this separate post to help show how I made them. You will need:
Shredded cheese (I usually use cheddar, sometimes with a bit of colby jack added)
Parchment paper and a microwave safe plate
A microwave or oven
A small bowl or muffin tin (to shape the cups)
A nonstick spatula
My instructions will be based on using the microwave, since I'm almost always to impatient to preheat the oven for these. You can also melt the cheese on the stove if you have a nonstick pan.
Instructions:
Cover microwave-safe plate with parchment paper.
Make a circle of shredded cheese on the parchment paper. It should be slightly larger than the cup/bowl you are using to shape your cheese cups. For reference, the pictured cups used about 21g of cheese each.
Microwave the cheese for 75-90 seconds, or until bubbly and beginning to brown around the edges.
Quickly, use your spatula to lift the cheese circle from the plate and transfer it to your bowl/cup.
Before the cheese starts to harden, press it into the bowl/cup to shape it. Again, you want to be quick here or you could end up with cheese plates instead.
Allow 1-2 minutes for the cheese to cool and harden, and then transfer to a paper towel to absorb any excess oil.
Add desired fillings and serve!