My Keto Snack Box July 2019 Review
I never know exactly what to expect from My Keto Snack Box, which only makes it a little more fun to finally open it up! This box is a little less predictable than some of my other keto subscriptions, and I appreciate the chance to learn about some less familiar keto brands. You can view past reviews here.
As a reminder, My Keto Snack Box is a $38 per month keto subscription that sends subscribers a box of 6-8 "unique" low carb products with free shipping. The products are guaranteed to be keto-friendly, with 5 net carbs or less per serving. It is meant to make it easy and convenient to have keto snacks on hand without having to shop around for them yourself. Ketoers who live abroad will also be happy to hear that My Keto Snack Box ships internationally!
Here's the contents of the July 2018 My Keto Snack Box: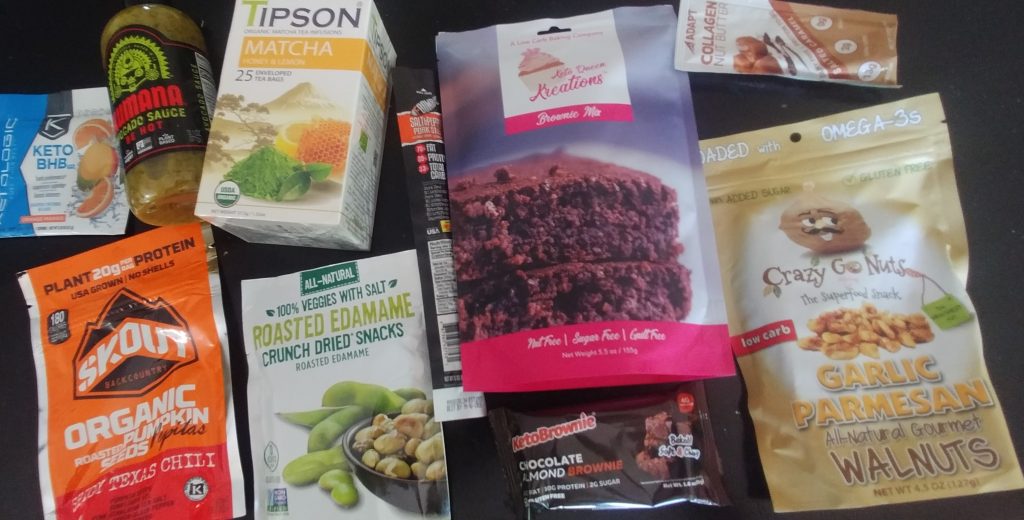 First up, I broke out the mixing bowl for this sweet treat: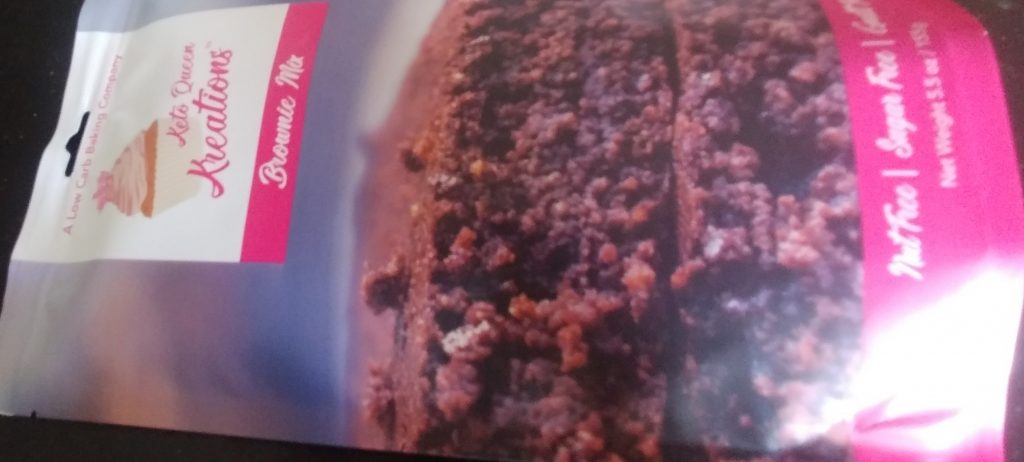 1x pouch Keto Queen Kreations Brownie Mix (value: $12.99) [1g net carbs per serving]
Pre-made low carb baking mixes like this can definitely be pricey compared to the sugary counterparts, but that's part of why I'm always happy when I can snag one from a keto box instead! This brownie mix is very simple ingredient wise: coconut flour, erythritol, cocoa powder, baking powder, and baking soda. All you add at home is eggs and melted butter.
They definitely lean towards a dark chocolate flavor profile due to the cocoa being unsweetened and erythritol being a relatively mild sweetener. The coconut taste is also somewhat noticeable if you are sensitive to that. However, I thought these were a good option for convenience, especially when topped with low carb ice cream or peanut butter for a bit of extra sweetness.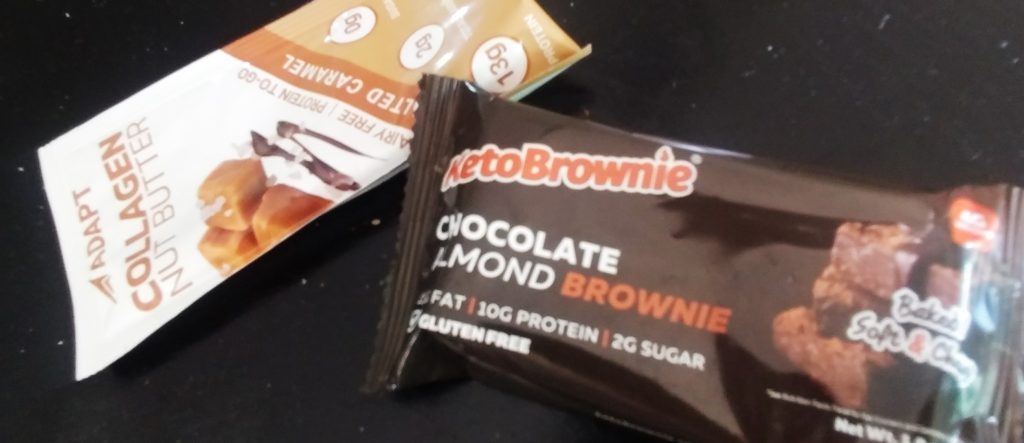 1x KetoBrownie, Chocolate Almond (value: $3.00) [4g net carbs per serving]
I've had this before, and while it's denser than the fresh baked version above, it's good if you're looking for something even more portable and convenient. I like to pop it in the microwave for a bit to make it feel more like the real thing. It's still nice and chocolaty (plus you don't have to turn on the oven!). It's smaller compared to many other low carb bars/snacks, but more filling than it looks thanks to a good amount of healthy fats.
1x serving Adapt Collagen Nut Butter, Salted Caramel (value: about $2.50) [1g net carbs per serving]
This is another option for a quick fat boost, only this one has a good amount of protein as well. Like many natural nut butters, this can settle and separate, so it might take a quick knead to combine everything again. I liked the nutty, sweet flavor, although there was a slight grittiness to the texture.

1x Kumana Avocado Sauce, Be Hot (value: $10.49) [1g net carbs per serving]
I love avocados, as well as many of the southwestern and Mexican-inspired dishes that they are often paired with. Because of that, I was happy to give this sauce a try! The ingredient list is pretty straightforward, with items like avocado (of course), jalapeno, onion, bell pepper, garlic, and cilantro. I liked the level of spice and thought it was pretty well balanced in flavor overall. Definitely a good addition to keto taco Tuesday favorites like barbacoa beef tacos.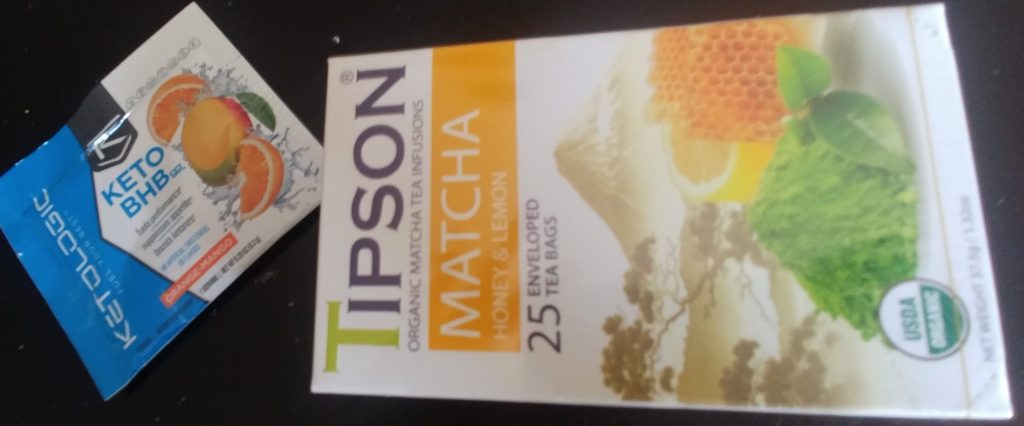 1x serving Ketologic Keto BHB, Orange Mango (value: about $2.00) [0g net carbs per serving]
They don't have any magic powers, but I do like using ketone supplements for a boost of energy and/or electrolytes on days when I need it. I also find they can help in managing appetite and avoiding keto flu. This packet contained one serving which I just added to water. It mixed easily, and tasted a bit similar to Tang. It does have quite a bit of sweetness (from stevia), but you can always use more or less liquid to adjust.
1x box Tipson Organic Matcha Tea, Honey & Lemon (value: $6.99)[<1g net carbs per serving]
The second beverage item we got is this box of organic matcha tea bags. I usually go for matcha powders, so having it in bag form was a little different for me. It's definitely a bit more convenient (especially since these bags are individually wrapped), so I appreciated that. The matcha flavor is nicely complimented by a hint of lemony brightness  and natural honey flavor.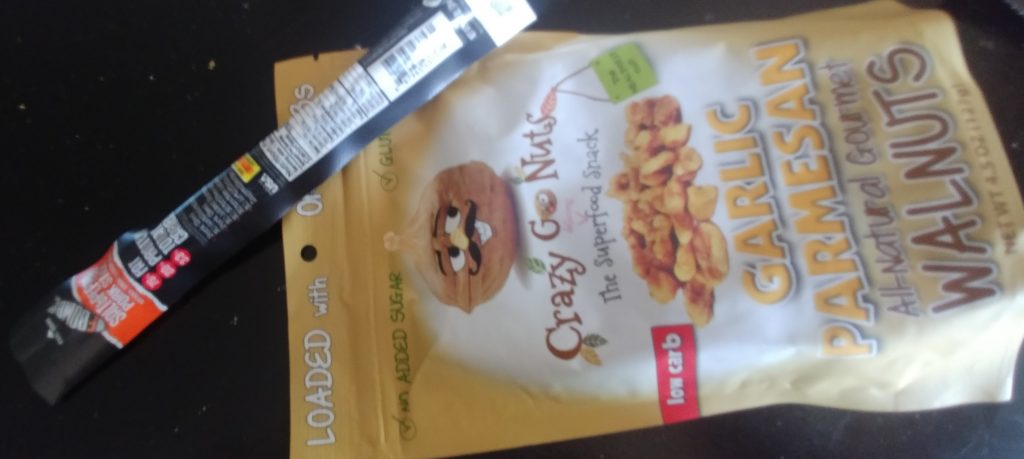 1x 4.5oz bag Crazy Go Nuts Walnuts, Garlic Parmesan (value: about $6.00) [3g net carbs per serving]
I've had these before, including in another My Keto Snack Box last year. Here are some thoughts from a past review:
These garlic parmesan seasoned walnuts are from a brand called Crazy Go Nuts, a fun name that's also appropriate if keto helped you discover (or newly appreciate) nuts as a healthy snack option. I tried these on a salad, as a snack, and even ground some to use in a breading for chicken. I enjoyed them for all of those uses, so I'd say they were a win!
1x stick FBomb Meat Stick, Salt & Pepper Pork (value: about $2.50) [1g net carbs per serving]
This snack was more of a surprise for me, since I usually associate FBomb with their net butter packs rather than more savory products. Apparently, this jerky stick is a relatively new offering from them. I thought it was well seasoned and had a really nice texture. They also have a a decent amount of fat, making the macros more tailored to keto than some other jerky options. Would definitely pick up more of these!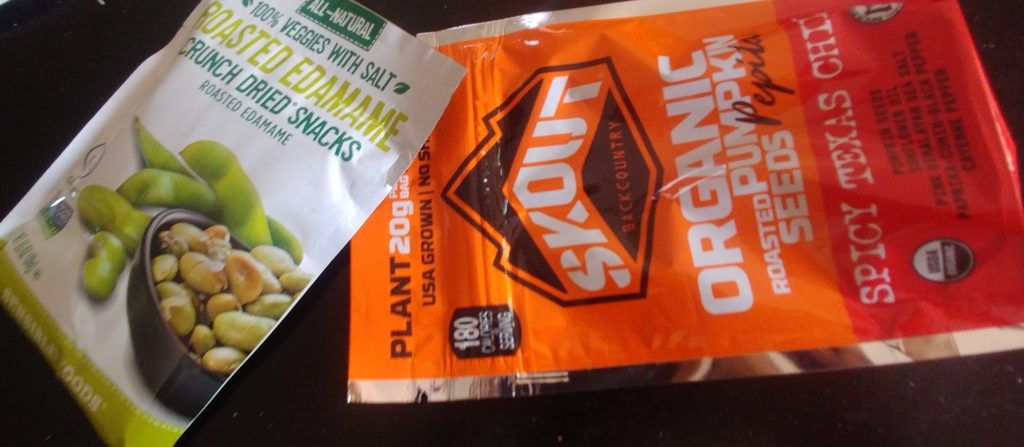 1x pouch Sensible Foods Roasted Edamame (value: about $2.00) [2g net carbs per serving]
This has been included in My Keto Snack Box before, more recently in the October 2018 box. Here are some notes from that review:
Although I have started eating more edamame since going keto (it now replaces rice as my side dish at my local hibachi place), I usually stick to having it steamed/cooked as a veggie side dish rather than roasted as a snack. It makes a surprisingly good snack though! This product was very simply seasoned with just salt, but it had a nice amount of crunch and the whole pouch only sets you back 80 calories and 2 net carbs.
1x 2.2oz bag Skout Backcountry Organic Pumpkin Seeds, Spicy Texas Chili (value: about $4.00) [2g net carbs per serving]
I've tried these before two from a different keto subscription. Pumpkin seeds aren't my first choice for a nut/seed to snack on, but they are definitely a great low carb option. These are well seasoned, though not particularly spicy. The bag is resealable for snacking.
Overall Thoughts
The July 2019 MKSB contained 10 items with a total value of over $50! That's definitely on the higher end for this keto subscription, and I was definitely happy to get a couple of high value items like the brownie mix and avocado sauce. My favorite new discoveries here were the FBomb jerky and Kumana sauce. My favorite repeat item was probably the Keto Brownie.
Although I'm happy with the value, I wouldn't mind if there were fewer repeat items in next month's box. The repeats aren't super frequent so I don't mind too much, but I also love trying new keto snacks too (especially when I didn't know about them before, like the jerky!).
Want to join in the My Keto Snack Box fun? Head over to their website to sign up, and try the code TRYKETOWITHME to save $3 on your first box!