The Keto Box November 2017 Review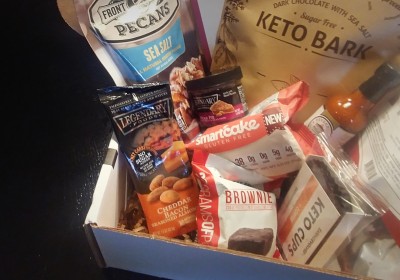 After living up to the high expectations they set for the October box, The Keto Box suggested on social media that the November box might be even better. I was a little skeptical about that claim at first, but after actually getting the box, I'm pretty convinced that it lived up to the hype!
Before we get to what was inside, a quick refresher: The Keto Box is a monthly subscription that describes itself as a "low carb care package for your body." For $39.99/month, subscribers receive a box full of 5-8 keto snacks and other products delivered to their doorstep.
You can view my reviews of previous months of The Keto Box here. If you haven't subscribed yet, you will receive a bonus discount of 10% off plus FREE shipping when you use the code THEKETOBOX10.
Now on to the November 2017 The Keto Box: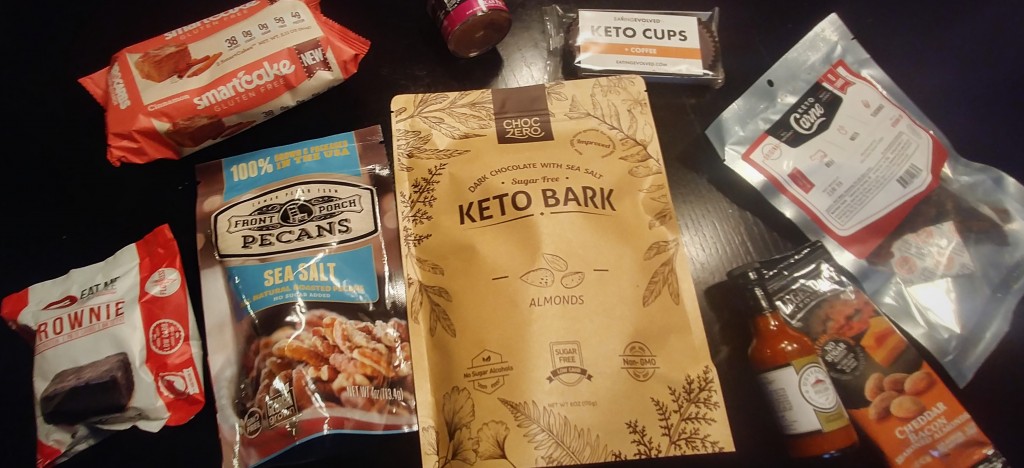 First up, I couldn't resist trying this treat from ChocZero: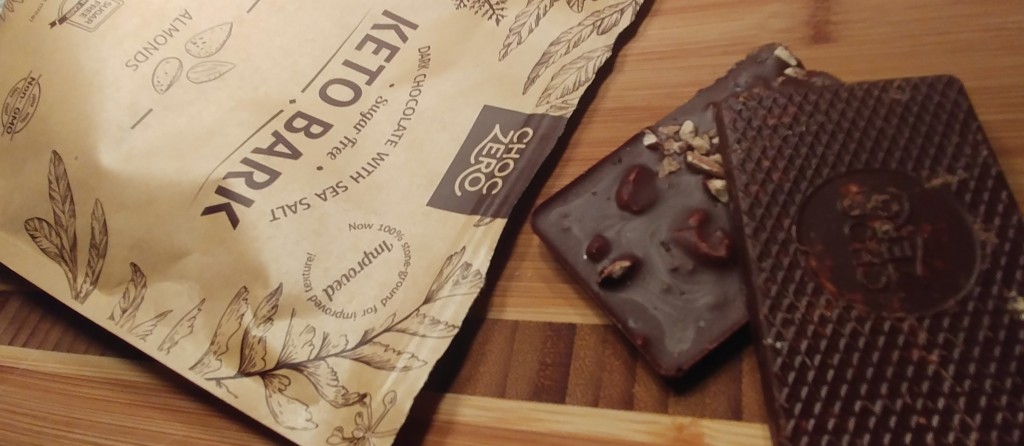 1x bag ChocZero Keto Bark, Dark Chocolate Almond Sea Salt (value: $6.99)
Yum! I love ChocZero's line of low carb chocolate, so I had a pretty good feeling that I would be a fan of this product. Their new keto bark formulation won't be officially released for a couple more weeks, but one of the benefits of keto subscription boxes is getting to try things from your favorite low carb brands before they are available to the general public.
And wow, was this a great product to get an early taste of! The combination of dark chocolate, almonds, and a hint of sea salt is so delicious and satisfying, and as always, ChocZero keeps it keto-friendly with their monk fruit sweetened, sugar free chocolate. It's one of the best low carb chocolate products that I've tried in my 3-ish years of keto, and I can't wait until I can order more! It should be available late this month or early next month.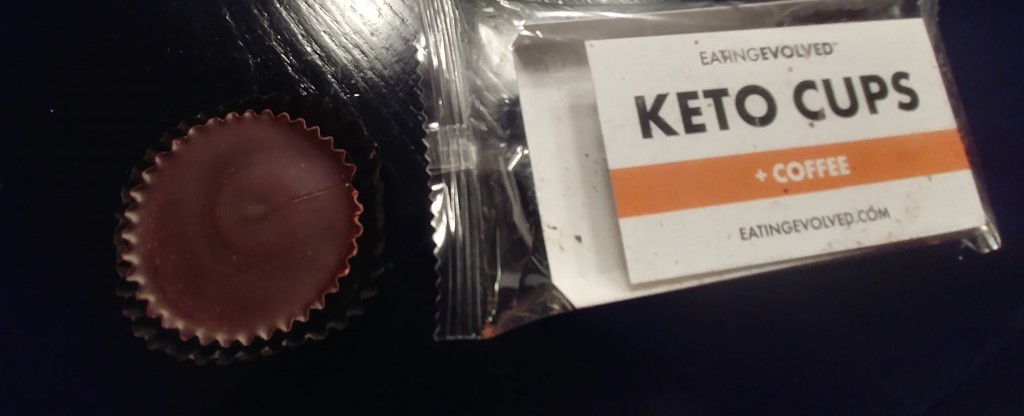 2x servings Eating Evolved Keto Cups, Coffee (value: about $3.75)
After having one delicious chocolate treat, I was more than happy to try out another. These "keto cups" from Eating Evolved are made with great, keto-friendly ingredients like coconut butter and MCT oil and flavored with organic vanilla and coffee. Coffee and chocolate are two of my favorite things, so I was expecting to like these a lot.
Unfortunately, I missed out on the detail that they are totally unsweetened. Not "naturally sweetened" or "sugar free" but completely and totally unsweetened. Even as someone who is a fan of dark chocolate, the combination of 100% unsweetened cacao and coffee was just too bitter for me to really enjoy on its own. This could be a good source of healthy fats when topped with nut butter or melted and combined with other ingredients though.
1x serving SmartCakes, Cinnamon (value: about $3.00)
I've gotten these in a keto subscription box before and loved them, so I was super excited to get more! I very much stand by my initial thoughts on these yummy little cakes:
For 38 calories and 0 net carbs per cake, I have to admit that I didn't expect these to taste very good. I was a little more hopeful when I opened the package and saw that the texture wasn't like cardboard like I was expecting, and I was completely convinced when I actually tasted it.

The cakes are super moist with a nice cinnamon flavor, and unlike a lot of erythritol sweetened products, they aren't overly sweet. I think this flavor would work well both as a snack/dessert or a treat with your morning coffee.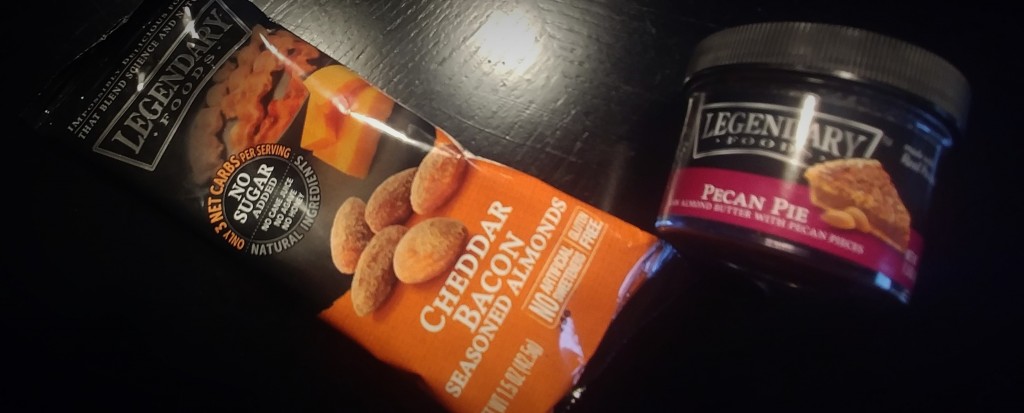 1x 1.5oz bag Legendary Foods Seasoned Almonds, Cheddar Bacon (value: $1.99)
1x 1.5oz jar Legendary Foods Almond Butter, Pecan Pie (value: about $1.99)
Next up were these two treats from Legendary Foods. I've tried some of their seasoned almonds in the past, but these flavor was easily my favorite! It's hard to find keto-friendly options that satisfy that salty/cheesy/crunchy craving that I used to rely on chips and crackers for, but this one definitely scratched that itch for me.
The pecan pie flavored almond butter was also delightful! It's slightly sweet almond butter with spices and pecans, and definitely reminds me of fall festivities. I could easily just eat it by the spoonful, but I also discovered that it makes a really delicious topping for low carb pancakes or waffles when mixed with butter.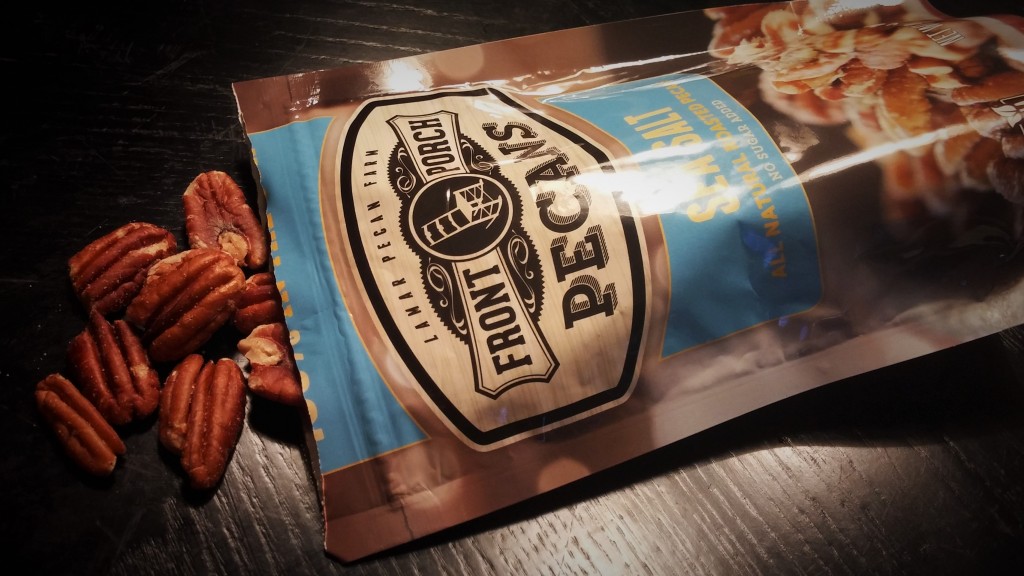 1x 4oz bag Front Porch Pecans, Sea Salt (value: $5.99)
Woo! This item is actually a repeat from the June 2017 The Keto Box but I am absolutely not complaining about that! These pecans are the best I've ever tried and the brand has since become a favorite for me and many other keto-ers out there. These are yummy by themselves as a snack but can also be used in other ways.
For example, I've used them to top a salad, as a keto-friendly addition to keto brownies, and even to make a crust for an upcoming cheesecake recipe. This is one of those things that I only found out about thanks to keto subscription boxes, but have really grown to love since then.

1x Eat Me Guilt Free Brownie (value: $3.00)
I'm not ashamed to fess up to being a chocoholic, and brownies are definitely one of my favorite treats, so I was curious to try out this product. It's a high protein, low carb brownie made with ingredients like egg whites, peanuts, and cocoa powder. I tried it warmed up a little bit and I have to admit it wasn't my favorite item in the box.
The texture was a bit denser/drier than I would have liked, and despite the inclusion of stevia as a sweetener, it was still a little bitter to me. Again, I could eat it with some nut butter or something on top, but on its own I wasn't a huge fan.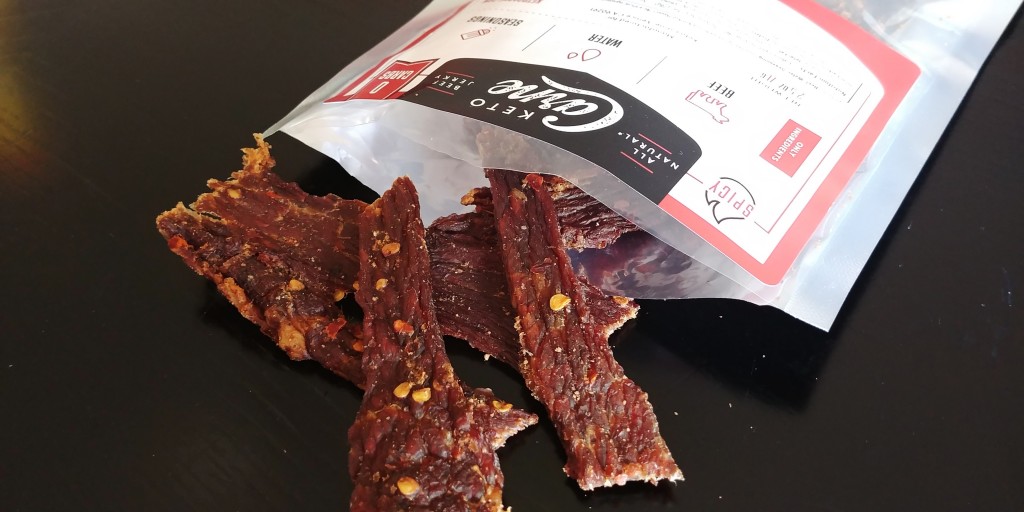 1x 2.5oz bag Keto Carne Beef Jerky, Original (value: about $7.00)
Another keto favorite for me! Keto Carne is one of my favorite brands of beef jerky, and as the name obviously suggests, it's keto friendly. I love that it's made with a simple ingredient list: beef, water, and spices. I think the spicy version remains my favorite thanks to the bit of extra kick, but the original is plenty flavorful too.
The texture is neither too soft or too tough, making it convenient to take and eat on the go. And did I mention it tastes delicious? Seriously, I love this jerky!

1x 1.7oz bottle D'evereux Hot Pepper Sauce, Fermente (value: about $1.75)
Hot sauce is one of those condiments that is usually keto friendly, so I'm actually a little surprised that it doesn't show up in keto subscription boxes more often. This mild but flavorful sauce was a good discovery for me, and I've enjoyed adding it to everything from chicken wings to cheese taco cups. Here's how D'evereux describes it:
Made with aged and fermented cayenne peppers. This thin sauce is very mild, only about 2,000 Scoville units. Don't let the lack of heat fool you! […] It has a bold, vinegary flavor with a pop of our signature seasoning blend.
In addition to the items in the November The Keto Box, subscribers also received the following discounts:
10% off @ Legendary Foods
15% off @ Keto Carne
10% off @ Eat Me Guilt Free
10% off @ ChocZero
10% off @ D'evereux Foods
10% off @ Smart Baking Company
5% off Front Porch Pecans @ Amazon
Overall Thoughts
This was a great month of The Keto Box for me! Right when I opened it, I already recognized some existing favorites of mine in the jerky, SmartCakes, and pecans. These are items that I love but can't always afford to stock up on, so getting more is always welcome! I also got to try some new products from brands that I was already a fan of: ChocZero and Legendary Foods.
Even the products that I didn't love as much were things that I had been previously interested in trying. I would much rather find out that I don't love them now rather than after committing to ordering full package! And overall, the quality, value, and variety was definitely here for this month of The Keto Box! The box was a little more generous on the sweet side of things than usual, but I'm not complaining about that…especially since we also got some savory items and a new pantry ingredient to try!
Want to sign up for next month? Use the code THEKETOBOX10 to save 10% and get FREE SHIPPING on your order!