The Keto Box January 2019 Review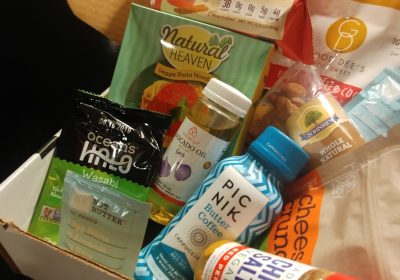 Time to start a new year of The Keto Box! I was super happy with the December 2018 box, and had my fingers crossed that we would start the year off on a high note. This keto subscription sometimes includes a couple of surprises, but you can generally expect a mix of sweet and salty keto snacks alongside some pantry items or other unique low carb products. I was curious to see what this month would offer!
Before we get to what was inside, a quick refresher: The Keto Box is a monthly subscription that describes itself as a "low carb care package for your body." For $39.99/month, subscribers receive a box full of 5-8 keto snacks and other products delivered to their doorstep.
You can view my reviews of previous months of The Keto Box here.
Now on to the January 2019 The Keto Box: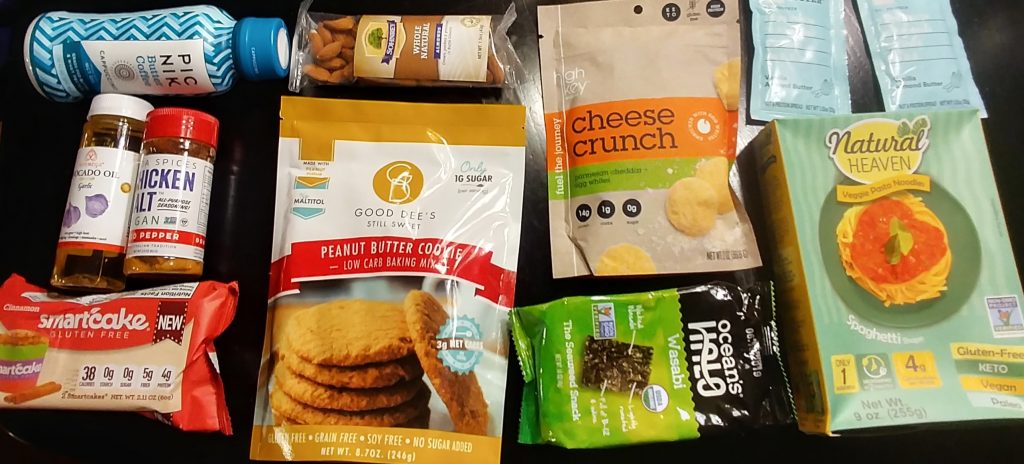 First up, a pair of keto breakfast products:

1x pack Smart Baking Company Smart Cakes, Cinnamon (value: about $3.25)Save 10% w/ code tryketowithme
I love Smart Cakes, and cinnamon is one of my favorite flavors, so I will never complain about getting more! They are soft, fluffy, and delicious, and I love that they have less than 1 net carb each. I like to have them slightly warmed and topped with a bit of butter. They are impressively filling considering they are so low in calories and carbs. The main ingredients are eggs, flax, fiber, and erythritol.
1x 10z bottle Picnik Butter Coffee, Cappuccino (value: about $4.50)
Interestingly enough, we actually got this product in the first box of 2018 too! It's a ready-to-drink keto friendly coffee drink, complete with MCTs, grassfed butter, and 10g of whey protein. I like the creaminess from the healthy fats, but do note that if you like your coffee sweet (I do) you'll have to add your own sweetener. I also added some of the gingerbread OooFlavors from last month's box.
1x pack Ocean's Halo Seaweed Snack, Wasabi (value: about $1.50)
I like seaweed snacks every so often, but I was a little hesitant about the wasabi flavor. Thankfully, the flavor on these isn't overpowering and had just the right amount of heat for me. I opened up the pack just to try it out for the review, and ended up eating it all within a few minutes. No guilt though, since the whole pack is only 25 calories.
1x 2oz bag High Key Cheese Crunch, Parmesan Cheddar (value: about $4.50)
I'm a fan of cheese snacks, though I hadn't had this particular brand before. I have noticed some brands starting to include egg whites to make the texture lighter and maybe add a bit of protein. These were pleasantly crisp, not too salty, and had a nice parmesan flavor.

1x pack Natural Heaven Veggie Pasta, Spaghetti (value: about $5.99) 
I've tried this veggie-based pasta option before. Here are some notes from a past review:
Hearts of palm seem to be catching on as a low carb pasta substitute, with one of the main benefits being that they hold up to sauces and heating a bit better than something like zucchini noodles. I found that to be the case with these as well. They don't have much flavor of their own, so they can work in a range of dishes. I feel like I still need to nail down the best way to prepare them though, because I wasn't a huge fan of the texture.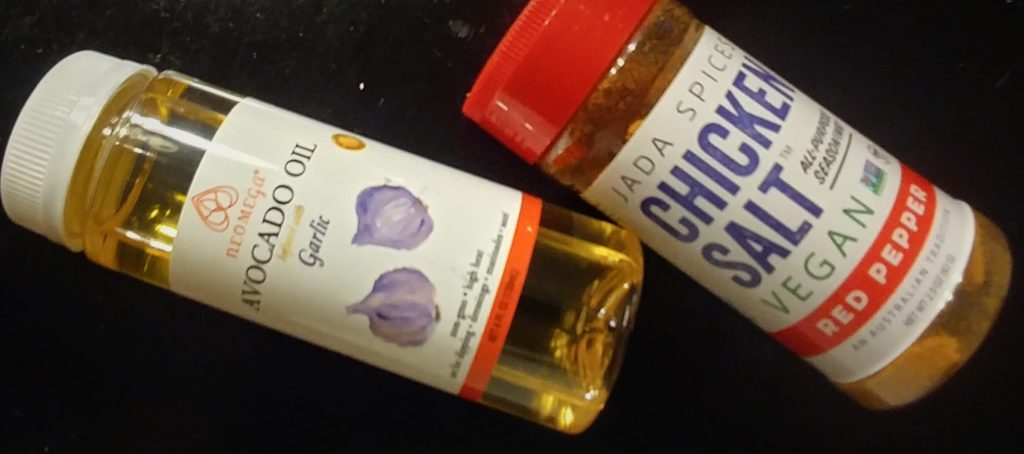 1x 4oz bottle Neomega Avocado Oil, Garlic Infused (value: about $6.50)
I fell in love with this stuff! I keep a variety of oils on hand for cooking, including avocado oil, but I think this was my first time trying an infused avocado oil. I loved the way it added a rich garlic flavor to dishes. Because it's avocado oil, it's stable at high heat so could use it for a variety of dishes and not have to worry about burning fresh garlic.
1x 2.9oz bottle Jada Spices Vegan Chicken Salt, Red Pepper (value: about $9)
This all purpose seasoning blend was another win for me! It's made with a blend of salt, turmeric, onion powder, garlic powder, and crushed red pepper flakes. There's a hint of spice but it's really well balanced with the other flavors. I like that there's no fillers, MSG, sugar, etc. unlike a lot of typical store brands. I've used it on veggies, chicken, keto pizza, etc. and it's pretty much always a good addition.

1x 1.5oz bag Sohnrey Whole Natural Almonds (value: about $1.99)
I love almonds and they are packed with healthy fats, so this is a welcome inclusion. With that said, there's not too much to say about them….they just taste like almonds! Definitely on the higher end quality wise, but there's no roasting or added seasoning or anything to comment on. I wouldn't have minded trying a flavored option from this brand!
2x pouches RX Nut Butter, Vanilla Almond (value: about $3.00)
Nut butter is another great keto snack, although I hadn't tried this one before. I've always noticed the "1/2 date" listed on the package, and assumed it would be too high in carbs. A pack is actually 5g net carbs, which is balanced out by the healthy fats and protein. It's not too sweet, and I actually liked the vanilla flavor. It was a little on the grainy side though, and like with many similar products, it can be a little hard to get the last bit out of the pouch.

1x Good Dee's Low Carb Baking Mix, Peanut Butter Cookie (value: $12.99) 
I tried this cookie mix in another keto box recently. Here are some notes from that review:
I have my own keto peanut butter cookie recipe that uses just a handful of ingredients, so they aren't a huge hassle to make. Even so, a premade mix is obviously even easier! This baking mix is peanut flour based (as you might expect) and I found it really easy to use (just add egg and butter). The cookies came out nice and fluffy, but with less rich peanut butter flavor/texture than when you use actual peanut butter.
In addition to the items in the January The Keto Box, subscribers also received the following discounts:
15% off Smart Baking Company
20% off Good Dee's
20% off Picnik
20% off Jada Spices
15% off Sohnrey
15% off Neomega
25% off High Key Snacks
15% off Ocean's Halo
20% off RX Nut Butter
15% off Natural Heaven
Overall Thoughts
This month highlighted one of my favorite things about The Keto Box: the inclusion of unique pantry items that I hadn't heard off before and probably wouldn't have even thought to try. The Neomega Garlic Infused Avocado Oil was my favorite new discovery from this box with the Jada Spices Chicken Salt as a close second. My favorite familiar face in this box was, of course, the cinnamon Smart Cakes!
This month nailed it value-wise too, with 10 products (counting the nut butter packs as one) worth over $50 before even factoring in shipping or the discounts. I thought this was a good start to 2019, and I'm already looking forward to next month (sweets for Valentine's Day maybe?).
Want to sign up for next month? Use the code TRYKETOWITHME to save 15% and get FREE SHIPPING ($15.99 shipping to Canada) on your order!