Ketogenic Peaches and Cream Gummy Bears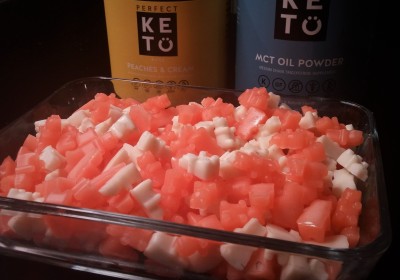 Pre-keto, there were precisely two types of candy that I had a particular weakness for. One was chocolate, which is a craving that is thankfully pretty easy to satisfy without ruining my macros for the day. Unfortunately, the other was a bit more of a challenge. You see, I love gummy bears. Like, really love them. The kind of love that lets me read online reviews of sugar free gummies like this one and still consider placing an order.
But I was never really thrilled about the idea of ordering a big bag of sugar free gummy bears and hoping that the malitol in them wouldn't wreak havoc on my belly, so I've mostly stuck to making my own keto-friendly gummy bears at home. I picked up a set of gummy bear molds from Amazon, and with the combination of gelatin, flavoring, water, and a bit of effort, you can make a convincing low carb gummy bear that won't upset your stomach or spike your blood sugar unexpectedly.
Since I started taking Perfect Keto a couple months ago, I figured I could go even further than gummy bears that just "do no harm" though. This mix of peaches and cream gummy bears feature added ketones in the peach flavor and added MCTs in the cream flavor to provide some extra energy and healthy fats. Don't have any on hand? Perfect Keto is offering 20% off your order when you go here and use the code TRYKETO!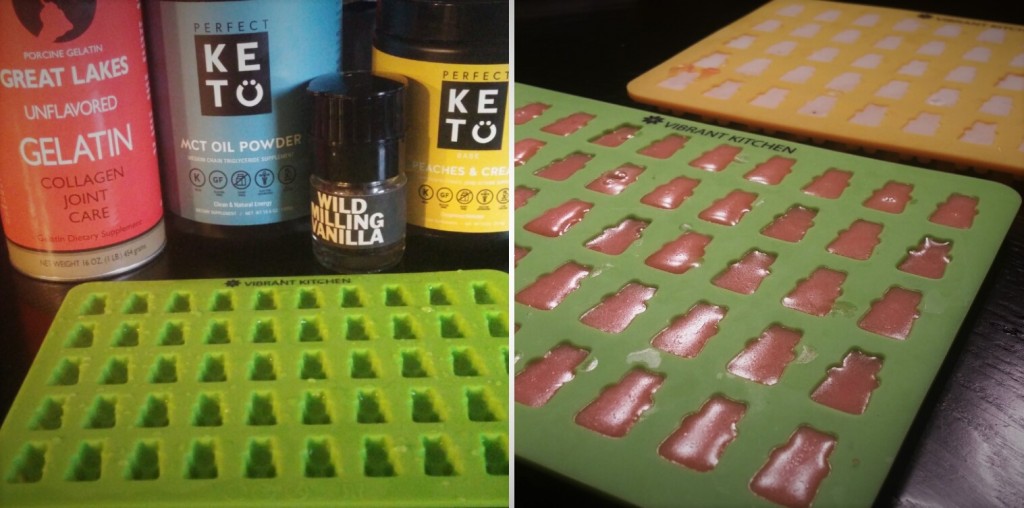 Notes:
Can't find sugar free peach gelatin in stores? Amazon usually has it in stock here. Otherwise, you can substitute with orange instead.
Don't like the sweeteners in sugar free gelatin mixes? Replace with 1 envelope/tablespoon of unflavored gelatin plus something like Mio or Stur for flavor instead.
I sometimes add a pinch of vanilla bean to the cream gummy bears to enhance the flavor. The nifty vanilla grinder pictured above isn't sold anymore, but the same company makes a vanilla bean powder that works too.
Most American grocery stores will carry Knox unflavored gelatin (the kind in the envelopes), but I actually prefer Great Lakes gelatin for making keto gummy bears.
If you prefer firmer gummies, add less liquid to your mixture. For softer gummies, add more.
If you don't have any Perfect Keto on hand, you can pick some up here for 20% off when you use the promo code TRYKETO.