Three Cheese Bacon Keto Spinach Dip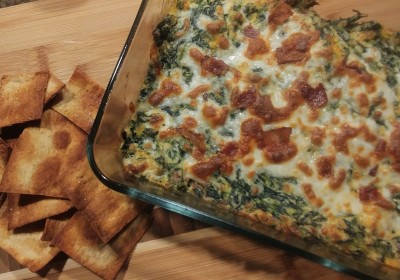 Spinach has always been one of my favorite veggies, thanks in no small part to how versatile it is. It's great on its own either raw or cooked, but also is a great way to add some vitamins and minerals to any number of other dishes. I'll be honest though…there's almost no food that can't be improved with the addition of cheese and bacon, which is what I did to make this tasty keto spinach dip!
This low carb spinach dip recipe is pretty easy to make as is, and I opted to use frozen spinach to save even more time and effort compared to having to cook the spinach from raw. If you opt to use raw spinach instead, I would recommend wilting it in bacon grease on the stove for extra flavor. Other than that, you basically just mix everything together and bake it to make this keto spinach dip.

Notes:
The "crackers" in the picture were made from a Joseph's brand low carb lavash wrap. You can also try flax/chia crackers or just enjoy with veggie sticks!
Looking for a good keto mayo? I used Primal Kitchen's avocado oil mayo for this low carb spinach dip recipe.
If you don't have Italian seasoning on hand, you can make your own with this keto Italian seasoning recipe.
Feel free to mix up the cheeses if you want! I think pepper jack might be a good addition.