Keto Italian Sub Rolls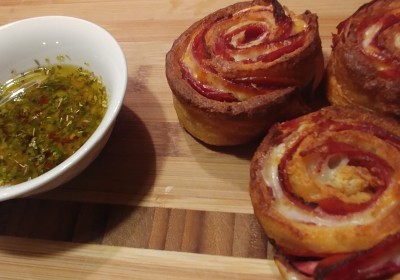 Part of the reason I love keto so much is because cutting out sugars and carbs usually leads to eating a lot more fresh foods and a lot fewer processed foods with fillers, artificial preservatives, and other chemical additives. But while I definitely do value the taste and health benefits of a quality grassfed steak…I have to admit to still being a sucker for more "processed" deli meats like ham and pepperoni on occasion as well.
If you feel the same, this keto Italian sub roll recipe will let you get your fill of those salty, savory flavors when you're looking for something a little more interesting than just making a charcuterie plate or a low carb pizza. When paired with the optional sandwich dressing as well, you can get all of the flavors of an Italian sub or panini with almost none of the carbs.

Notes:
Remember, quality still counts when it comes to deli meats! Look for quality options made without added nitrites, nitrates, or fillers.
On a related note, the exact amounts of meats used and the nutritional information will vary based on the particular brand, the size of slices, etc. Remember to take this into account.
The xanthan gum here improves the texture and "breadiness" of the rolls; you can skip it if desired.
I recommend kneading and rolling out the dough on parchment paper. It makes it much easier to form the rolls (and clean up afterwards!).