Keto Chicken and Broccoli Alfredo Bake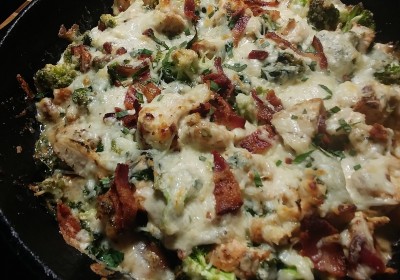 I love one pan meals because of the easy cleanup and meal prep, but it can be hard to come up with keto one pan meals because so many of the existing recipes rely on pasta, rice, potatoes, or other starches/carbs as a base. This keto alfredo bake recipe still uses just one pan, but uses broccoli and sauteed kale as the base which keeps it low carb without having to bust out the spiralizer.
Of course, the combination of veggies and chicken by itself is pretty lean and might not sound like the most filling meal on its own…but that just gives you an excuse to up the ante with bacon, cheese, and creamy alfredo sauce. Jarred alfredo sauces tend to taste pretty watered down to me (in addition to the risk of added carbs) so I really recommend making your own if possible. I personally use one batch of my keto alfredo sauce recipe for this low carb chicken alfredo bake.

The other way I up the flavor factor for this keto alfredo bake recipe is with how the chicken is cooked. Plain chicken breast is pretty bland, but when seasoned with a mix of herbs and spices and seared in the leftover fat from frying the bacon, it turns out perfectly juicy and satisfying. You can also use chicken thighs if you prefer, or even just chop up a rotisserie chicken to save time.
As for the veggie choices, broccoli with chicken alfredo is a pretty classic combination, so I thought it would work well here. As it turns out, the time is takes to get this keto chicken alfredo bake nice and bubbly in the oven is exactly long enough to get the broccoli perfectly tendercrisp. The kale rounds out the texture and flavor of the dish (and frankly, I struggle to find non-salad ways to use kale, so I was happy to have a new use for it here).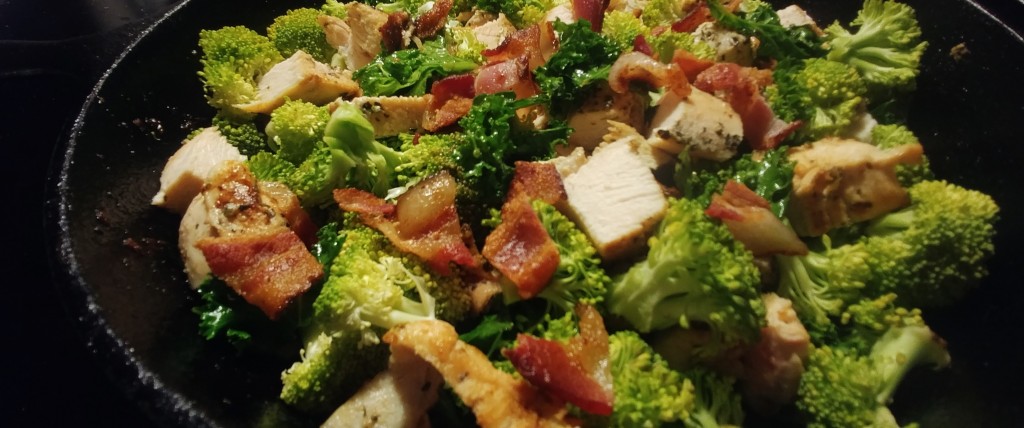 Notes:
You can of course season the chicken however you'd like, I just provided a recommendation that goes well with the flavors in this keto alfredo bake.
The nutritional information here is based on using one batch of my keto alfredo sauce recipe as the sauce for this dish. It will vary if you use a storebought sauce.
I have only made this recipe using raw broccoli; I'm not sure if frozen would work, and I suspect pre-cooked would turn out too mushy after baking.