Keto Corn Dogs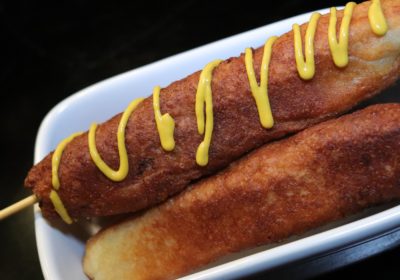 State fairs and other summer events aren't exactly known for the healthiest food, but that doesn't mean there aren't ways to keto-fy them! These keto corn dogs are covered in low carb dough rather than dipped in cornmeal batter, which gives them a similar feel with almost none of the carbs. Just like the real thing, a few minutes of frying gets the outside beautifully golden brown.
The coating for these keto corn dogs is based on the classic low carb "fathead" dough recipe. A little golden sweetener helps to replicate the flavor of the slightly sweetened traditional corn dog batter. You can also add a little corn flavoring for an even more authentic result. Other than that, I also like to add a little xanthan gum and psyllium powder, which really help to perfect the texture. You can skip them if you must, but they are definitely worth investing in if you do a lot of keto baking or cooking. A little goes a long way, so a package lasts quite a while!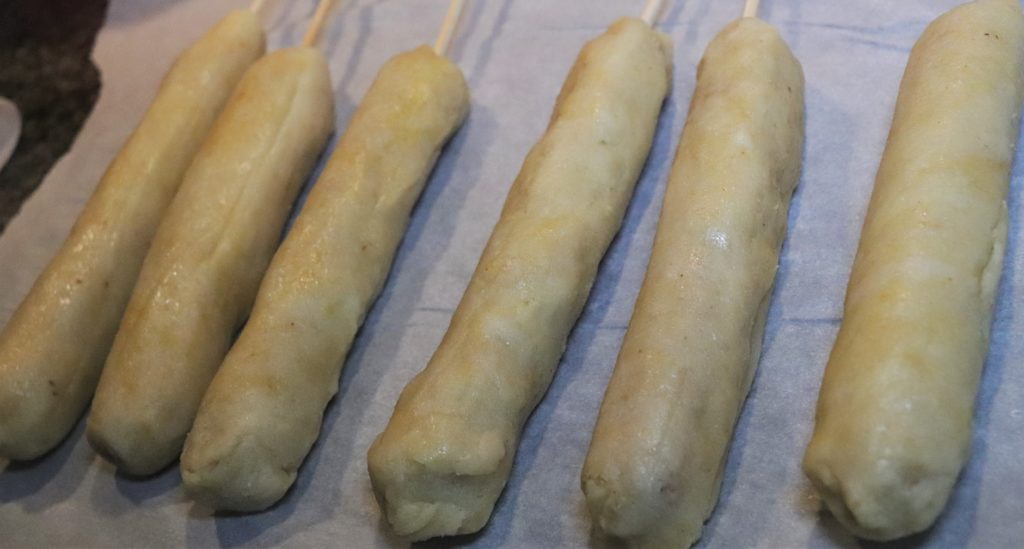 The other important part of these keto corn dogs is of course the hot dog itself. I definitely recommend going for all natural beef dogs if possible. They are tasty and generally higher quality than the more processed options. It's also easier to avoid added sugars and fillers that way. Either way, make sure to check labels as added carbs can sneak in pretty easily. Once you've got the right dogs, it's just a matter of prepping them with sticks, covering with the dough, and frying. Serve and enjoy with your favorite keto condiments!
Looking for more keto versions of "guilty pleasure" foods? You might also like: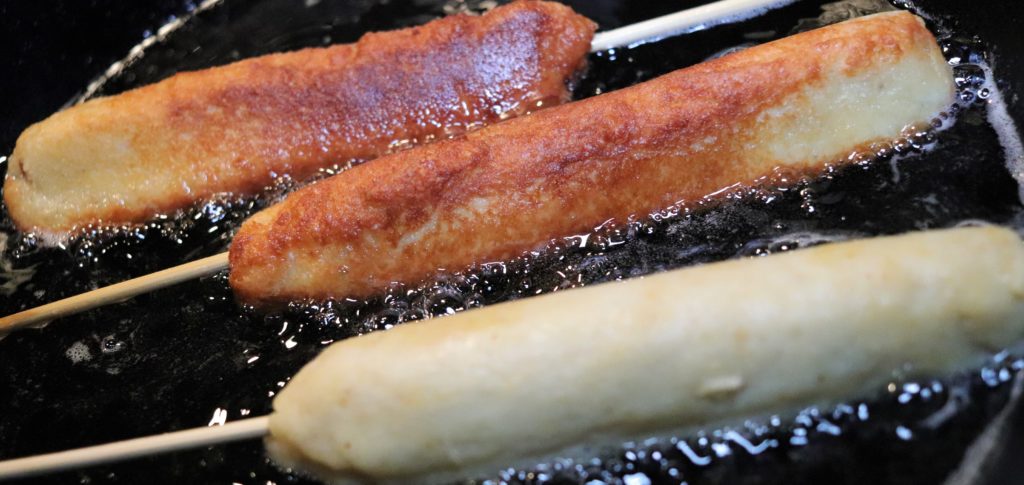 Keto Corn Dogs
Pair your favorite keto-friendly hot dogs with a simple low carb "breading" to make these delicious keto corn dogs!
Ingredients
6

keto-friendly hot dogs

oil for frying
Instructions
Prep the Hot Dogs
Using food-safe, heat-safe sticks, skewer each of the hot dogs. Set aside.
Prep the "Breading"
Combine dry ingredients (almond flour, sweetener, xanthan gum, psyllium husk powder, baking powder, and salt).

Separately, add mozzarella and cream cheese to a microwave-safe bowl. Microwave for 1-2 minutes, or until melted, and stir until smooth.

Add about half of the almond flour mixture and half of the beaten egg to the melted cheese, and mix until smooth and well combined. Repeat with the remaining egg and almond flour.

Turn dough onto parchment paper and knead a few times. It should feel pretty smooth and elastic. If not, try returning to the microwave for 10 seconds.

Cover dough with another sheet of parchment paper, and roll into a rectangle, about 12" x 15" (depending on the size of your hotdogs).

Cut a portion of dough for each hot dog, big enough to shape around it. Press to seal any seams.
Fry the Keto Corn Dogs
In a large skillet over medium high heat, heat oil to a temperature of 325-350F.

Working in batches if needed, add keto corn dogs to oil and fry. Cook each side for 2-3 minutes, or until golden brown and crisp.

Transfer finished keto corn dogs to a cooling rack or plate lined with paper towels to drain excess oil before serving.
Serve and Enjoy!
Best served warm. Enjoy with your favorite keto corn dog dips or toppings.
Notes
You can add a small amount of corn flavoring to the dough to make these keto corn dogs taste extra authentic.
These store and reheat well! Store refrigerated in a sealed container or plastic bag. Reheat in the oven, air fryer, or microwave.
Make sure that your oil is thoroughly heated before adding the keto corn dogs! If you don't have a thermometer, you can check by adding a small scrap of dough and making sure it sizzles.
Nutrition
Serving:
1
corn dog
|
Calories:
310
kcal
|
Carbohydrates:
4.5
g
|
Protein:
19
g
|
Fat:
23
g
|
Fiber:
1.5
g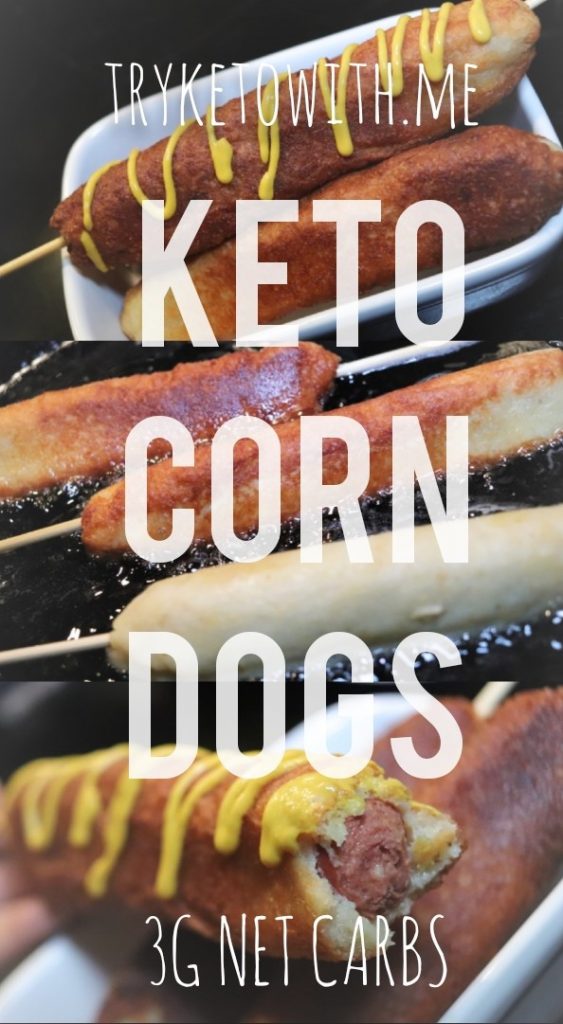 This post may contain affiliate links. More details.