Keto French Toast Sticks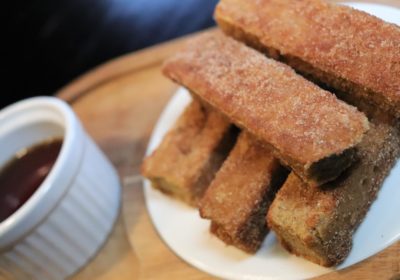 From crunchy cold cereal to breakfast sandwiches, I've been able to find or make keto replacements for a ton of my childhood favorite breakfast foods. One things that evaded me for a while though was finding a way to make keto french toast sticks. The main issue has always been finding a good option for the "bread." While I don't mind committing a good amount of baking time to something like cheesecake, I don't have too much patience when it comes to baking bread by the loaf. And while there are some decent premade keto bread options out there now, most of them are sliced too thinly to make the sturdy, dippable keto french toast sticks that I was craving.
So I finally gave in and made some bread of my own, but with a twist! Instead of using a loaf pan, I opted for a much shallower baking dish. That way it bakes up much quicker than a traditional bread recipe. It also makes it easier to get slices that are the perfect size for keto french toast sticks. With the bread baked and sliced, it's just a matter of dipping, baking, and coating in cinnamon "sugar."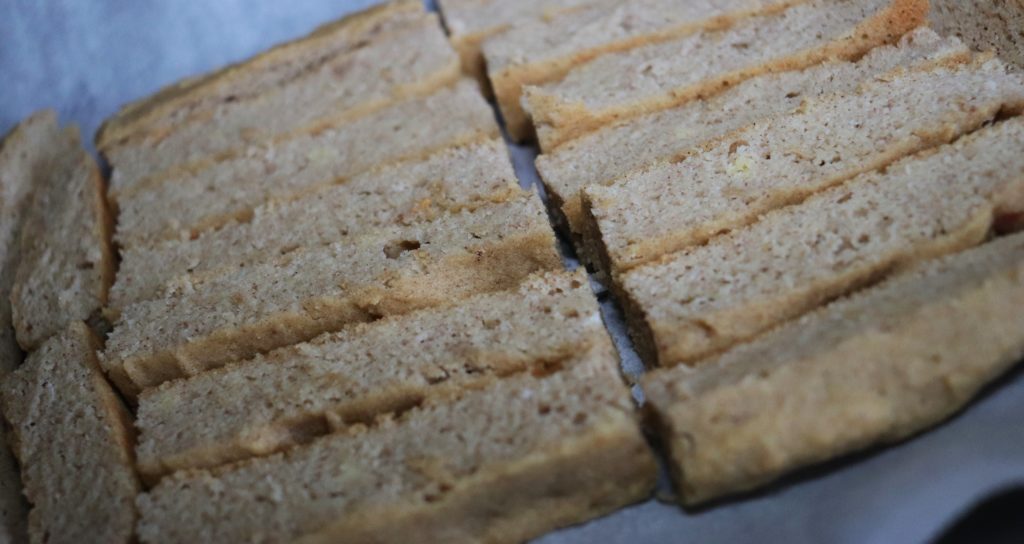 As with most french toast recipes, the bread is dipped in a mixture of eggs, milk, vanilla, and cinnamon. I like to add a little nutmeg and sugar free maple syrup for extra flavor. To make sure the bread can soak up the egg mixture without getting soggy, it helps to bake it the night before. You can also pop it in the oven briefly after slicing for the same effect. The point is to get the bread a little drier than it would be fresh out of the oven.
I usually fry traditional french toast on the stove, but baking works better for these keto french toast sticks. You can cook them all at once instead of working in batches so the results are more consistent. Brushing with butter makes sure they still get nice and golden brown. The final touch is a quick dip in cinnamon "sugar" just like the ones I ate as a kid. Lakanto is still my go-to keto sweetener, which you can find on Amazon or direct on their website for 20% off with the code TRYKETO.
Looking for another cinnamon-y keto breakfast? Try this recipe for Keto Pumpkin Spice Doughnuts.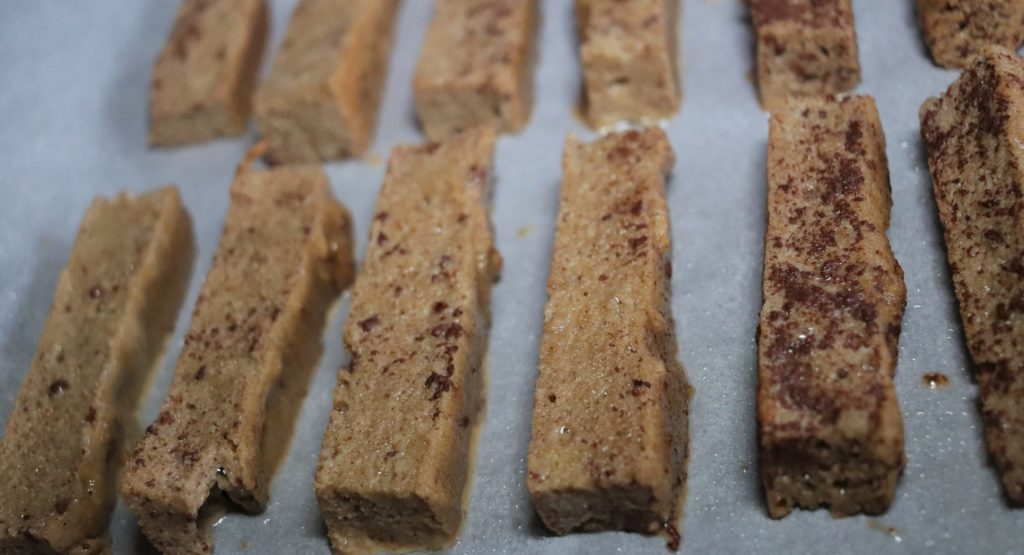 Keto French Toast Sticks
Soft, buttery bread, rich French toast batter, and a sweet cinnamon coating combine to make these delicious keto french toast sticks.
Ingredients
Keto French Toast Stick Bread
Keto French Toast Stick Batter
2

large

eggs

2

tbsp

heavy cream

2

tbsp

unsweetened almond milk

or other nut milk

1/2

tsp

vanilla extract

1/2

tsp

ground cinnamon

1/4

tsp

ground nutmeg

1.5

tsp

sugar free maple syrup

optional
Keto French Toast Stick Coating
Instructions
Preheat oven to 350F. Prepare both a rectangular baking dish and a sheet pan by lining with parchment paper and lightly spraying with coconut oil.
Prep the Bread
If using your own bread, slice into about 20 "sticks" and skip to the next section.

In a mixing bowl, combine dry bread ingredients (flours, xanthan gum, baking powder, sweetener, cinnamon, and salt).

Separately, combine the wet ingredients (eggs, almond milk, melted butter, and vanilla).

Add wet ingredients to dry, and stir to combine. Spread into the prepared and bake for 30 minutes, or until golden and cooked through, then remove from oven. Prep the batter and coating while the bread is baking.

When bread is cool enough to handle, carefully slice into about 20 sticks.

For best results, return sliced bread to oven for 2-3 minutes to lightly toast.
Prep the Batter
Add all keto french toast batter ingredients to a bowl and whisk together until well combined.
Prep the Coating
Combine the sweetener, cinnamon, and nutmeg on a plate or shallow dish. Keep the melted butter separate.
Baked Keto French Toast Sticks
Dip bread slices into the egg mixture to coat, and place on prepared baking sheet. They can be close together, but should not touch. Bake for 10 minutes.

Brush sticks with melted butter, flip, and then brush the opposite side with butter as well. Return to oven, and bake for another 8-10 minutes or until golden brown and slightly crisp on the outside.

Finally, brush sticks with remaining melted butter and roll in cinnamon sweetener mixture to coat. Return to oven for 1-2 minutes to set.
Serve and Enjoy!
Serve keto french toast sticks warm with sugar free syrup, powdered sweetener, homemade jam, or fresh berries.
Notes
Store leftover keto french toast sticks in the refrigerator for up to 5 days. Reheat using the microwave, oven, or toaster oven.
The butter in this keto french toast stick recipe can be replaced with an equal amount of coconut oil if desired.
The "bread" can be baked up to 2 days in advance. Slice and cool before storing. You can also use premade thick-cut low carb bread such as Chompies.
The baking dish I use for the bread is about 7x11 inches (approximately 8 cups (2 quarts) in volume).
Nutrition
Serving:
4
sticks
|
Calories:
400
kcal
|
Carbohydrates:
9.5
g
|
Protein:
12
g
|
Fat:
35
g
|
Saturated Fat:
16
g
|
Fiber:
7
g
|
Sugar:
2
g