Iced Vanilla Chai Keto Matcha Latte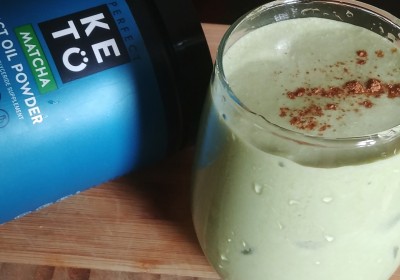 I love the MCT Matcha Latte powder from Perfect Keto by itself, and even blended into a keto mint chocolate chip shake, but sometimes I want a drink that's more interesting than plain matcha but less rich than a milkshake. Enter this iced keto chai matcha latte! The chai spice adds a nice warm flavor, and it works just as well as a morning coffee replacement or afternoon pick-me-up.
The matcha is packed with antioxidants, there's a good amount of healthy fats (including MCTs, and even some joint, skin, and hair-boosting collagen. Combined with the small amount of natural caffeine from the tea, it's enough to keep you going for hours. You can use my keto chai spice mix recipe if you don't have any on hand, and pick up the MCT Matcha Powder and vanilla collagen from Perfect Keto for 20% off with the code TRYKETO.
Notes:
This works as a hot drink too, just steam your almond milk before blending.
You can easily up the fat content by using more cream, or even adding a bit of nut butter. Alternatively, leave out the cream entirely to lower the calorie count.
This has the right amount of sweetness for me as is, but feel free to adjust to your taste by adding a keto-friendly sweetener.