Keto Tri-Tip with Parmesan Roasted Zucchini (One Pan Meal)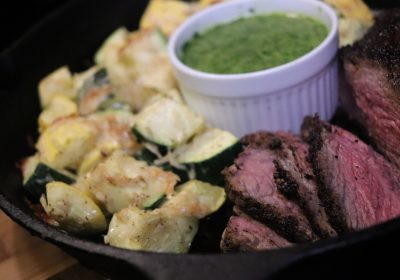 Tri-tip is one of those beef cuts that I didn't have a ton of experience with prior to signing up for Butcher Box, but I have since fallen in love with! It's a quicker cooking cut, which makes it "steakier" than most other roasts. You won't spend all day cooking it, and it won't turn into mush. This makes keto tri-tip recipes especially nice for family dinners and meal prep. Another plus? The 15-20 minute oven time pairs well with veggie side dishes.
For this keto tri-tip one pan meal, I chose to pair the beef with parmesan roasted zucchini and squash. The flavors match well, and it feels appropriate for the summer season. I chose to use a savory coffee rub for the tri-tip, but you can use the seasoning of your choice. The zucchini and squash are flavored with garlic and lemon zest in addition to the parmesan.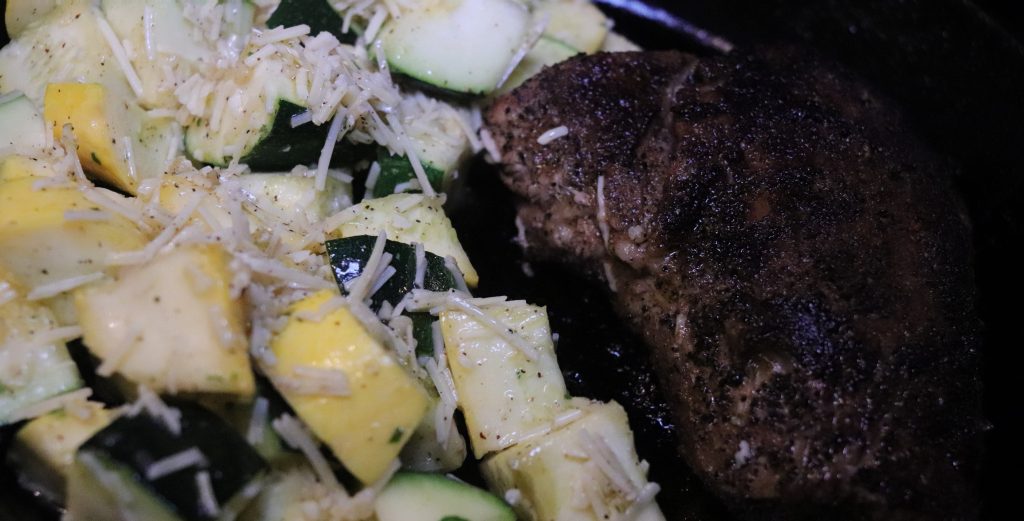 To really take this keto tri-tip meal to the next level, I would recommend pairing it with a batch of keto chimichurri sauce! A tablespoon or two will up the flavor factor even more. It also can add some healthy fats to help meet your macros. Other low carb sauces will work too, but the chimichurri goes especially well with the rub on this keto tri-tip.
As a final note, I usually make this recipe (and other keto one pan meals) using my cast iron skillet because it easily goes from the stovetop to the oven. You can use any skillet that is oven safe though. Just note that you may want to up the initial bake time a minute or two, since other pans won't hold heat as well as the cast iron. Either way, a meat thermometer will help you hone in on the right temperature.
Looking for more keto one pan meals? Try this Keto Chicken and Broccoli Alfredo Bake.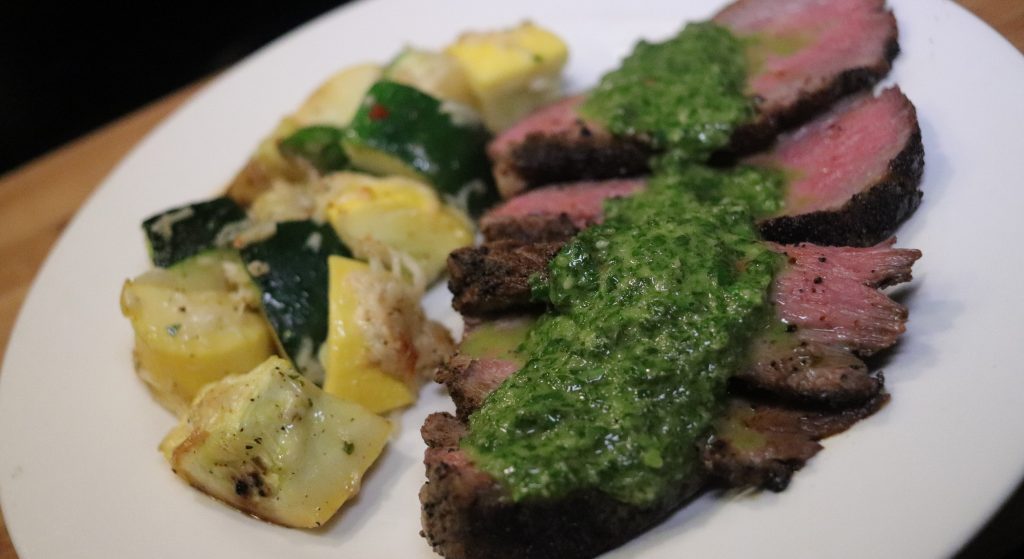 Keto Tri-Tip and Parmesan Roasted Squash
This keto one pan meal features a flavorful combination of oven roasted tri-tip and garlic parmesan veggies.
Ingredients
Parmesan Roasted Veggies
8

ounces

zucchini

8

ounces

summer squash

2

tbsp

olive oil

2

cloves

garlic

minced

1

tsp

lemon zest

1

tsp

lemon juice

2

ounces

fresh parmesan

shredded

salt and pepper

to taste
Instructions
Prep the Parmesan Roasted Veggies
Cut the zucchini and summer squash into bite sized wedges and add to a mixing bowl.

Separately, whisk together the olive oil, garlic, lemon zest, lemon juice, salt, and pepper. Add mixture to veggies and toss to coat evenly.

Add about half of the parmesan to the veggies and toss again to combine. Set aside veggies and remaining parmesan.
Prep the Tri-Tip
If needed, trim your tri-tip by removing silvery membrane and excess fat.

Combine all keto tri-tip rub ingredients (or use a beef rub of your choice) and evenly coat the surface of the beef with it.

Add 1.5 tablespoons of olive oil to a cast iron skillet (or other oven-safe pan) over high heat.

When oil is hot, add seasoned tri-tip (fat side down) and sear for about 4 minutes.

Flip roast and remove from heat.
Roast in Oven
Move the seared tri-tip to one side of the pan, and add prepped veggies to the other side in an even layer. Top veggies with remaining parmesan.

Roast in preheated oven for 12-15 minutes, depending on the size of the tri-tip.
Finish Under the Broiler
Finally, broil for 2-4 minutes, or until parmesan is golden brown, veggies are tender, and tri-tip reaches desired doneness (a meat thermometer inserted at the thickest section should read 130F for medium rare).
Serve Keto Tri-Tip and Roasted Veggies
Rest tri-tip for ten minutes or so, then slice against the grain. Serve with a drizzle of keto chimichurri and a portion of the roasted veggies.
Notes
For the best flavor, season the tri-tip ahead of time and allow to rest in the fridge for a while (or up to overnight). Remove from refrigerator at least 30 minutes before cooking.
The keto tri-tip rub here is just a suggestion! You can replace it with about 3 tablespoons of any beef rub you prefer.
Similarly, the keto chimichurri can be prepped ahead of time or swapped with another sauce of your choice.
The nutrition for this keto tri-tip one pan meal is based on a 1.75lb raw weight tri-tip and does not include the chimichurri sauce. If using my keto chimichurri sauce recipe, add 65 calories, .5g net carbs, and 6.75g fat per tablespoon of sauce.
Nutrition
Calories:
505
kcal
|
Carbohydrates:
6
g
|
Protein:
47
g
|
Fat:
32
g
|
Fiber:
1.5
g