Keto Pizza Stuffed Zucchini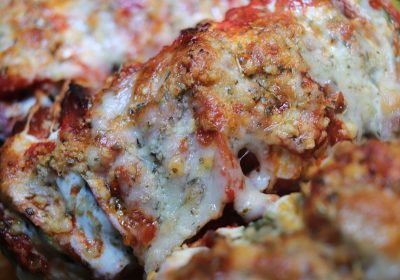 I love pizza, and one of my favorite things about keto is not having to give it up! There are are an increasing number of premade crusts on the market now, and if you don't mind the extra work you can even make your own. Of course, pizza toppings like mozzarella and pepperoni don't need to be on a crust at all to be delicious and satisfying. This keto pizza stuffed zucchini is a great option for when you want something lighter, lower in carbs, or just an extra veggie boost for your low carb dinner.
To ensure pizza flavor in every bite, start off by prepping the zucchini for filling. I find that a hassleback cut works great for this keto pizza stuffed zucchini rather than a typical zucchini boat. The technique is simpler than it looks. Just make evenly spaced cuts that go almost (but not all the way) to the bottom of the zucchini. Brush with oil, season with salt and pepper, and then add your fillings.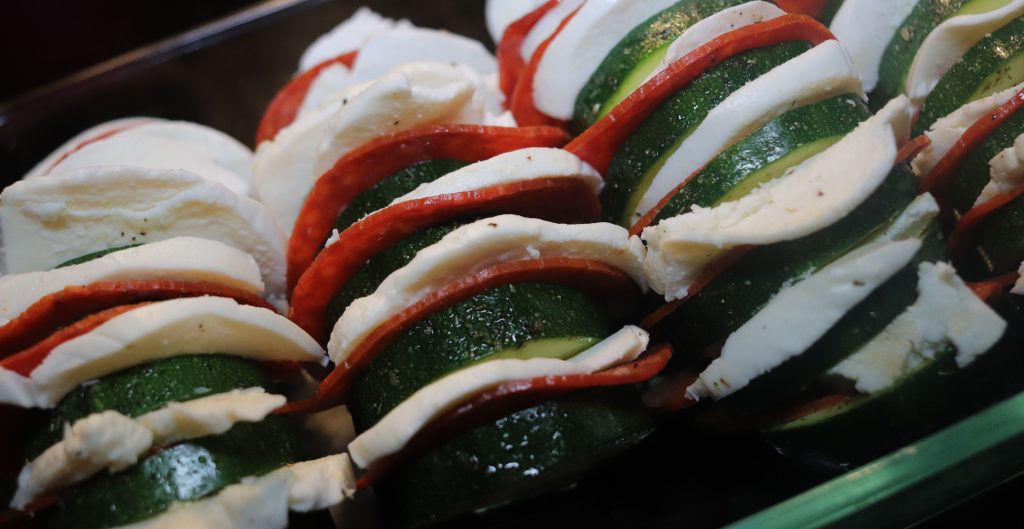 Pepperoni and sliced mozzarella are pizza classics and perfect for layering between the zucchini slices. You can mix things up by adding salami, provolone, and/or fresh basil too. Either way, it wouldn't be pizza without sauce, so add your favorite keto-friendly version after the first trip in the oven. If you're like me and want things extra cheesy, you can also sprinkle on some shredded mozz and broil at the end for some additional deliciousness.
Looking for more cheesy keto one pan meals? You might also enjoy: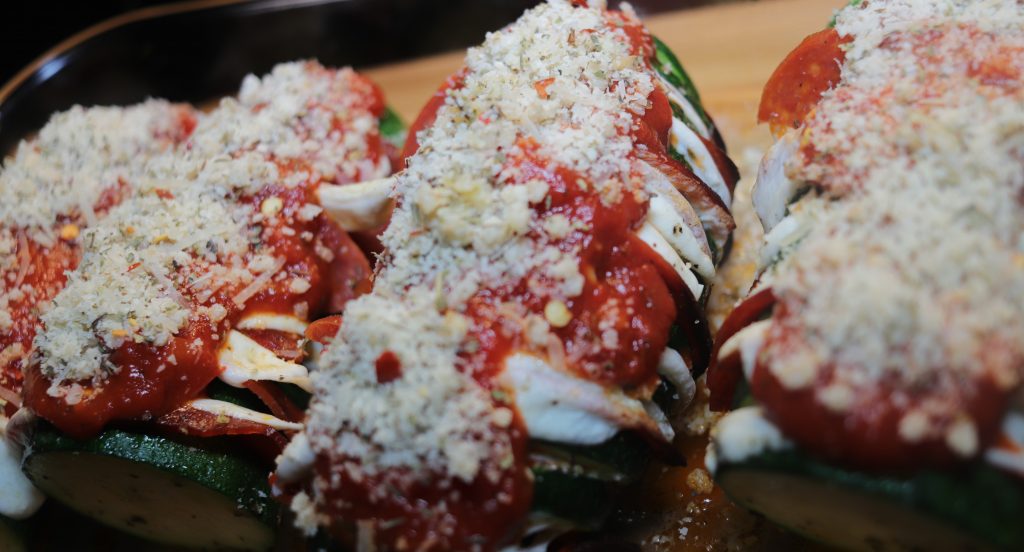 Keto Pizza Stuffed Zucchini
Skip the low carb crust for your next pizza night, and serve up this keto pizza stuffed zucchini instead.
Ingredients
2

large

zucchini

10-12oz each

1.5

tbsp

olive oil

.5

tsp

Italian seasoning

salt and pepper

to taste

4

ounces

pepperoni

sliced

8

ounces

fresh mozzarella

sliced

1/2

cup

low carb marinara sauce

2

ounces

shredded mozzarella

optional
Garlic Parmesan Topping
1

oz

fresh grated parmesan

4

cloves

garlic

minced

1

tsp

Italian seasoning

1/4

tsp

crushed red pepper flakes

optional
Instructions
Preheat oven to 425F. Prep a baking dish by lightly greasing.

Trim ends from zucchini and cut each in half crosswise to make four portions.

Make ¼ to ½ inch slices crosswise in each portion of zucchini, being careful not to cut all the way through. Stop about ¼ inch from the bottom keep the slices connected along the edge.

Carefully transfer zucchini to baking dish. Gently fan open to separate the slices more.

Combine olive oil, Italian seasoning, and salt & pepper to taste. Brush the zucchini (inside and out) with the oil.

Fill the slices with mozzarella and pepperoni. Depending on the size of your slices, you can alternate fillings or put both pepperoni and mozzarella in each.

Bake uncovered for about 15 minutes, or until cheese has begun to melt and pepperoni/zucchini is lightly browned around the edges.

In the meantime, combine garlic parmesan topping ingredients.

Top zucchini with sauce (about 2 tablespoons each) and sprinkle with parmesan mixture. Return to oven for 8-10 minutes, or until zucchini is fork tender.

Optional: Top with shredded mozzarella and broil for 2-3 minutes, until melted and lightly browned.

For best results, tent with foil and let rest for about 5 minutes before serving.
Notes
Store refrigerated in a sealed container for up to 3-4 days. Reheat gently in the microwave, oven, or toaster oven/air fryer.
Tenting with foil at the end lets the zucchini steam a little more to make sure it's tender all the way through without overbrowning the cheese and pepperoni.
One easy way to slice the zucchini for this recipe: place chopsticks or something similar on either side, and simply slice until your knife hits the chopsticks to avoid cutting all the way through.
Nutrition
Calories:
310
kcal
|
Carbohydrates:
8.5
g
|
Protein:
19
g
|
Fat:
22
g
|
Saturated Fat:
10
g
|
Polyunsaturated Fat:
1
g
|
Monounsaturated Fat:
4
g
|
Fiber:
2
g
|
Vitamin A:
1300
IU
|
Vitamin C:
23.9
mg
|
Calcium:
750
mg
|
Iron:
0.4
mg